CUSTOM MODELS

At Model Ship Master, we accept commissions to build any model in any scale and at any quantity. Our master craftsmen love a challenge to build new ships, and our extensive network with the museums in the world allows us to obtain virtually all records available for any vessel. Information supplied by you also helps in creating the best custom product available.
If there's no plans available anywhere, don't worry. We can draw full ship plans based on photos and descriptions. Our artisans have drawn for major museums such as National Maritime Museum Antwerpen in Belgium and The Navy Museum of Brest in France.

All our ship models look at least 90% like their real counterparts. Custom built ship models can be completed within a few months, and photographs of the work in progress are available to you at periodic intervals. A small deposit is required to begin construction and is used for research and material preparation, and therefore is non-refundable.

To obtain a quote on any ship model, please fill out the Commission Work Survey as follows. All quotes are good for two weeks and require a deposit with in seven days. Commission Work Survey.
Please note that all of our models are hollow hull, plank-on-frame just like the real ships were built. This is not only about realism and authenticity but also the matter of value. Imagine a ship model that are made of many solid blocks of wood glued together and onto a hull that is also made out of another (large) block of wood! It would be more like children's Lego, not a nautical art piece that prizes ownership, impossible to become a heirloom.

As well, Model Ship Master accepts commission job to build your model kits. We solve many of the problems in kit manufacturing. For example, we make hinged doors that move, glass-like windows that are transparent, and realistic cannons under deck... The picture below shows a mass-production sample of kits. Our models are hand crafted one by one and these issues do not exist.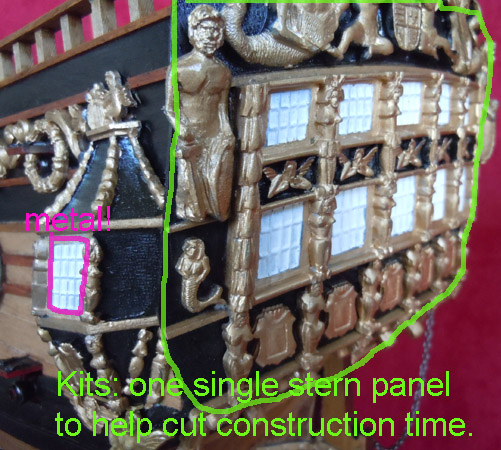 Model Ship Master has created over 400 custom built models and range from ancient vessels to the most advanced modern ships with prices ranged from $1,500 to $25,000. Following are photographs of representative projects that our clients allow us to post.