Britannia racing yacht
Royal yacht Britannia was built for the Queen Victoria's son Edward, Prince of Wales, successor to the throne. She was one of the most famous racing sailboat in the history. During her 2 first seasons, Britannia won 60 regattas out of 91. In 1895 Britannia won 38 of 50 regattas. It is the record which no other sailboat in history ever able to repeat.


Click for more info

Atlantic sailboat

When the Atlantic sailboat passed the warship marking her finish in 1905, she set a record that hasn't been bettered! Built in New York in 1903, Atlantic achieved its greatest fame in 1905 when she was one of 11 yachts to compete for the Emperor's Cup put up by Kaiser Wilhelm for a race from New York to Lizard Head, England.

Click for more info
Bluenose

On her last race, Bluenose's average speed over the course was 14.15 knots, the fastest pace ever recorded over a fixed course by a canvased vessel in the history of sailing! During Bluenose's 17 years of racing, no sailboat challenger, American or Canadian, could wrest the trophy from her.


Click for more info

Enterprise
J-yacht

The debut of the great J-class boats. Vanderbilt's Enterprise has a mast as tall as 165 feet and over 80 feet in length. Enterprise won America's Cup in 1930, defeating Lipton's challenger Shamrock V, winning 4-0.
Click for more info

Ranger

J-yacht

Ranger is nearly always described as the "super J". She was the first America's Cup yacht developed through model testing in a towing tank. Ranger totally dominated the trials and Cup Races of 1937. She was much more powerful. She sailed better and was more refined in every aspect.

Click for more info
Endeavour
J-yacht

Endeavour was hailed as the most beautiful J-Class yacht ever built. Built in 1933 by Tom Sopwith, the undisputed leader of the British aircraft industry, Endeavour J-yacht possessed many new and innovative devices, including below-deck winches, new sail designs, and an improved spinnaker.


Click for more info

Columbia
J-yacht

Columbia was the winner of the tenth America's Cup race in 1899 as well as the eleventh America's Cup race in 1901. She was the first vessel to win the America's Cup trophy twice in a row--a record not equaled until 69 years later. Columbia was also the first J-yacht that competed for the America's Cup.


Click for more info

Courageous
12-meter




Courageous, the two-time winner of the America's Cup, is now the official state yacht of Rhode Island. She has been rebuilt and is sailing the waters off Newport, R.I., perhaps in finer shape than ever before. The 12-meter vessel was designed by Olin J. Stephens and sailed to success in 1974 and 1977.
Click for more info
Australia II
12-meter

In 1983, the 12-meter sloop Australia II, skippered by John Bertrand, broke the longest-running winning streak in the history of sport by defeating the United States defender Liberty and taking the America's Cup from the United States for the first time in 132 years.

Click for more info

Stars and Stripes 87

12-meter

Stars and Stripes defeated Kookaburra III 4 to bring the trophy back to the United States. In honor of the victory, the Congress authorized and requested the President to issue a proclamation: "Now, Therefore, I, Ronald Reagan, President of the United States of America, do hereby proclaim to Dennis Conner and the crew of Stars and Stripes the heartfelt congratulations and appreciation of our Nation for a job well done and for filling our sails with confidence and pride."


Click for more info

Californian schooner
In July 2003, California's governor signed a bill into law designating the Californian as the official tall ship of the State. Californian is the only ship to carry this prestigious title. She casts a distinctive and instantly recognizable silhouette and is one of the most well known tall ships in America.
Click for more info
C&C41 sailboat model

For nearly 40 years, C&C has led the industry in performance sailboat design and technology. With lines that pay homage to the classic and award-winning designs that have made C&C yachts one of the most recognized, celebrated fleets of sailing yachts in the history of the sport.
Click for more info
Albin Nova 33


This is one of Model Ship Master's hundreds of custom built models.
Click for more info
Doghole schooner


The term dog-hole was given to the smallest ports on the Pacific Coast between Central California and Southern Oregon that operated between the mid-1800s until 1939. The schooners that served dog-hole ports must be be able to "turn around in a harbor barely small enough for a dog".


Click for more info
Lady Agnes


Custom model, not for sale.
Click for more info

Helen B. Thomas
fishing schooner

Thomas F. McManus, a naval architect in Boston, invented a new design call "knockabout." It allowed fishermen not having to clamber out on the bowsprit to tend the jib (the vessel's forward-most sail), a dangerous task especially in bad weather.

Click for more info

Shamrock

J-yacht model

The first J Class sloop ever built, SHAMROCK V is one of only three surviving J's in the world and the only remaining wooden J. She is the only J to have been in continuous commission since her launching. Since Sharmrock's last refit in 2000, Shamrock V has sailed across the Pacific, attended the America's Cup in New Zealand and is now in the Mediterranean. Shamrock V's base is in the Mediterranean and offers her clients exclusive charters in its most fascinating waters. Please click to commission this model.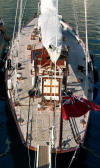 America 3
maxis sailboat model



America 3 belongs to a class of sailing craft known as "maxis," the largest, fastest, and most expensive sailboats built to race. The yacht's innovative design is based on extensive scientific research and testing. Koch has said of the America's Cup, "To win, you have to combine art and science. We applied technology from different disciplines to a business in which tradition said technology would not work. We ignored the rules of thumb and looked at what made products better." America 3 defeated the Italian challenger Il Moro di Venezia to win the 1992 America's Cup. In 1995, America3 became the first all-female, America's Cup boat. Please click to commission this model.


Pen Duick



Pen Duick, built in 1898, was the first of six yachts for her owner Eric Tabarly. Fully restored twice and more beautiful than ever, on her one hundredth birthday, Pen Duick and her owner parted forever in a stormy night of June 14, 1998. Pen Duick's sheer hull, cutwater bow and large trysail, mizzen and lugsails are inseparable parts of her beauty and speed. Please click to commission this model.