256-bit encryption
$500,000 protection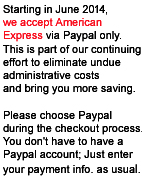 USS OLYMPIA
The USS Olympia, one of the most historic ships of the US Navy, sailed into Manila Bay at the head of the Asiatic Squadron, May 1, 1898, seven days after Spain declared war on the US.

Considered the fastest man-of-war afloat and extremely heavily armored, she steamed to within a few hundred yards of the Spanish fleet. Within six hours the most decisive naval battle ever fought was won by the American fleet with casualties of only 30 wounded and one dead. Spain as a world power was doomed. This ship so proved herself in battle and maneuverability that it greatly influenced the future building of the US new steel Navy.
The Olympia is the last surviving ship of our Spanish America War fleet. During the first World War, she served as a convoy escort and brought back the body of the Unknown Soldier for interment at Arlington National Cemetery.
The USS Olympia is now restored as a National Memorial and docked on the Delaware River at Philadelphia, PA.


∞∞∞∞∞∞∞∞∞∞∞∞∞∞∞∞∞∞∞∞∞∞∞∞∞∞∞∞∞∞∞∞∞∞∞∞∞∞∞∞∞∞∞∞∞∞∞∞∞∞∞∞∞∞∞∞∞∞∞∞∞∞∞∞∞

This Olympia model features:

- Plank-on-frame, hollow hull construction, weighing less than 10 lbs (A solid hull of this model would be over 30 lbs and looks like a toy rather than a nautical art piece.)

- Hollow superstructure comprised of many individual thin pieces of wood glued together, not few blocks stacking on top one another.

- Windows are cutouts (not black decals), thanks to the hollow structures.

- Light rust appearance to give the ship a tough battle look.

- >95% of parts are wood and metal.