ESSENTIAL THINGS TO CONSIDER WHEN CHOOSING AN OCEAN LINER or CRUISE SHIP MODELS
We at ModelShipMaster.com build the most accurate ocean liners and cruise ships in the history of model ship business. Our knowledge prowess, construction method, meticulosity, ingenuity, artistry, and a relentless drive for perfection have positioned us as the ultimate maker of this type of vessel. Whether you desire an illustrious model for your recollection of good times or something that your children to remember you by, ModelShipMaster.com will deliver.
At ModelShipMaster.com, accuracy is paramount. We use top-of-the-line German equipments and special Japanese hobby nozzles to give your model the uniform paint. For museum quality models, we mill tiny brass parts (which is one of our exclusive capacities) when extreme accuracy or sharpness is required.

Your model will have an accurate hull which is the single most important part of a ship (yet the most difficult to replicate), as explained in this web page. A plank-on-frame hull and a hollow superstructure take at least twice the time to make a solid hull and solid superstructure. While both methods can produce great looking models, the plank-on-frame method is more accurate. It allows the artisans to transfer accurate dimensions from the vessel's plans onto the frame. A craftsman who carves a hull from a wood log, on the other hand, must rely on visual estimate. The plank-on-frame method also allows the use of "glass" (actually acrylic) for windows, instead of black painting and dark decal. This construction method is also more authentic, as real ships are built like that. The result is for your gratification, owning an accurate piece of art rather than a soulless decorative accessory. A sample bad hull can be found when you search "RMS Olympic model" and compare the ship's profile below with the hulls of the horrible models that other companies made.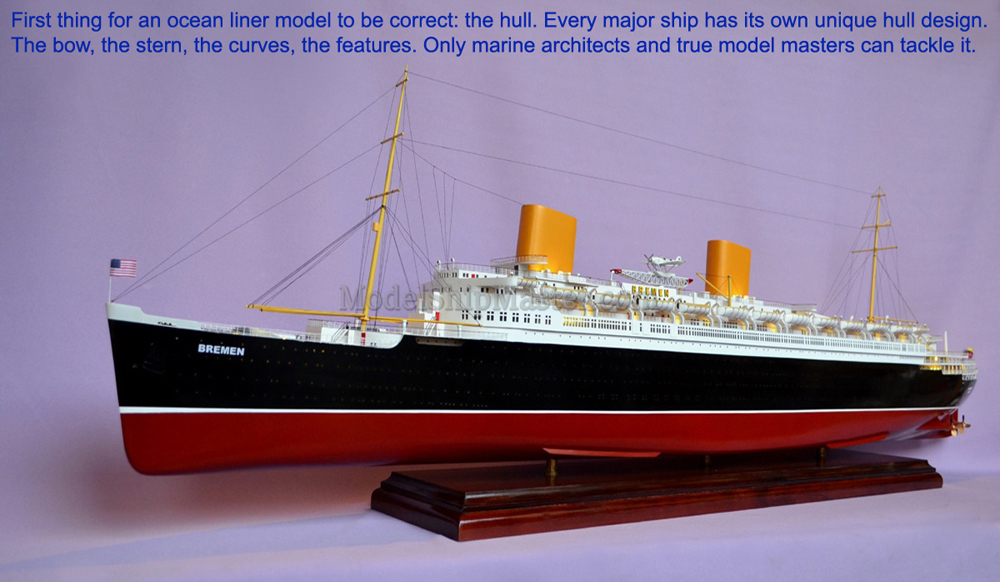 Ship models might appear good from afar but when examined closely, 'truth be told'. Large photos zooming in small sections of the ship will tell all. For a sample of a model that looks good from afar but very bad in close-up, Google "Queen Mary 2 model." For accuracy assessment, there must exist photos of all angles of the model, especially the stern. For a sample of a bad stern, you can Google search "Queen Elizabeth 2 model." Large photos can also show if a model has its windows clean, uniform, and aligned or not. An example of bad windows can be found when you search for "SS Rotterdam model."
To see the vast difference between our models and others', you can Google "SS Bremen model". The Bremen was the most historic ocean liner which captured the Blue Riband on her first two voyages and also marked the first time mail was carried by a ship-launched plane for delivery before the ship's arrival. If the model of this very famous ship is wrong on many counts, then one can safely assume that all other models from those shops are short of authenticity. If you want some more, Google the phrase "Conte Di Savoia model" and "Freedom of the Seas model."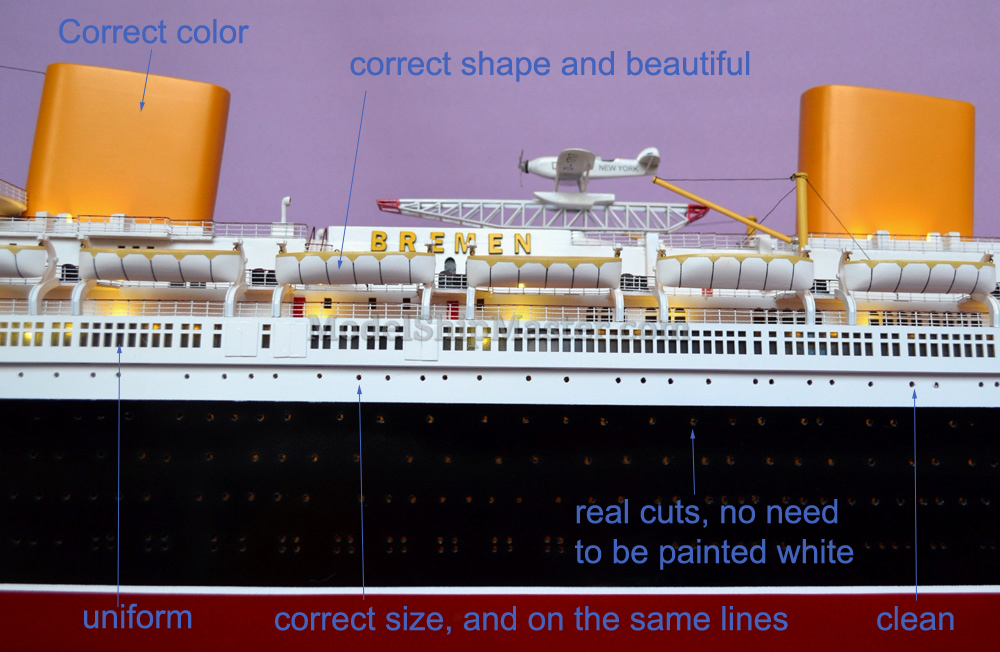 Our team is not only the very best in technicality but also artistry. With our artisans' personalized touch during the construction, your model will look grand and lively, not 'dead' like a shiny plastic toy nor a boring decorative accessory. The 'magic' touch we perform on your ship is considered by many more challenging than the task of constructing a model itself. A left brain/right brain issue.

We hope that some demonstrative photos below will assist your your further understanding of true authenticity and premium quality of ocean liners and cruise ships. If you happen to see photos of any ship model that you really liked, let us know and we will beat that model squarely. Our email is services@modelshipmaster.com.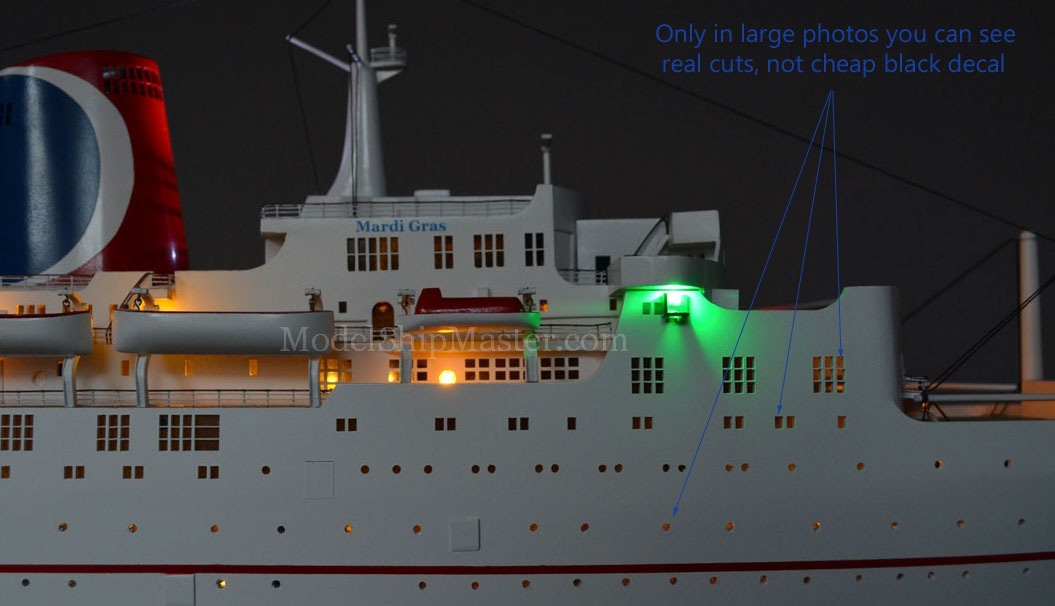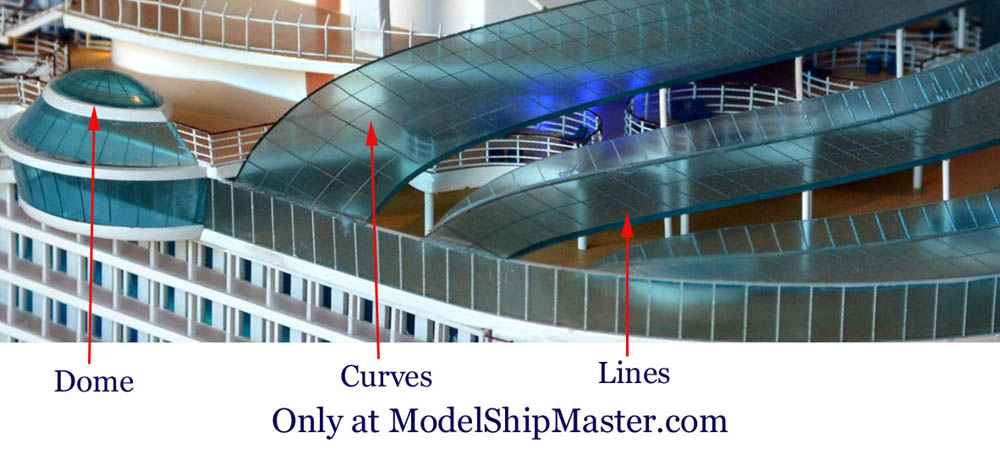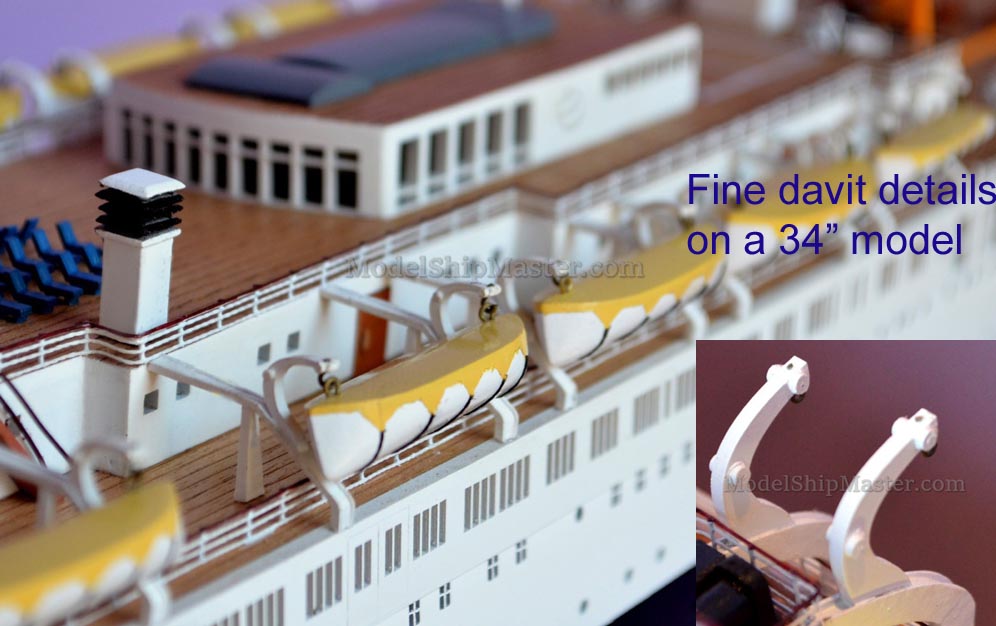 If you want a model to be a central display or to draw immediate attention, we are the only one who can really deliver. Exquisite lighting is our pioneering and signature feature and nobody else can produce the beautiful lighting effect as in the photo below. This skill didn't come easy. Many many years of experience helps us achieve this level of beauty. To accommodate a lighting system, a model also needs to have a plank-on-frame hull and a hollow superstructure--features that distinguish us from the rest.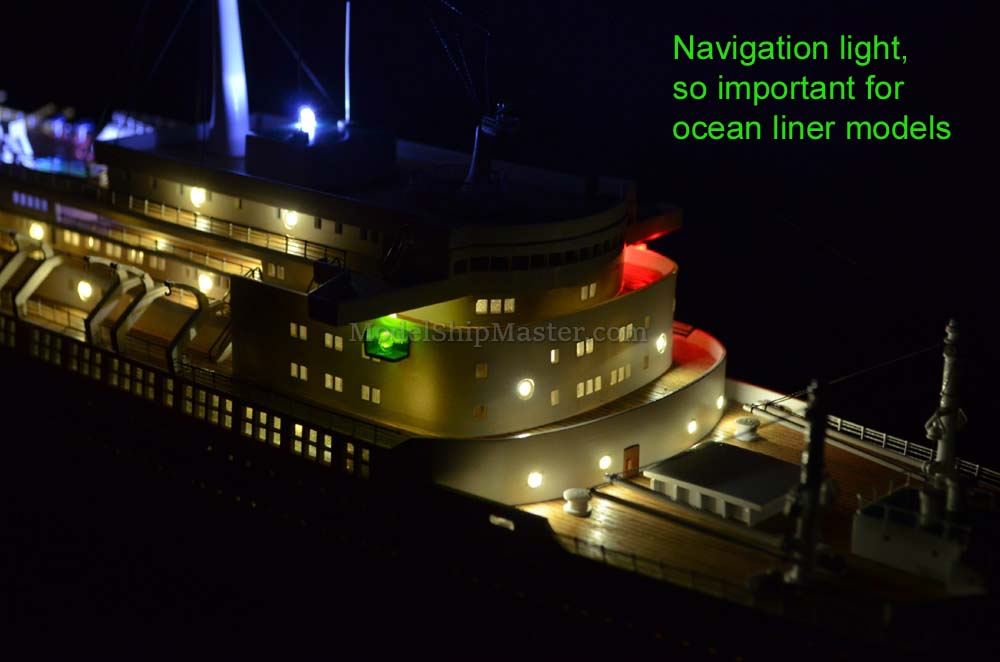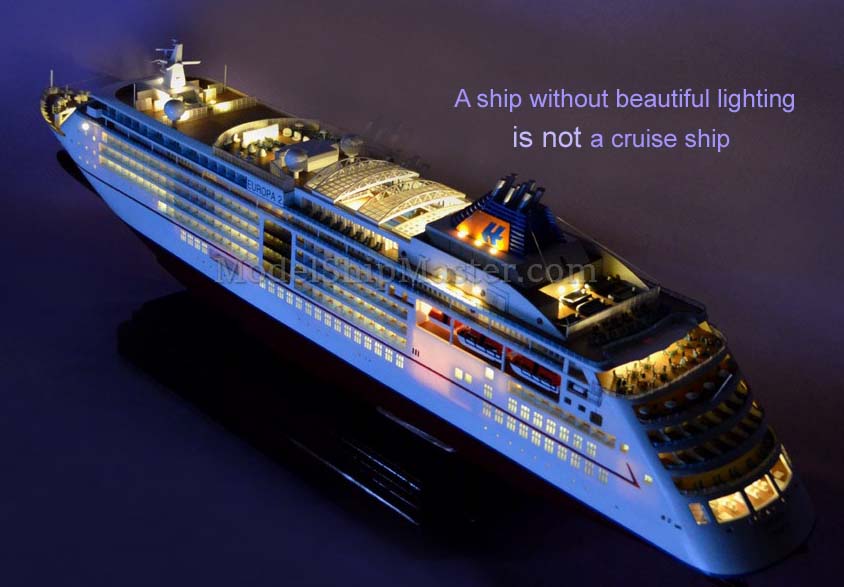 ModelShipMaster's resource to make ship models is unrivaled, unparalleled. Our superb craftsmanship only came after strenuous years of relentless pursue of methodology and innovation. Compare our products to others' and it will tell all. Don't fall for advertising seductive language such as "fun", "easy", "any ships, any sizes"... Search for large photos and zoom in. Do research on a larger screen computer, not a phone. You might have space for only one model so don't get stuck.
The misaligned, ununiform window problem is 'genetic' in solid hull construction method. Either dark decal which will curl up eventually or painted indentation which is impossible to be neat. Click to learn more about hull construction methods.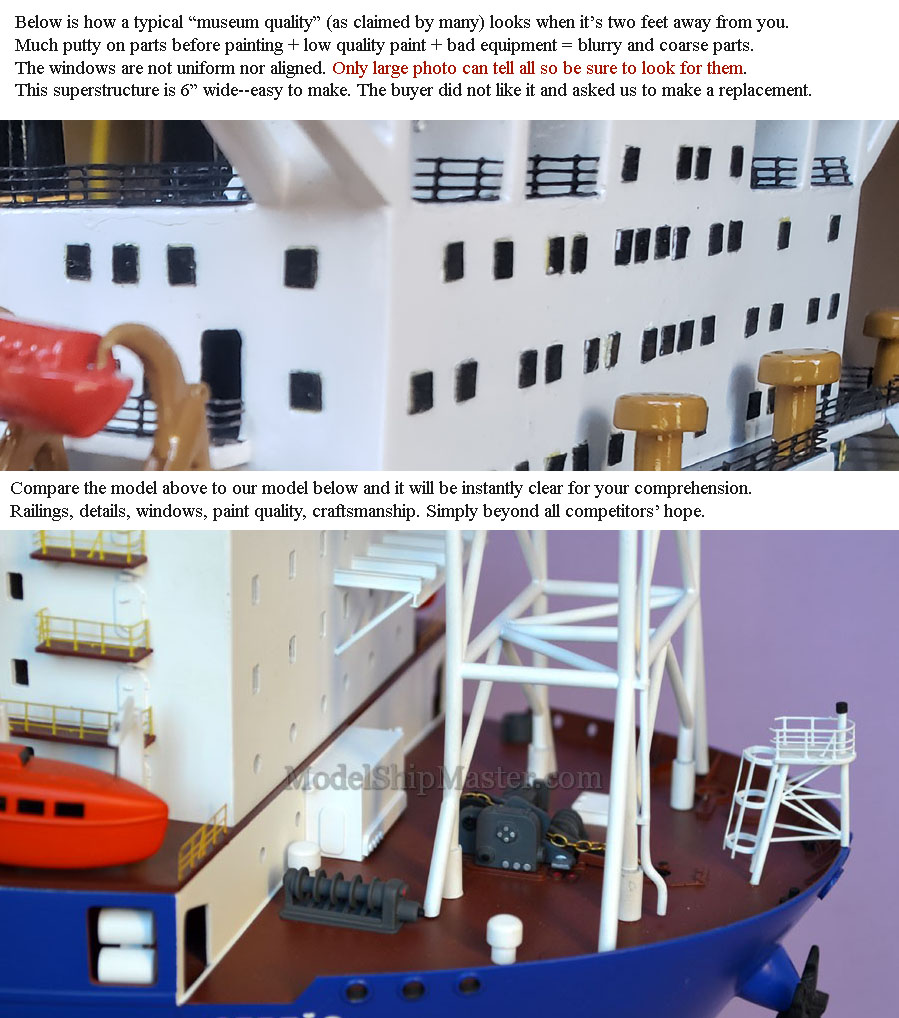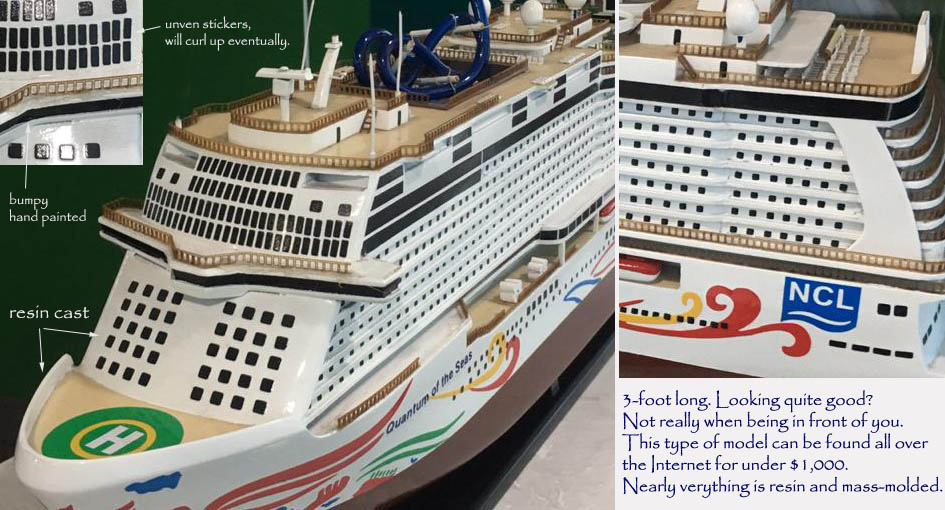 We hope that the above photos could assist you to distinguish between the 'good-looking' and the premium. After thoroughly checking out the other makers and you would like to start a model with us, let us know of your preference here: Inquiry.
"I received the long expected crown jewel yesterday. What a fabulous piece of work. I am so impressed! Especially the car deck with real working door hinges, it just blew me away! This will be a family heirloom from me to my son, who also couldn't stop staring when he saw it... Thanks again modelshipmaster for making my dreams come true! With the best regards, Max"