CUSTOM-MADE BOAT MODELS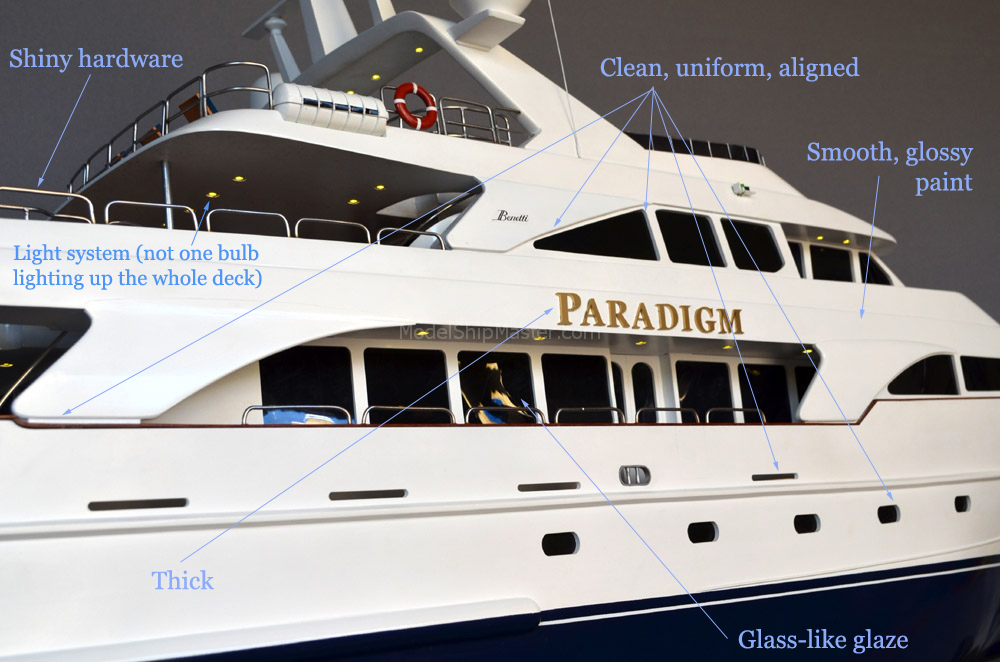 Trust your eyes, not ears. When you are picking a company to make a model of your favorite vessel, do not let advertising stunts such as "fun", "smile", "any types, any sizes", "the Pentagon", "the very best"... affect your left brain's function. Insist on proofs. Proofs of accurate models backed by large photos showing all angles and zooming in small sections of the models. If "museum quality" phrase is used (or abused), proofs of models displayed in major museums whose curators are very knowledgeable and picky, because a museum in a small town or in an underdeveloped country is still a museum.
We believe in the adage "a picture is worth a thousand words." So we'd like to invite you to visit one of the pages below. If the information is well worth your 10-minute reading, then you move on and let us know more about your interest. If not, you can skip our Web site altogether, saving time. No we are busy and we are not desperate to make a sale. We just want justice for the unwary consumers.
If you plan to acquire a cruise ship, click here: what to look for in ocean liner and cruise ship models.
If you are purchasing a tall ship, click here: how to choose a tall ship.
If you are looking for a sailboat model, click here: know more about sailboat models.
If you plan to acquire a yacht, click here: essential elements about yacht models.
If you plan to purchase a warship model, click here: warships' must-haves.
For a commercial ship model such as container ship, gas tanker, LPG, support vessel, tugboat, research vessel, click here: all about commercial ship models.
ModelShipMaster builds any model ships, at virtually any scales. For ships that have no plans or blueprints, we can draw them from photos. Our staff has drawn for museums such as National Maritime Museum Antwerpen in Belgium and The Navy Museum of Brest in France. Click here to view some samples: Ship Plans drawn by ModelShipMaster.com.
To commence the construction process, 0nly a very small initial deposit is needed: $500-$900, not full amount, not even half. Nothing else is due until the model is completed, approved by you, and ready for shipping.

To get a quote, please copy the following form onto your email, complete it, and send it to services@modelshipmaster.com. PLEASE DO NOT CALL FOR QUOTES because we will have to do preliminary study of the vessel in order to give the quote. IF YOU CALL AND LEAVE A MESSAGE, WE MIGHT NOT CALL BACK. EFFICIENCY IS OUR MOST IMPORTANT VALUE SO PLEASE HELP US TO ACHIEVE THAT.
If you don't know how to copy and paste the form below to your email, just send us an email and we'll email you the form.

1/ Name and type of the vessel. Please attach some photos or links:
2/ Your relationship with this vessel:
3/ Optimal size range in length:
4/ What is the purpose for this model (Sale presentation, trade show, business or home display, gift...)
5/ What do you have?
Very detailed construction plans
Fairly detailed plans
Photos showing many angles of the real vessel
Not much, ModelShipMaster will take care of it
6/ How fast do you want it to be completed: PLEASE SEE UPDATES: LEAD TIME
Two months (rush), $6,000 minimum. Click here for a sample: rush order
Three-four months (smaller models only)
Five-six months
Seven months to one year (for museum-grade and remote control models)
Maximum of 18 months

7/ Cost should be in the range of (the higher the price, the better the product):

$2,500-$3,500 (This is the starting price that we accept for custom orders. Regardless of sizes.)
$3,500-$5,000
$5,000-$7,000
$7,000-$10,000
Over $10,000

8/ If you own a model, what is its quality? Do you know who made it?
9/ Special Request:
Note:
- We will reply within three business days to inform you if we accept your commission or not (constraints in cost, time, information, and 'good feeling' factor.) It will help a great deal if you include as much info about your vessel as possible. Photos, records...
- Unless marked 'rush', all commissioned models will have to wait one or two months to reach the construction table. So progress photos are not available until third month. This wait time can be longer depending on how busy we are. See updates here: LEAD TIME
- Custom models costs roughly 20% more to make than models that are currently available for sale. So if you see one in stock, take it soon before it's out. One sold out, they all must be commissioned.
- We will not reply to any bid requests. Usually these come from entities that care more about cost than quality and prestige. Museums never ask for biddings. They know whom to choose from the look of the existing models.
- Although we love to have repeated orders, we do not give preferential treatment to corporations over private individuals.

"I have been collecting premium ship models since 1997 and I've acquired several top models from you. I wanted to say congratulations. Three pretty high-end companies have vanished from Google product search but you've became much stronger. I am seeing two more firms in troubles, unable to keep up with your constant quality push. Honesty is the best strategy, and I see a lot of that thru your products. I'd like to commission..."
"I just unpacked my Wanderer and it is beyond my highest hopes. You did a masterful job in recreating this historic whaler! It is the centerpiece of my "man cave" and I'm sure will become a family heirloom.
Almost equally amazing was the craftsmanship of the shipping crate. I have to admit, I was a bit worried about how such a large, detailed and delicate model would survive the transport but your custom fitted crate supported and protected it perfectly. I did manage to break 2 of the delicate chains in the bow rigging as I removed some packing tape. My fault, but I am sure I can fix it myself. Would it be possible for you to send me about a foot of chain? Thank you for everything and feel free to post this if you like, Terry."

"I recieved the long expected crown jewel yesterday. What a fabolous piece of work. I am so impressed! Especially the car deck with real working door hinges, it just blew me away! This will be a family heeirloom from me to my son, who also couldnt stop staring when he saw it... Thanks again modelshipmaster for making my dreams come true! With the best regards, Max"
"So here are the images of the Sahodara as promised. These were taken by a professional photographer paid by the school and this model was chosen for the photo session... The model came out great! She gathered a lot of attention at the Grad Show and everybody loved her! Great job, I'm really happy! All the best in 2011!! Jorge"
"Just unpacked the Roraima ship. She is far above expectations. Thank you very much for this work. Some of my friends seeing it may become customers to you very soon. I'll let you know. Have a nice day. Bruno in France."

"I have been a good custom and purchased several ships from you in the past. I am interested in having the Ranger and John Barry's Alliance made for me. I am a history teacher and have brought several of your ships into class as part of my presentations and lessons concerning the war years of the Revolutionary War. Please give me an idea of each project, cost, Ect... Thank You, Marc N."

"Model Ship Masters,
I received by commissioned model of the White Star Liner - SS Canopic this morning. I have not completely unpacked it yet but from what I see so far it is absolutely spectacular. I am very pleased and impressed with the accuracy, attention to detail, superior packing, etc. Please give my compliments to the builder or builders of this fine model - the only known model the SS Canopic in the world. I will not hesitate to have Model Ship Masters build my next custom model!
Sincerely, Jason J. D., M.D."

"Received your email to order REX. Price 2,300 plus $90shipping. Interested in lighting option for $200 extra all I need someone to contact me for order. My # 917 841 xxxx you can call anytime. I have ordered models from Motion Models and SD Model Makers wish I would have found you sooner. Anthony L."
"Love the REX. I would like to commission for your company to build this ship for me. I immigrated to America on this ship in 1952... I'm asking for a length of 42" and obviously as much detail as possible. This is very important to me. Can you get back to me at your convenience also I would want it built to scale. Thank much. Anthony L."