ModelShipMaster.com is a U.S. company located in Southern California, about 1/2 hour drive from LAX. The company was formed in 2000 and online operation started in 2005.
ModelShipMaster.com is specialized in custom models. Our workforce is comprised of 12 to 15 full-time. All of our artisans are rated 9-10 on the scale of 10. Their hands are like those of the heart surgeon Vivien Thomas of John Hopkins hospital. The majority has over 20 years as professional model ship builders. Several started in their early teen years. The newest member is from Spain, joining our team in September 2020. Our artisans can be compared with the finest watchmakers in this Robb Report: https://robbreport.com/style/watch-collector/watchmaking-has-become-haven-traditional-artisan-crafts-230298/
We are second to none in the field of nautical scale model. Search the world wide web for model ships in all categories and you'll see we are the clear leader in each single category. Our unique combination of research ability, ingenuity, artistic talent, and the 'whatever-it-takes' mentality has propelled us to the champion status across the board. Some companies only go for tall ships, and they can barely match our tall ship models. Some prize themselves in warships, but most their products contain obvious errors and their best ones are far behind ours such as the USS Gerald Ford, the USS Zumwalt and the USS Ticonderoga...
We are an exclusive company. This means we make our own models, and our products are not for sale elsewhere. Many of our ship models have been permanently showcased in many major museums such as the Smithsonian Museum, Mariners' Museum, Museum of Science and Industry, Maritime Museum of San Diego, Nantucket Historical Association... Training centers and shipyards value accuracy the most, and our models have been commissioned by the United States Naval War College, U.S. Naval Sea Cadet Corps, and Naval Postgraduate School, Privinvest, Benetti, Hargrave Custom Yachts, Midnight Express...
We refrain from using the phrase "museum quality" too liberally. It's a quality grade that has no unified standard. A rural museum in a developing country is still a museum. After you view our GIA-like standard here, you'll learn a thing a two about our museum grade standard that no other commercial entities can emulate.
We believe in product accuracy and legacy, not advertising traps such as "the very best", "any time, any sizes." Most people have never seen a true premium model ship and they wouldn't know about accuracy and finesse. The way many companies show photos is like forcing you to view a vessel from a helicopter. Well, bring a binocular then. Zoom in! And fly low to see the details and the sterns. Do not fall for seductive language. Aim for large photos at least a third of your laptop screen. Do not use a phone to view images as bad/wrong details can be overlooked in a small screen. If not all quarters of a ship model are shown, ask for them. Do not assume they are as good as ours.
In the past, we had storefronts in Santa Monica and Laguna Beach, California but extremely high rent didn't make sense anymore. It is delightful for us to occasionally hear from customers who bought ship models at those locations via our never-changed toll free number. In 2013 holiday season, Mr. Castro (DefectLaw.com) came to get more boat models to gift his clients. "I thought I never saw you again... Why don't you open a gallery in LA again..." said Mr. Castro when he and his wife visited our workplace.
Amid the trade tension between the US and China, some might wonder if we have some of our products made in China. The answer is absolutely no. China (unlike Japan) can no longer produce top quality handmade articles.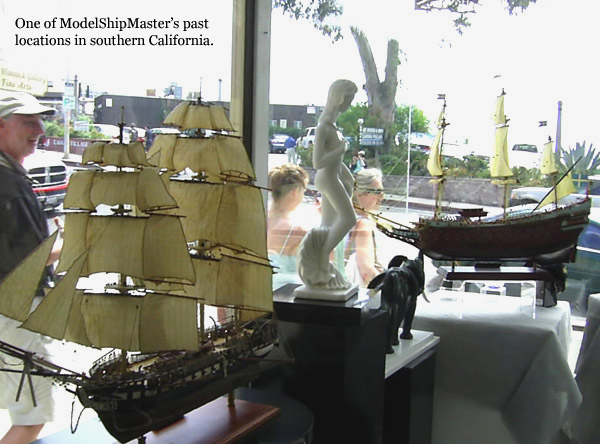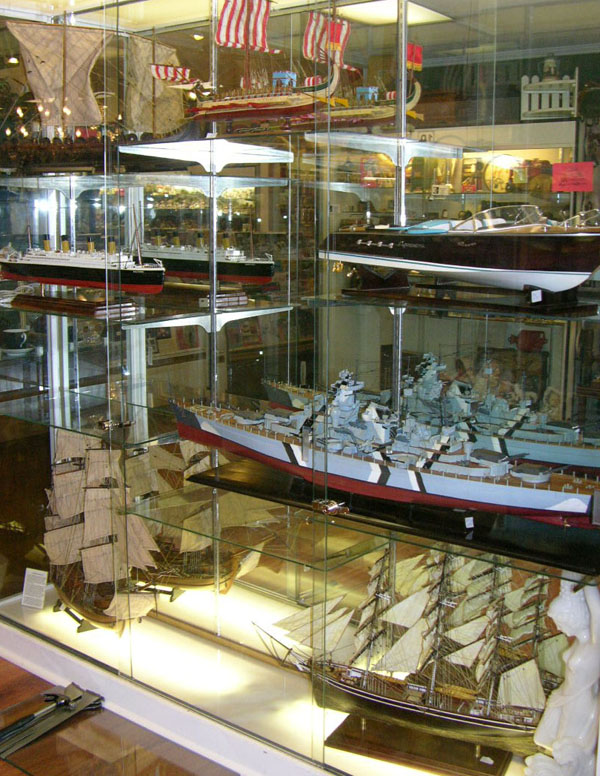 ModelShipMaster.com exists to produce spectacular models for established individuals, knowledgeable collectors, and esteemed enterprises. We are well financed and we will turn down orders that in order to focus on quality. With the right amount of incentive, we will exceed anything in the history of model making, by authenticity, quality, and beauty. We excel in whatever we do, even the accessory such as plaques and display case.
An obsession with quality has been the hallmark of ModelShipMaster.com since its inception. Discover the heritage, innovation, and pioneering craftsmanship that make us the landmark it is today.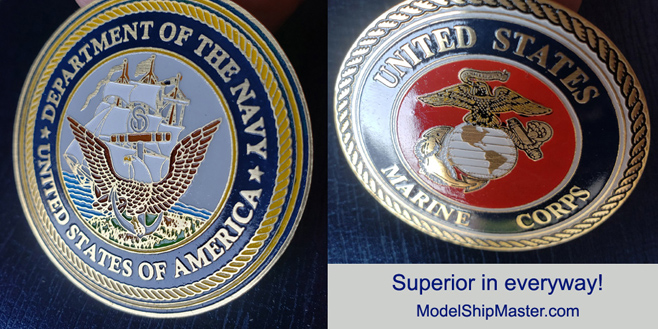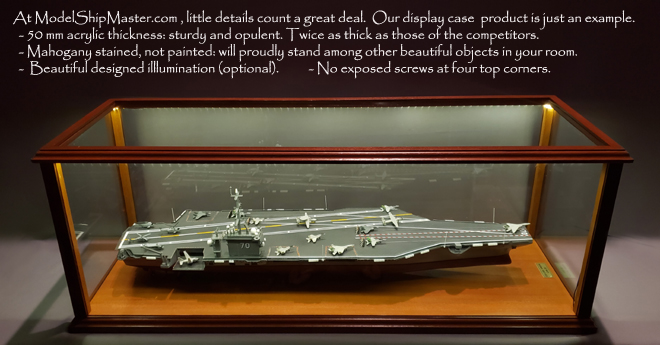 "I received the long expected crown jewel yesterday. What a fabulous piece of work. I am so impressed! Especially the car deck with real working door hinges, it just blew me away! This will be a family heirloom from me to my son, who also couldn't stop staring when he saw it... Thanks again modelshipmaster for making my dreams come true! With the best regards, Max"

"Received your email about the REX liner. Interested in lighting option for $200 extra all I need someone to contact me for order. My # 917 841 xxxx you can call anytime. I have ordered models from motion models and SD ModelMakers wish I would have found you sooner. Thank you, Anthony L."
"SDModelmaker has a booklet in the local Navy Exchange here but their ships quality doesn't even compare to the quality and the customizability you provide. Devin J. R. QM 3, USS Bainbridge"