256-bit encryption
$500,000 protection




"The cure of anything is saltwater: sweat, tears, or the sea."-ISAK DINESEN.

Welcome to the world where your dreams of owning a beautiful, accurate ship model of the great vessels can be finally realized. Our mission is a simple: Do whatever it takes to create living memories of wonderful model ships, boats, and yachts. When exploring our Web site, you'll see true nautical art pieces, not something mass-produced nor being carved out of a solid piece of wood in Asian sweatshops. You'll also see that only artisans who love to build model ships more than making money could possibly bring these extraordinary masterpieces into existence. Below are some of our recent projects:

Ronald H Brown NOAA ship model, for the Museum of Science and Industry, in Chicago: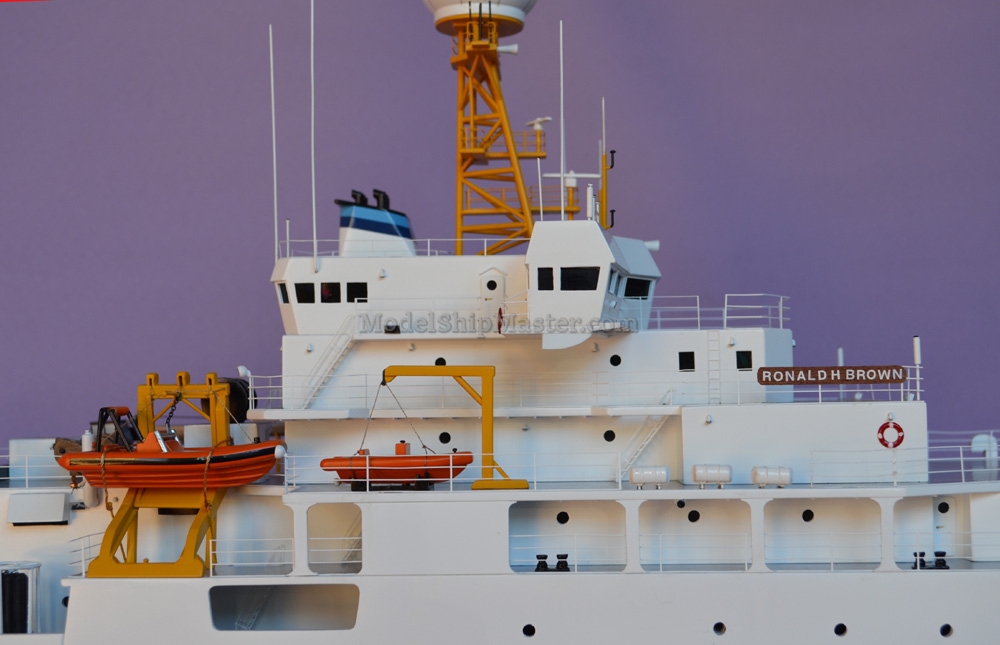 Northern Leader longliner, for the Museum of Science and Industry, in Chicago: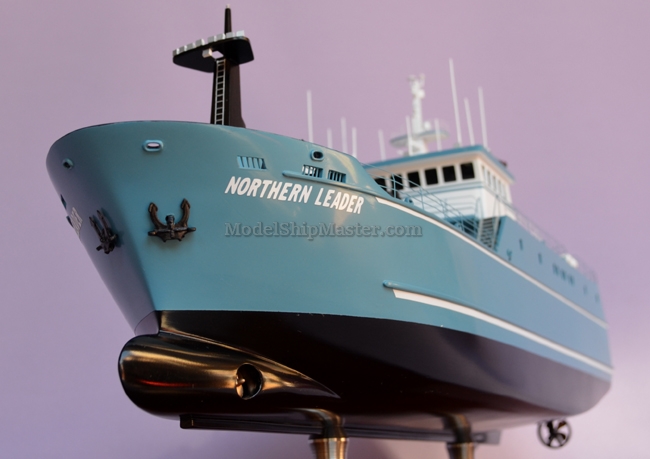 This scale model of the Rio Negro Queen with full interior feature was commissioned by the builder of the real yacht in October 2017 to serve as a marketing tool/trade show piece: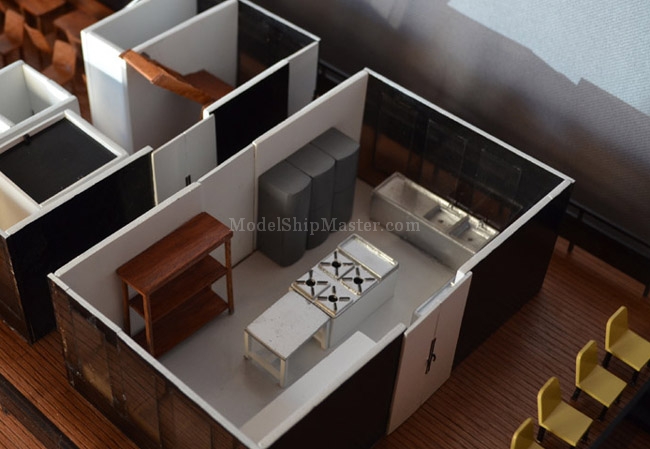 Royal Albatross, for Tall Ship Adventures in Singapore for their executives: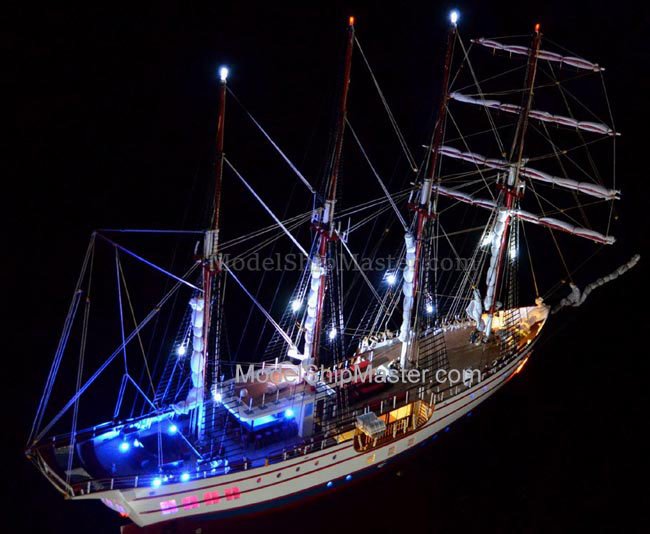 Sertao drillship, for engineer firm JELEC to test their ship design in a test tank: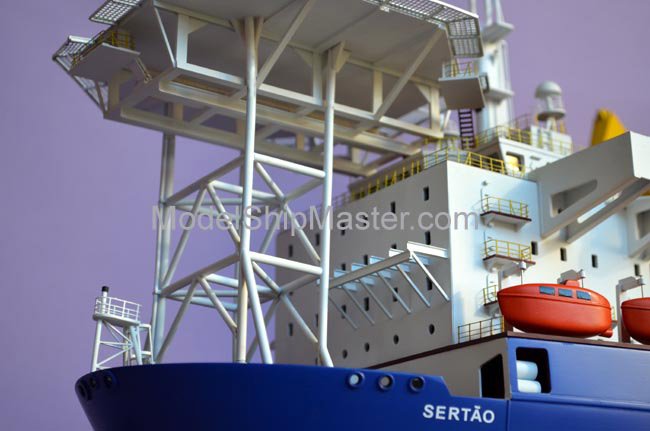 This barge model was commissioned by ship builder Gunderson Marine LLC in Oregon, USA in March, 2018 for the launching ceremony: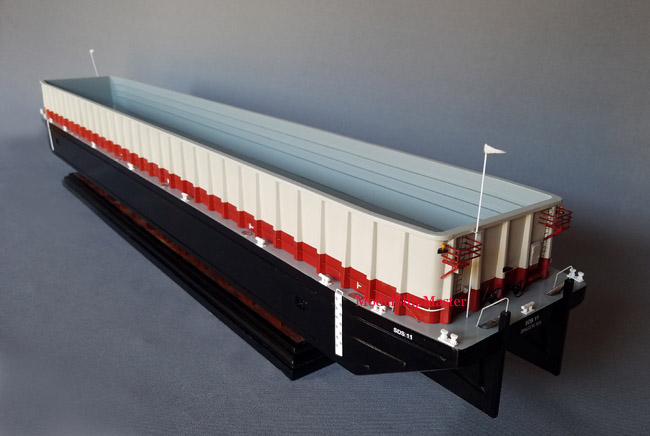 This all-metal model of the general cargo ship SEMEN DEZHNEV was made for the builder of the ship for its launching ceremony:




This LNG ship model Arctic Princess was made for a Shell's executive:



This cruise ship model was commissioned by an Oceania Cruise's senior marketing director for corporate office: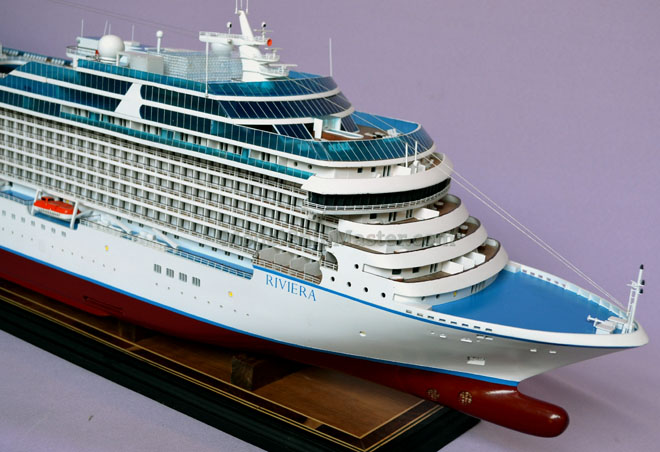 This YAS mega yacht model was commissioned by the the real YAS yacht builder, in 2016:

These two Mediterraneo 116 motor yacht models were commissioned by the Italian yacht builder Benetti in 2015.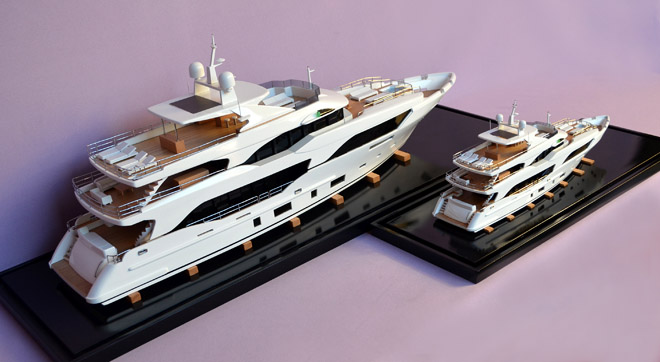 And this yacht model was commissioned by the yacht's owner: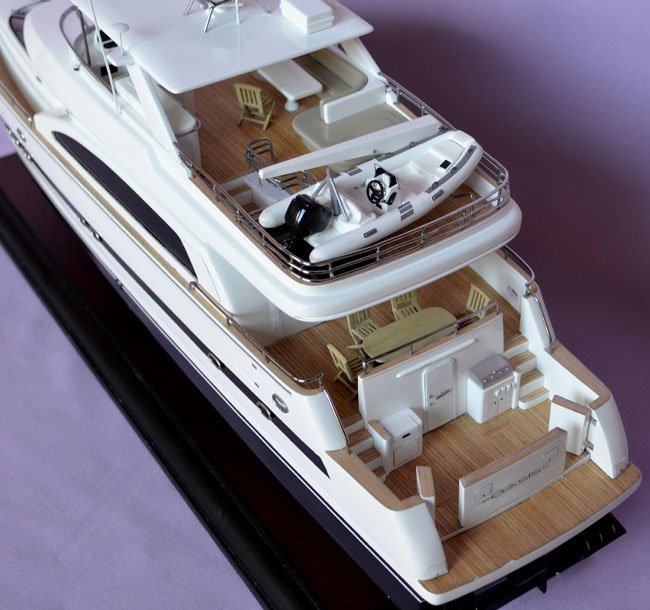 This mega yacht model and three more of our yacht models were purchased by the one of the top yacht brokers in 2016 to display in his worldwide offices: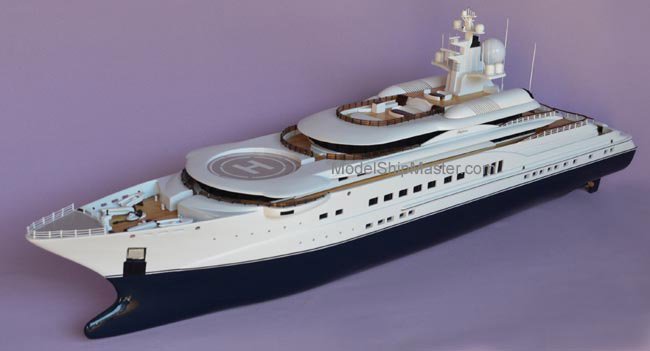 This Viking sportfishing boat model, and a superyacht model were a special order from one of the largest yacht brokerages during the 2017 holiday season: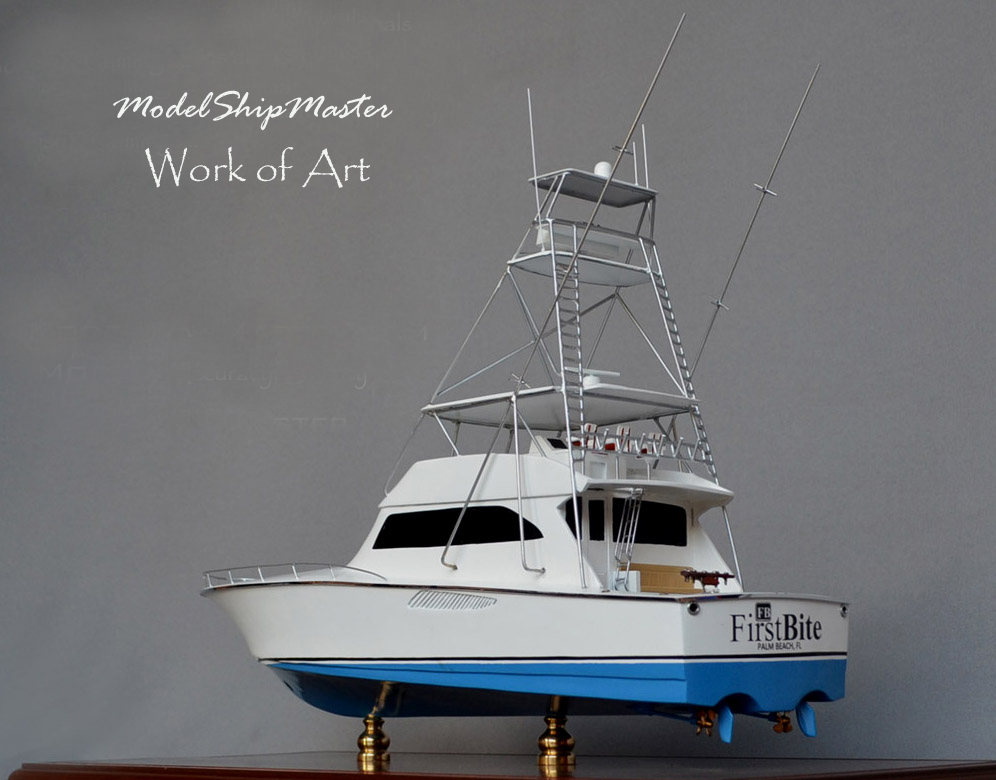 This Arleigh Burke class destroyer is on display at the US surface naval base in San Diego: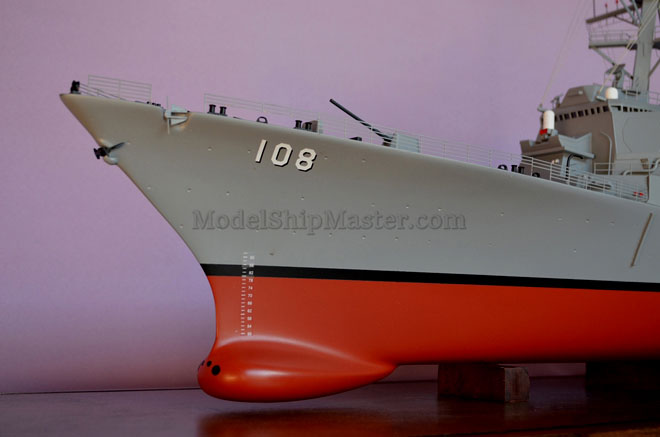 This USS North Dakota submarine model was ordered by a manager of EnerSys who make batteries for Virginia-class submarines for a trade show: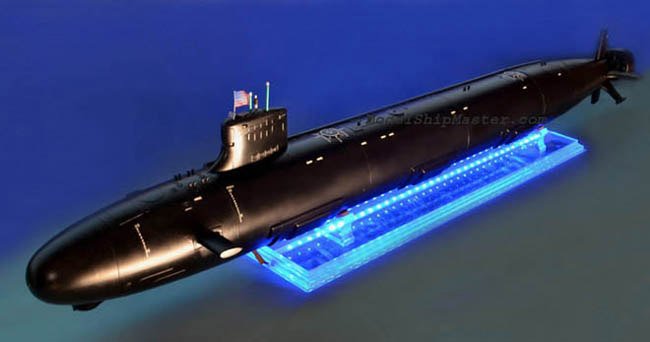 This beautiful model of the classic motor boat Aphrodite was commissioned by an employee a an executive gift for an executive of a prominent mutual fund: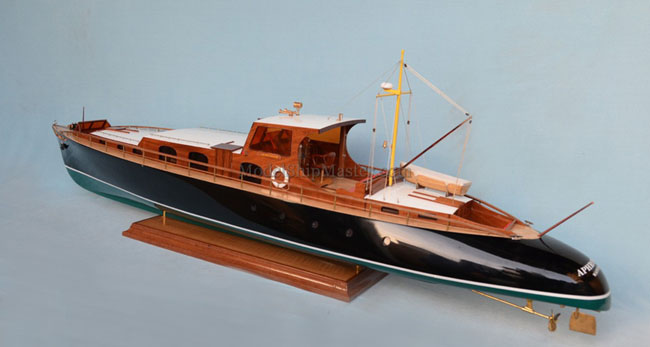 Six of our artisans worked over time to complete these massive classic motor boat models for the opening of the BoatHouse in Walt Disney Resort in Spring 2015: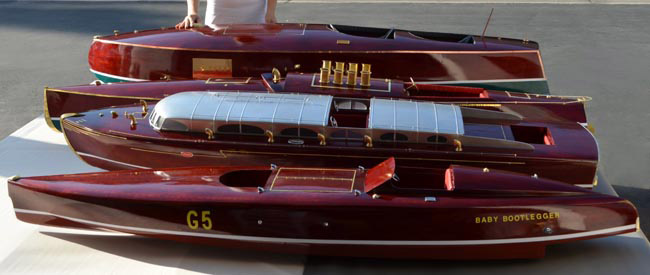 This Viking ship model, together with our three other ship models, are procured and displayed by the word famous nautical museum in San Diego in California: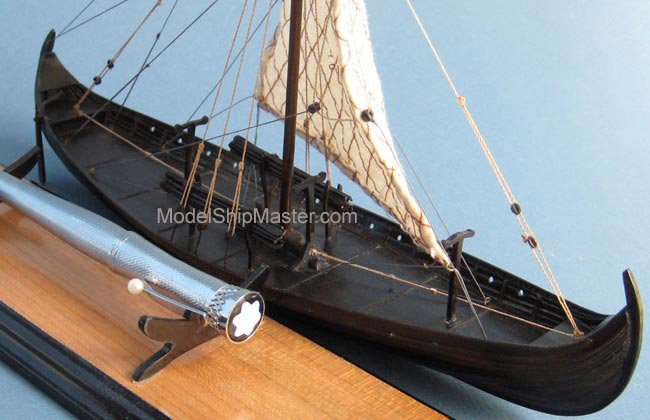 The following tall ship model HMS Endevour has been on permanent exhibition at the tall ship museum Kalmar Nyckel Foundation since 2015:




The following pirate ship model was commissioned by the CEO of Fry's Electronics, after receiving delivery of our two other pirate ships: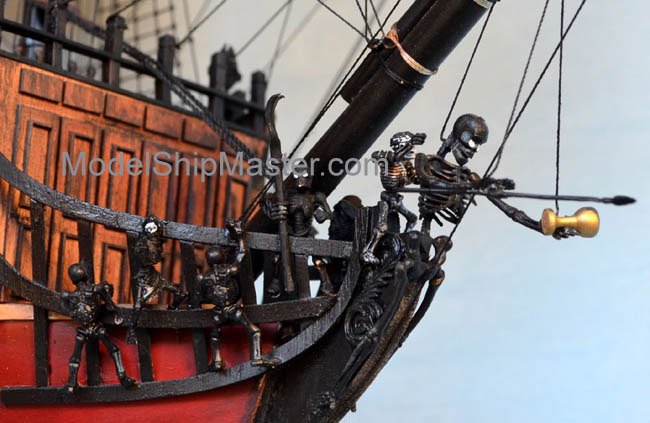 The massive pirate ship model below, together with our large HMS Victory model, large USS Constitution model, and large RMS Titanic model, have been displayed stately since 2014 in a well-known steak restaurant in Quebec, Canada: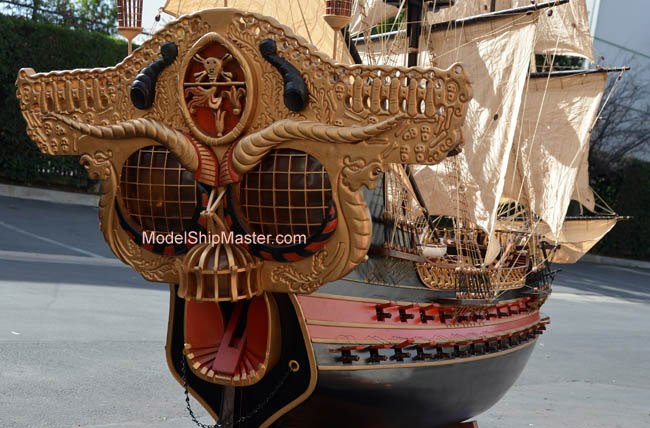 This steamboat model is owned by the ship's Master, Mate, and Pilot--Mr. Davisson: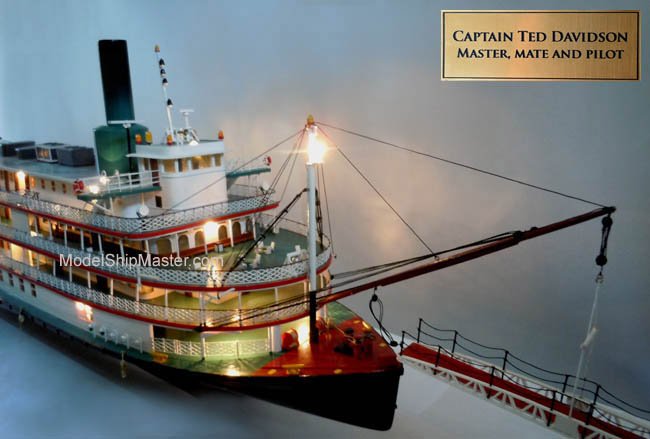 These 1:87 scale fishing boats were made for an architect who builds scenic models for museums: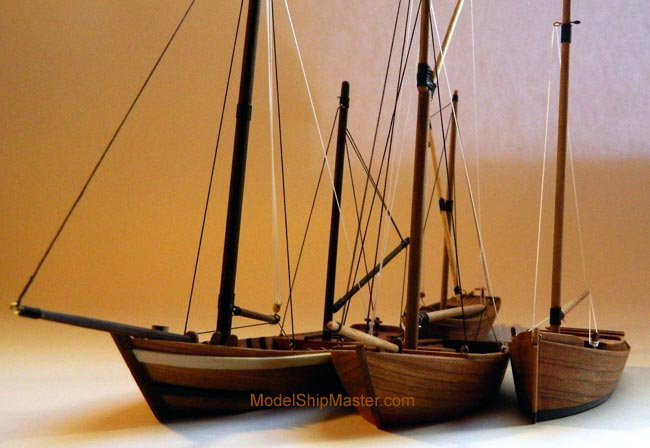 The yacht model below was one of our models hand picked by CEO Jamie Dimon as a special present to JP Morgan's star executives: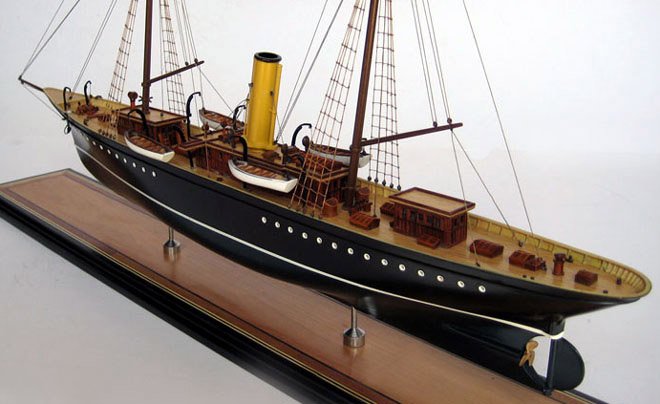 "The waters increased and lifted up the ark, and it rose high above the earth"-GENESIS 7:17

TSS Mardi Gras
"I just placed the below order, which will be a service award for one of our Chief Engineers. He started his career with Carnival Cruise Line aboard the Mardi Gras back in 1972. We were looking for a meaningful reward and couldn't think of anything better than this beautiful model... "Received safe and sound - what a fantastic model! I wish I could get one :)"

Ash Spencer
Employee Experience Manager |Carnival Cruise Line
3655 NW 87th Avenue | Miami, FL 33178





USS Hartford civil war ship model


"I am sure t

he Hartford was an incentive to shake of the hospital " blues " and it has already given me great pleasure and it will become a family heirloom for the family in years to come! it is a great piece of the model shipwright art! she is absolutely beautiful ! I have enjoyed our exchange of e-mails through the build,

and feel you are now a friend ! I wish you all the best for the future , good luck and again many thanks, Kindest Regards, Frank"






SS NORMANDIE ocean liner ship model
"My Normandie ship model arrived today and it is stunning! Exquisite detail. Truly beautiful. The shipping channels to and from New York begin about 50 miles offshore and to the south of where our house stands here on Nantucket Island... This great ship passed near here dozens of times before World War II brought her career to an end. It is wonderful to have this beautiful model in our home to celebrate that history. Thank you for your excellent work, and as I previously indicated, we will be back to you in the future as we continue to decorate our home. Bill K."






SANTA MARIA model ship
"I would have gotten back to you sooner but I've been on vacation. Nonetheless, I must tell you how pleased I am with the "Santa Maria" model. The pictures you sent, as impressive as they were, do not adequately convey the beauty and elegance of the model itself. I congratulate you and your staff for a job superbly done. If I decide to obtain another model ship (a very real possibility) I will most certainly be getting back to you. Best regards, Paul"



TITANIC ocean liner model ship
"Arlan Ettinger wanted me to write and tell you that yesterday at the Titanic press conference, your custom made Titanic model was seen by news crews from all over the world and will be seen by 100s of millions of viewers world-wide. Also, someone at the press conference pointed out to Arlan that there are several tiny flags missing from the model, and he asks that you send them to him please. Many thanks, Carolyn Salter Auction Coordinator. Guernsey's 108 East 73rd Street New York, NY 10021"



WANDERER whaler tall ship model
"I just unpacked my Wanderer and it is beyond my highest hopes. You did a masterful job in recreating this historic whaler! It is the centerpiece of my "man cave" and I'm sure will become a family heirloom. Almost equally amazing was the craftsmanship of the shipping crate. I have to admit, I was a bit worried about how such a large, detailed and delicate model would survive the transport but your custom fitted crate supported and protected it perfectly."


FAIR AMERICAN brig model ship
"We received the "Fair American" ship model on Monday. Wow! It looks fantastic! Thanks so much for your staff's skill and professionalism. It is truly "museum quality" work! Tony Youmans, Director, The Old Exchange & Provost Dungeon."


NAUTILUS submarine ship model
"Picked up Nautilus couple of days ago and unpacked it in the parking lot. The sub looks great! Well worth every dollar and the xtra cost regarding the handmade details that shows well. This ship model makes an excellent addition to my Nautilus collection. Packaging was excellent. Thanks again, Alan Terry."



Blackbeard's Queen Anne's Revenge pirate model ship
"Everyone here at Capstone Press would like to thank you for the use of your pirate ship model. A copy of Pirate Ship: Sailing the High Seas will be sent to you when the books arrive in our warehouse...Capstone Press."


GREEK TRIREME model ship
"I have had a lot of compliments on the trireme. Please thank all those involved in its construction and assembly. Not an easy ship model to make. And the execution is perfect. Again, thanks! Judge Peter Caras, Peoria, Illinois."




VIKING boat model
"I wanted to let you know how much I like the Viking Ship Model I bought from you. It is an absolute work of art!

I have seen the very best ship models that exist: the Smithsonian, Mystic Sea Port, San Diego, Los Angels and San Francisco Maritime Museums – and this one ranks right in there with them. Thank you! - Jim Gasper."




PACIFIC PRINCESS cruise ship model
"I have received the Pacific Princess model that you built for me, and I am thoroughly enjoying it. I commend all of you on the diligent way that you faithfully recreated this ship from scratch. Thank you for the many hours, days and weeks that you spent working on this model on my behalf. Your fine effort is very much appreciated!... I never had the chance to take a cruise on the Pacific Princess, but now I have my own "Pacific Princess" to admire for a lifetime. Again, allow me to say "thank you!" Best regards and God bless, Jeffery Seay Editor in Chief, "Florida State Times" and "STATE Faculty-Staff Bulletin" The Florida State University."




SAN CARLOS tall ship model
"We are extremely pleased with the ship models; they are absolutely gorgeous and beautiful. You have some very talented artisans working with you. I am going to send some information about the WWII Japanese Destroyer IJN NENOHI. This will go into an exhibit with the submarine the USS Triton sub your team is building now. Wings Over Alaska Museum."





GUATAMALA merchant ship model
"Dear Frank: "Guatemala" finally arrived at home port. Very nice, good attention to detail. Satisfied with the model. I will send you a photo of the final port of this ship when I get the display finished and installed in the museum. Viktor."



CANOPIC ocean liner model ship

"Model Ship Masters, I received by commissioned ship model of the White Star Liner - SS Canopic this morning. I am very please and impressed with the accuracy, attention to detail, superior packing, etc. Please give my compliments to the builder or builders of this fine model - the only known model the SS Canopic in the world. I will not hesitate to have Model Ship Masters build my next custom model! Sincerely, Jason J. Diogo, M.D."




SS MANHATTAN commercial tanker ship model

"My name is Peter K. I work with McQuilling Partners, Inc., N.Y.. McQuilling is a tanker chartering brokerage company founded in 1972. We maintain strong ties with the U.S. and international maritime industries and McQuilling employs some 35 Kings Point, Fort Schuyler and other MM school graduates. I recently contacted my good friends at American Bureau of Shipping (ABS) and requested their assistance in providing me with "Manhattan"GA/Capacity/MSS plans. At that time they were kind enough to recommend that I contact your fine firm who they believed would likely have all that is required to build the model to hand..." "...Thank you so very much. You will be hearing from my son Jason K. in the near future and I myself would like to do one more, finances permitting. The model makes me happy each time I pass it – usually 5-6 times daily. Very best regards, Peter"




"My darling (and I do mean that seriously ) wife loves the ship models once she sees them, but she is much more practical than I am, at least in the short term, so she doesn't buy for the future...if there is no space for something now, she says "why buy it."
I, however, am much more future oriented, and very aware of the fact that items of high quality but limited appeal to the general public may not be available in the future....books that aren't on the best seller list, classical music recordings, etc. There is always a niche market for high quality items, but it frequently becomes very expensive. Unfortunately, we live in a culture where it is nearly impossible to go broke making mediocre movies or producing annoying and cloned rap music, but quality, if not priced "competitively", frequently becomes extinct, in the mass market sense...try finding a a good quality toaster or other small appliance at any price.
I fully plan on unveiling all of the acquisitions when we have more space, I hope, in a few years, assuming I don't prematurely expire ( I am 63, but in much better shape than most my age... I should know, I'm a physician ). However, no one's future is assured.
Interestingly enough, my wife inquired today as to whether a friend of hers could bring her grandchildren over to see my ship models, as they seem to have a fascination for sailing ships (probably watched Johnny Depp in Pirates of the Caribbean too many times), so I would say that's a positive sign.
Anyway, as usual, I have probably communicated more than you wish to hear. Keep the colors flying and thanks to all your artisans for their greatly appreciated efforts.
Scott B."
Fine ship models and nautical gifts