Welcome to ModelShipMaster.com's page of large ship models. Making massive model ships is one of our distinctive capacities. Many restaurants, retail stores, and public attractions have made a simple investment in large models and reaped tremendous benefits, including free advertisements from local newspapers/magazines.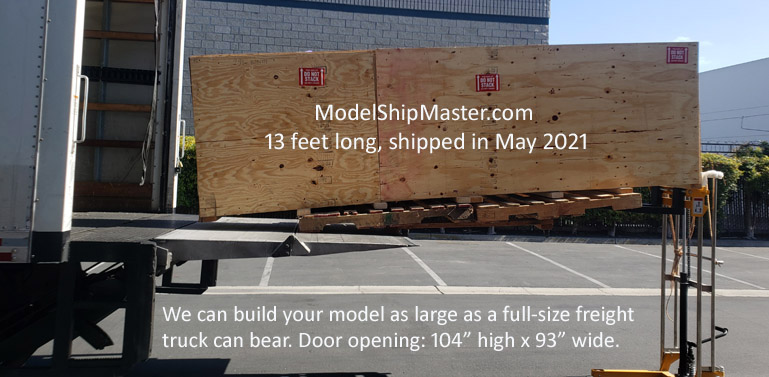 Ordering a large ship model is easy. You tell us what you want and your preferences, by just clicking on this link to let us know of your preferences: Large Model Ship Inquiry.
While viewing the larger ship models below, please keep in mind that they are not very heavy, thanks to our superior hollow hull construction method. Some of our 8-foot long ocean liner models have photos of a 5'3" woman carrying them. A little difficult for her but not at all for an average man. These models, if carved from a solid piece of timber like many makers do, would weigh over 150 lbs and need not two but four people to handle and a fortified table to accommodate them. Not only that, a big solid log will crack later on when it contracts and expands.
The photos below show our massive models that we've built: a 20-foot long starship Enterprise and a 10-foot long pirate ship. On the ground is a 9-foot German submarine U-99.

USS Missouri
BB-63 battleship




The Iowa-class USS Missouri is considered by many the most famous battleship ever built. She combated in three wars, receiving three battle stars in World War II, five in the Korean War, as well as two Combat Action Ribbons and several commendations and medals for the Gulf War.



Click for more info

USS Pennsylvania ACR-4





On January 18, 1911, Eugene Ely landed his Curtiss plane on a platform constructed on USS Pennsylvania's afterdeck anchored in San Francisco Bay using the first tailhook system. This was the first successful aircraft landing on a ship, and the first using a tailhook apparatus, thus opening the era of naval aviation and aircraft carriers.



Click for more info

Checkmate

72" long model




CHECKMATE is a 145ft / 44.2m luxury yacht built and launched by yacht builder Benetti. Her interior is styled by French designer design house Zuretti and she was delivered to her owner in January 2013. This luxury vessel's exterior design is the work of Stefano Righini and she was last refitted in 2018.


Click for more info

Benetti 125

Superyacht model




The Benetti Classic 115 has become one of the most sought after models in the 35m range of superyachts, and has been crowned by her builder as the jewel of the fleet.

Part of the success of the Benetti Classic 115 series comes from the large amount of deck space. The main tender is stored in a cleverly designed stern garage, leaving the aft decks free for use.




Click for more info


Brilliance of the Seas




According to Royal Caribbean, Brilliance of the Seas is the ultimate escape for backroads ramblers — distinct cultures to discover ashore, and unique experiences onboard. This 60" long model cruise ship was commissioned by Original-Group.com who rented the ship exclusively for several weeks. For more than two decades, the company has welcomed sensually-inspired guests to Cancun at a vast American-style dock with the capacity to receive nearly any size yacht, motorboat/boat or vessel.



Click for more info


Allure of the Seas




Allure of the Seas is the sister ship of the Oasis of the Seas. Please click on thumbnail to view large photos showing our models' hundreds of cabin openings which are cutouts (not dark decal on solid pieces of wood.) This cruise ship replica is 60" long.



Click for more info


When completed, Queen Mary 2 is the largest, longest, tallest and widest passenger ship ever built. Comparable to a structure as tall as a 21-story building, she is over four city blocks in length and over a hundred feet longer than the Eiffel Tower is tall.



Click for more info


Octopus

Superyacht model




Octopus, currently the world's sixth largest superyacht and the second largest not owned by a head of state. Octopus was delivered in 2003 to Paul Allen, co-founder of Microsoft. Paul Allen keeps the yacht busy and Octopus shows up every where.


Click for more info


EDWARD CARY

whale ship

This massive model was commissioned by the Nantucket Historical Association Museum in 2019.



Click for more info





SS United States is one of the world's greatest maritime achievements. She smashed all Atlantic speed records on her maiden voyage in 1952. Though no longer in service, SS United States remains a proud icon of American ingenuity and naval engineering. To this day, her record-breaking crossings have yet to be broken by another ocean liner.



Click for more info


SS Normandie





Normandie was the epitome of luxury ocean liners. She was the fastest, the sleekest, and the most artfully decorated. But her first distinction was that she was the first to exceed 1,000 feet in length. On her maiden voyage, she captured the blue riband and broke the Atlantic speed record thus winning the Hale's Trophy from the Italian's Rex.



Click for more info


This HO model is 167 cm long (5.5 foot long). It is the Maersk Alabama featured in the movie Captain Phillips. We are the only one in the world who can build massive models. Any kind of model, not only ships.



Click for more info


The Titanic was an unabashed celebration of opulence and technological wizardry. On her maiden voyage, she attracted an impressive roster of internationally known names. Her 329 first-class passengers had an aggregate wealth exceeding $500 million!



Andrea Doria



Named after the 16th-century Genoese admiral, Andrea Doria was an icon of Italian national pride. Of all Italy's ships at the time, Andrea Doria was the largest, fastest and supposedly safest. Launched on 16 June 1951, the ship undertook its maiden voyage on 14 January 1953.



Click for more info






The Queen Elizabeth 2, often called "the QE2", was the flagship of the Cunard Line from 1969 until she was succeeded by Queen Mary 2 in 2004. The QE2 was considered the last of the great transatlantic ocean liners. She served almost 40 years as the Cunard flagship and traveled all over the world.



Michelangelo


Michelangelo was distinguished by two unusual features: her graceful hull and unique funnels. Research aimed at ensuring smoke and grit fell clear of the decks led to this peculiar funnel shape. Narrow funnels with lids were found to be most effective whilst the surrounding trestlework gave the shape of conventional funnels.



Click for more info


The Rex was the only Italian ocean liner to ever win the Blue Riband and one of the best looking cruise ships to ever wear the colors of the Italian Line and makes a beautiful ocean liner Model. Rex's half-ton bronze bell stood in the foyer of the Italian Line's head office in Genoa. Sold out.



Click for more info


Lusitania






Lusitania held the Blue Riband a number of times, notably in 1907. The ship was torpedoed and sunk by a German U-20 on May 7, 1915, on her 202nd crossing of the Atlantic Ocean. President of the United States Woodrow Wilson officially promised to keep the US out of the war, but the sinking of the ship provided some justification for the later entry of the U.S. into the war. Sold out.



Click for more info


Viking long ship




Nothing is as symbolic of the Vikings as the longship or drakkar which was the best built in the Viking fleet and appeared only in the biggest wars. Drakkar could easily deliver four hundred warriors to a battlefield.



Click for more info






HMS Victory was essential to Britain's continued superiority on the high seas during the Napoleonic Wars. HMS Victory was the legendary Nelson's flagship against France and Spain in the famous Battle of Trafalgar in 1805.







USS Constitution was never defeated in battle. In 1844, USS Constitution became the first American warship to circumnavigate the globe. USS Constitution is world's oldest commissioned warship still afloat as of today.



Flying Dutchman
Movie version






The Flying Dutchman has been seen by sailors in those waters for hundreds of years. Its appearance is considered a harbinger of doom. One of the most famous sightings was first by a seaman then by Prince George in 1881. The seaman who first sighted the Dutchman fell off from the topmast and died later in the same day

.


Click for more info


Jolly Roger






This pirate ship was completed in Nov. 2012 for an upscale restaurant in Quebec, Canada. Figurehead and all stern decoration (serpents, horns, skulls...) were hand carved. One side and the deck was partially open to show the ship's interior.


Click for more info



Black Pearl



The world's largest Black Pearl ship model made for Mr. Charlie Bailey who supervised the construction of the 3 real ships used in Pirates of the Caribbean movies. Delivery was on Feb 14, 2012 in Novato, Calif.


Click for more info


HMS Endeavour

This HMS Endeavour is built with one side showing interior.

Click for more info

Bismarck
Battleship





After completion of trials and training programs, battleship Bismarck departed to participate in the battle of the Atlantic. In this battle, Bismarck demonstrated how superbly it had been designed and built. In a mere eight minutes, she sunk the finest and biggest battlecruiser of Royal Navy, HMS Hood.



Click for more info

HMS Hood
Battle Cruiser


Completed in 1920, she was the forerunner of all the World War II fast battleships, the evolutionary stage where the battle cruiser merged with the battleship to become the new type later known as the "fast battleship." The Hood had a dramatic influence on the subsequent capital ship designs of all nations. The biggest and boldest of all battle cruisers, Hood ruled the seas from 1920 to 1940.


Click for more info

Yamato Battleship


Yamato was by far the largest battleship ever built, even exceeding in size and gun caliber the U.S. Navy's abortive Montana class. Their nine 460mm (18.1-inch) main battery guns which fired 1,460kg (3,200 pound) armor piercing shells were the largest guns ever went to sea. Each gun weighed of 2,530t, the weight of a large WW II destroyer. Sold out.



Click for more info

Starship Enterprise



The world's largest Starship Enterprise model. Commissioned by Minnesota's largest candy store.


Click for more info

Thunderbird Lake Tahoe


Thunderbird is a 55-foot speedboat designed by John Hacker and built by Huckins in 1939 for Captain George Whittell--a millionaire who owned most of Tahoe's east shore at that time. In 1962, resort-casino owner Bill Harrah purchased Thunderbird and repowered her with twin 1000 hp Allison aircraft conversion engines, allowing a top speed of 70 mph.



Click for more info