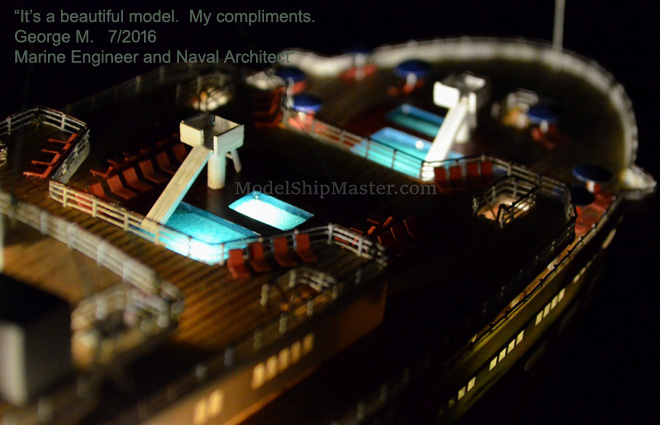 The Queen Mary is in dire need for repair. Very few repairs have been made to the historical vessel over the past five years, leaving her vulnerable to flooding or capsizing. In addition, Long Beach would need $20 million for urgent safety repairs to keep the ship viable. The $20 million is on top of another $20 million Long Beach has already spent on her. ModelShipMaster wants to help. For every purchase of the QM model, we'll donate $200 to the Queen Mary.
The thumbnails below lead to individual pages of each ocean liner. Note that green color means the model is in stock. Also for your benefits, check out this page to learn more about Accurate ocean liner models
English:
| | | | | |
| --- | --- | --- | --- | --- |
| Aquitania | Queen Mary | Lusitania | Olympic | Titanic |
| QE | Mauretania | QE 2 | Berengaria | FairStar |
| Majestic | Reina del Mar | Hibernia | Ocean Monarch | Queen of Bermuda |
French:
| | | | |
| --- | --- | --- | --- |
| Ile De France | Normandie | Liberte | France |
German:

Bremen

Europa

Bremen 5

Pacific Princess
(Love Boat)

SS Imperator
SS Vaterland
SS Bismarck
Italian:
| | | | | |
| --- | --- | --- | --- | --- |
| Michelangelo | Raffaello | Conte di Savoia | Rex | Cristoforo Colombo |
| Andrea Doria | Conte Rosso | Queen Frederica | | |
American:
| | | | | |
| --- | --- | --- | --- | --- |
| United States | Lurline | Constitution | Constitution | Independence |
| America | Wakefield | | Matsonia | |
Other countries:

Empress of Canada

Nieuw

Amsterdam


Rotterdam

Australis

Nea Hellas

Click on the photo below for a beautiful model of first ship ever powered by steam turbines, revolutionizing the industry, also the fastest vessel in the world: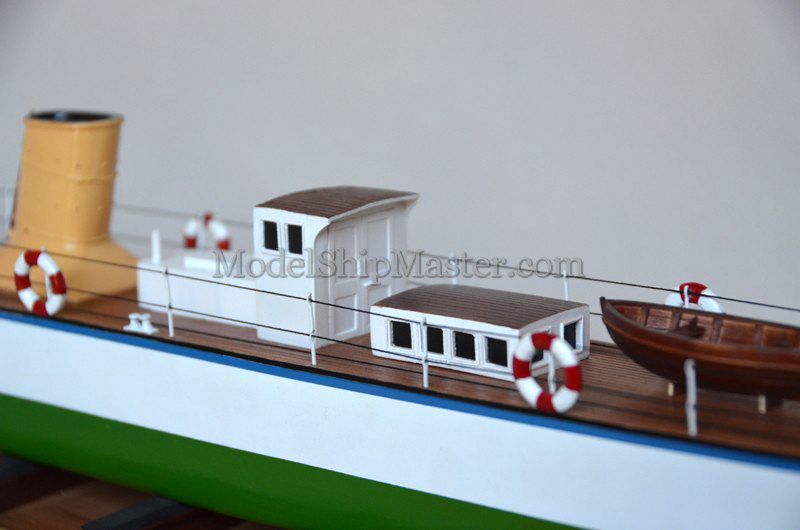 "I am totally speechless, my RMS Lusitania model is far beyond my expectations. It is a true masterpiece. You are really a MASTER of model ships!
Thank you very much for everything, and I can not wait to do business again in form of the RMS Empress of Ireland. Best wishes from Hungary, Laszlo L. 6/1/2021."
"I received the Queen Mary and I love it. For me, it is a fabulous piece of art executed in a meticulous manner and a super addition to my apartment. I have always been fascinated by the era of the great liners, typified by the Queen Mary. I have one small problem that I need to ask you about. In removing the model from the packing, I accidentally broke two of the lifeboat davits. They are so tiny, I do not know how to replicate them. Would it be possible for your artisans to send me two replacement davits. I would be happy to pay for them. I can't wait to see the HMS Victory when it is completed. Thank you. Richard C. New York, New York"

"Just want you to know that the Rex for us has become a reason to gather friends and family ( in small groups) as they all want to see the ship! They love the "attention to detail" and we are challenging them to look for the people. This has become a fun game. At times we provide a little help, with a magnifying glass! Lot of fun. Sincerely, Lou"

"Received your email to order REX. Interested in lighting option for $200 extra all I need someone to contact me for order. My # 917 841 xxxx you can call anytime. I have ordered models from Motion Models and SD Model Makers wish I would have found you sooner. Anthony L."
"My darling (and I do mean that seriously ) wife loves the models once she sees them, but she is much more practical than I am, at least in the short term, so she doesn't buy for the future...if there is no space for something now, she says "why buy it." I, however, am much more future oriented, and very aware of the fact that items of high quality but limited appeal to the general public may not be available in the future....books that aren't on the best seller list, classical music recordings, etc. There is always a niche market for high quality items, but it frequently becomes very expensive. Unfortunately, we live in a culture where it is nearly impossible to go broke making mediocre movies or producing annoying and cloned rap music, but quality, if not priced "competitively", frequently becomes extinct, in the mass market sense...try finding a a good quality toaster or other small appliance at any price. I fully plan on unveiling all of the acquisitions when we have more space, I hope, in a few years, assuming I don't prematurely expire ( I am 63, but in much better shape than most my age... I should know, I'm a physician ). However, no one's future is assured. Interestingly enough, my wife inquired today as to whether a friend of hers could bring her grandchildren over to see my ship models, as they seem to have a fascination for sailing ships ( probably watched Johnny Depp in Pirates of the Caribbean too many times), so I would say that's a positive sign. Anyway, as usual, I have probably communicated more than you wish to hear. Keep the colors flying and thanks to all your artisans for their greatly appreciated efforts. Scott B."
Do your due diligence. Look for large photos that show all angles all the model and its details when you are about to purchase an ocean liner model. Many, especially ones that have solid hull (carved from a log) and solid superstructure, suffer from nonuniform, unaligned windows and portholes. The cheap ones on Amazon and Ebay (under $1,000) came from a singe source and they have massive errors. Click here to learn more low-end ocean liner models
.