Hinckley Talaria 29R

In her sensuous lines and forms, the Hinckley Talaria 29R has hints of Riva and Gar Wood. Her bottom is more Ray Hunt, that gives better performance at sea.



Click for more info
Hinckley Talaria 44

This model of the Hinckley Talaria 44 is 22" long. The world's very best is what you will see.


Click for more info
Chris Craft Barrel Back

In the years just prior to World War II, Chris-Craft produced some of its most beautiful—and now most collectable boats in history, the barrel backs.


Click for more info
Chris Craft
Triple
Cockpit

No other boat embraces the elegance of the mahogany runabouts like the Chris-Craft Triple Cockpit Barrel Back. A gorgeous boat in every way, it's sleek styling and flowing lines are ever present in this 1930's beauty. Only 73 ever built by Chris Craft.



Click for more info
Chris Craft Racing runabout
In 1948, Chris Craft introduced their 19-foot Racing Runabout. The boats were built sleek and had larger engines which produced a stunning speed up to 50 mph. The boat was a hit and Chris Craft made a total of 503 of them during the time from 1948 through to 1954.


Click for more info
Chris Craft Cobra

The 21-foot Cobra would make 55 miles per hour. Its dorsal fin styling takes a cue from the Ventnor introduced in 1948. This one features 8-inch-wider beam and weights 570 pounds more than the 18-foot version.


Click for more info
Teaser
The award-winning Teaser became famous by winning the celebrated time trial against the Twentieth Century Limited from New York City to Albany in 1925. She beat the record by more than an hour. The Twentieth Century Limited was the fastest train on the rails at that time.



Click for more info

Baby Bootlegger
Baby Bootlegger is perhaps the most beautiful wooden boat ever built. She won the 1924 and 1925 Gold Cup race.
Baby Bootlegger will do 70 mph flat-out. In addition to being a stunningly beautiful boat, she is considered by many the best handling in any boat.



Click for more info
Miss Behave

The 16 foot Gar Wood speedster is, pound for pound, the most valuable classic speed boat in the world. Miss Behave is certainly the most well known of the original five speedsters brought to the St. Lawrence in 1935. Today the original "Miss Behave" is in the Thousand Islands Shipyard Museum.



Click for more info
Dixie II

The legendary Dixie II is the winner of more than 100 consecutive races, including two Gold Cups and two Harmsworth Trophies. The fastest motorboat in the world, Dixie's average speed was 28 nautical miles per hour, equivalent to 32.15 statute miles. This is the fastest time ever made in a motorboat race in this country.



Click for more info
Typhoon
Typhoon
measured 40' in length, with a 2000 cu. in. Wright Typhoon engine. Like a wild stallion, she was born to race. She had the seating capacity to seat up to eight adults, in three separate cockpits, but without the creature comforts and safety of any windshields.


Click for more info
Elco

The Electric Launch Company, later renamed Elco Motor Yachts, began operations in 1893 and continued to 1949. It was resurrected in 1987 and continues today, producing hand crafted replicas of some of its classic launches.



Click for more info
Panther

Build by naval architect William D. Jackson, this 15' boat could run faster than 75 mph and have only one point of contact with the water: its propeller.


Click for more info
Zipper

The Zipper was considered a fast hydroplane of category 225. John Hacker designed this wonderful boat. Zipper illustrates the sobriety and the elegance of the runabouts of the 20s & 30s. Her planing hull was made to increase speed and to increase stability in tight turn.


Click for more info
Century Sabre

The Quintessential early '60's styling of the Century Sabres was unique in the boats of that era. With their removable t-tops, automotive style interiors and powerful V8 engines there was nothing else like them on the lakes.



Click for more info
Century Coronado

This 1965 Century Coronado has been fully restored and won best in show at the Coeur d'Alene Wooden Boat show in 2006. In 2008, it won the Sheriff's award.



Click for more info
Thunderbird
Tahoe



Thunderbird is a 55-foot speedboat designed by John Hacker and built by Huckins in 1939. Today Thunderbird is equipped with a twin 1000 hp Allison aircraft conversion engines, allowing a top speed of 70 mph!



Click for more info

Owens Flagship

This famous model was powered by a twin Hercules flathead 6 cylinder engines with a top speed of 20 knots and a cruising speed of 8 to 12 knots. Built in Baltimore, Maryland.



Click for more info


Twelve of our massive classic boat models have been decorating several restaurants designed by Schussler Creative--the creator of the Rain Forest Cafe. The second order came in 2014 when Mr. Schussler ordered four different boats for his BoatHouse restaurant in Orlando, FL.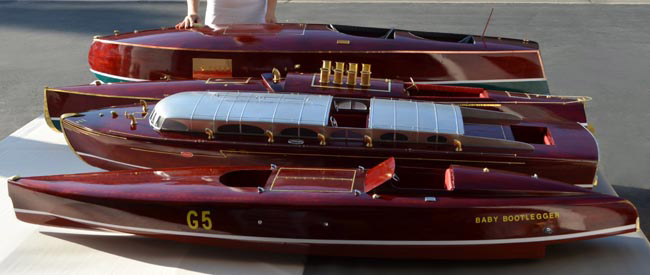 Model Ship Master has been chosen by the owner of a Century Coronado that has won best in show at the Coeur d'Alene Wooden Boat show and the Sheriff's award to build the model.
Praendex Pacific's president purchased in person (he wanted to view the quality in person) four museum-quality classic boat models from Model Ship Master in July, 2007.

Be beware of some very cheap boat models. They are not built from official plans and thus have the hull shape very wrong. Some of the easy-to-spot errors are the oversized hull fins and the very wrong windshields. Their chrome-looking parts are actually plastic (see photos). Their hulls are, surprisingly, plastic covered with wood color paint. These are more of children's toys, not suitable for beautiful homes or prestigious offices. Click on this link for some analyses that we were paid to performed in the past.
Would you like to have a unique base such as the one below for your boat model? Send us an email: services@modelshipmaster.com