256-bit encryption
$500,000 protection




SUBMARINE MODELS
"If you're a sailor, best not know how to swim. Swimming only prolongs the inevitable--if the sea wants you and your time has come."--James Clavell.

There are three types of submarines:
Fast attack submarines (SSN): typically smaller and faster than the other subs and have more of a tactical mission of ship and submarine attacks, intelligence gathering, and even launching cruise missiles.

Ballistic missile submarines (SSBN): carry Trident missiles tipped with nuclear warheads. The Navy's 14 SSBNs act as the nation's sea-based strategic deterrence.
Cruise or guided missile submarines (SSGN): the four SSGNs in the Navy's inventory carry a lot more firepower than a fast attack submarine and have the most advanced technology capable of launching cruise missiles, mini-submarines, and special operations personnel.



Ohio class


USS Tullibee

USS

N

autilus


USS Skipjack



USS Triton


Los Angeles



Virginia Class




Virginia

Block IV


Jimmy Carter

Seawolf class

USS Cheyenne

HMS Astute

Alfa class

Oscar class

Typhoon

Akula
| | | | | | | | | |
| --- | --- | --- | --- | --- | --- | --- | --- | --- |
| U-505 | SS-44 | USS Wahoo | USS Jack | I-4OO | USS Cavalla | USS Croaker | USS Batfish | U-99 |
| | | | | |
| --- | --- | --- | --- | --- |
| Nautilus | Nautilus | Turtle | Yellow | Personal submarine |
A typical submariner needs to be highly educated and qualified personnel to operate mutli-billion-dollar weapon systems. He must be able to handle a special environment.
To be a submariner you have to be different. It takes a unique mindset to handle being isolated from people, the sun, and fresh air. With little access to the sun, it's hard to detect the passage of time, which may disrupt sleep patterns. Most people just can't handle the thought of being underwater, but submariners never really think about it.
Submarines face many perils of the deep. Even a small fire or gas leak inside a submerged sub can have catastrophic consequences. A collision with another vessel or grounding may be much more serious for a submarine than for a surface ship.
Submariners are expected to handle just about every role on a sub, from electrician to galley cook. They must know how to save the boat regardless of the casualty, and regardless of your rating or rank. A cook should and do know how to fight a fire in the engine room, just like a nuclear-trained mechanics to know how to isolate a power supply if smoke comes from the sonar shack. Everyone on a submarine is the damage control party.
Even the most junior sailor is expected to scream his head off if his captain made a mistake that endangered the ship.
At 400 feet, there's no time to be scared!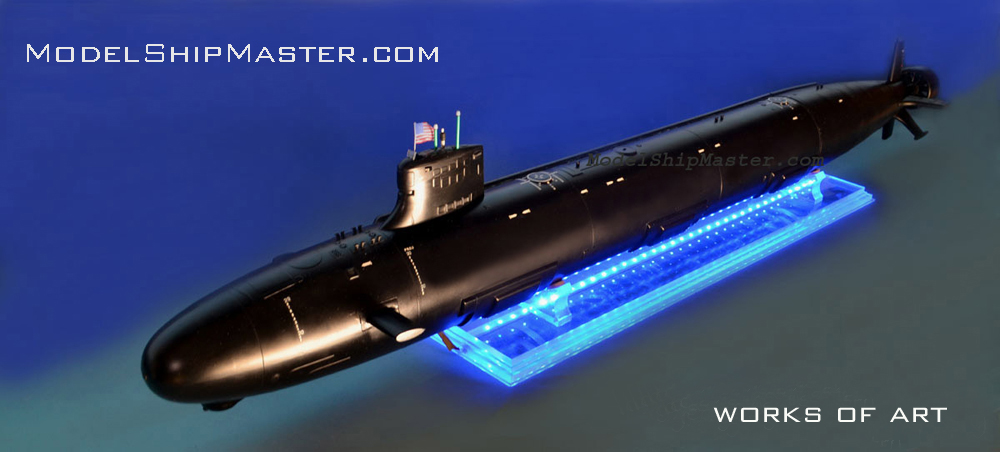 Submarine models that we are planning to build:

USS lafayette
SSN-616



The first eight submarines initially deployed with the Polaris A-2 missile, later being refitted with the longer ranged Polaris A-3. In the mid-1970s they were upgraded to carry the Poseidon C3 missile.


Click for more info

Sturgeon class

USS Parche is the most highly decorated vessel in U.S. history. She received a total of nine Presidential Unit Citations and ten Navy Unit Commendations. The submarine also received thirteen Navy Expeditionary Medals during her thirty years of service. She was involved in recovering Soviet missile fragments from the seabed following test launches.



Click for more info


USS Albacore



USS Albacore AGSS-569 was a unique research submarine that pioneered the American version of the teardrop hull form of modern submarines. The revolutionary design was derived from extensive hydrodynamic and wind tunnel testing, with an emphasis on underwater speed and maneuverability.



Click for more info

Surcouf French submarine model




The Surcouf was once the largest submarine in the world. Not only she was she armed with torpedoes but also two 8-inch cannons mounted in a turret forward of her conning tower and a Besson MB.411 airplane housed in a watertight, pressure resistant hanger behind the conning tower. Surcouf was designed as an "underwater cruiser", intended to seek and engage in surface combat.



Click for more info

Gotland submarine model

In 2005, USS Ronald Reagan aircraft carrier was sunk by multiple torpedo hits during a war game pitting a carrier task force including numerous antisubmarine escorts against HSwMS Gotland, a small Swedish diesel-powered submarine displacing 1,600 tons.


Click for more info



Saphir

submarine


On 6 March 2015, during a training exercise off Florida Saphir sunk the aircraft carrier USS Theodore Roosevelt and its escort.




Click for more info

HMS Dreadnought




Britain's first nuclear-powered submarine that opened a new chapter in the history of the Royal Navy. Built by Vickers Armstrong, the boat was seen as a revolution in the defense of the realm and, to emphasize the fact, she was launched by Her Majesty, Queen Elizabeth II, on Trafalgar Day, in 1960.



Click for more info


Vanguard class



This submarine model will be vailable in fall 2021. You will see the most accurate model of the Akula class submarine

ever built. Look at the torpedo tubes at the bow and you can tell.


Click for more info

USS Cusk

The world's first missile submarine.


USS George Washington

The first submerged submarine to launch the Polaris missile--the United States Navy's first SLBM.

U-21 (

Type IIB)






In September 1914, U-21 became the first submarine to sink a ship with a self-propelled torpedo when she destroyed the cruiser HMS Pathfinder off the Firth of Forth. She also sank several transports in the English Channel and the Irish Sea later in the year.





Type XXI



Type XXI U-boats were the first submarines designed to operate entirely submerged as much as several days, and they only needed to surface to periscope depth for recharging via a snorkel.





Ictineu II

(1864)


The Ictineu II was the first successful combustion powered submarine. The most important invention was the anaerobic engine together with the solution to the problem of oxygen renovation in an hermetic container.





Brandtaucher

(1850)




Brandtaucher was a submarine built the German Navy in 1850. Upon seeing the submarine the Danish Fleet decided to retreat, resulting in the first naval victory achieved by a submarine.





Drebbel's Submarine model
(1620)

The first submarine was ever constructed, by Cornelius Van Drebel, of Holland, in the service of King James I of England. It was operated by 12 rowers and submerged to a depth of 12 feet.



When choosing a builder for your favorite submarine models, look for large photos showing details to verify if a model is worth the title "museum quality" as wildly claimed by some. Remember that models might look good from afar but will disappoint greatly when being held in your hands, like the samples below: