Plank-on-frame construction is the most difficult process and a nightmare to many model ship builders. Artisans have to heat bend individual planks according to the curves of the hull and nail and glue them one by one onto the frame. Moreover, since wood expands and contracts, planks must be small, thin and treated. Real ships have been built like that. Great ship models in nautical museums across the world are all like that.
To save costs, many commercial model ships builders machine carve ship hulls from solid pieces of wood. These solid-hull ship models also carry solid superstructures which are given dark decal (which surely will curl up in several years) to portray portholes and windows, etc... At the time of business inception, our founders once faced tough choices between traditional planking and the solid hull and also resin hull method. Cost and profit pressure kept mounting but thanks to the generous financial supports from many patrons, we finally made up our mind that we would maintain the classic way until "the end of the world." All our ship models have plank-on-frame hulls and hollow superstructures.
A good way to comprehend the value of a ship model is to question whether it can be carried by an art gallery in an upscale neighborhood. Those art galleries prize models that have natural materials and tremendous amount of personal attention.
The following video shows very well the traditional planking method. We use this method on all our ship models (Ocean liner models, cruise ship models, cargo ship models, naval ship models, yacht models...) Even the hulls of our submarine models are also plank-on-frame. The only exception is the submersible RC submarines because of their operation nature.
This video from model ship builder J. Brent shows making thin wood planks is a time-consuming process (starting at 3:30.) The video also displays necessary tools and the extensive labor involved in the making of plank-on-frame ship models:
This one from the Modelers' Shipyard teaching how to plank a ship model. After watching this video you'll see why solid wood and resin hulls make more sense for many model makers:
And here are some representative photos:




The Skeleton Bench (by Bilgoray Pozner) must have been inspired by a beautiful plank-on-frame hull.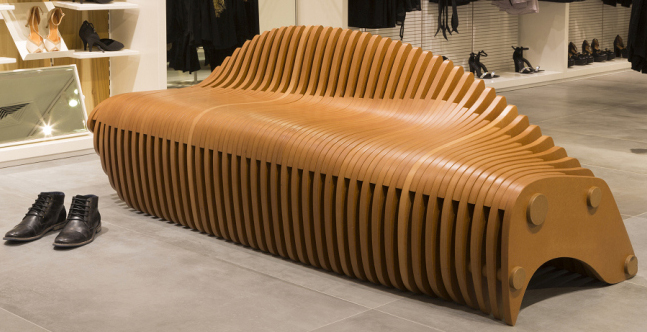 The following video shows how a computerized machine can make a solid hull:


And this one from MIT university shows how simple it is to hand carve a hull. Fast forward to 25:00 for the core:

This video shows a traditional workshop and the painstaking way to make parts from scratch. Eventually many manufactures will use 3-D printers. Not us!
For more about traditional woodworking method, please click on the photos below.