Jan. 2018: According to the Economist-a magazine, a powerful search ship has been deployed to search for MH370-the missing airliner that left Kuala Lumpur on March 8, 2014 with 239 on board and vanished over the Indian Ocean. The ship's name is Seabed Constructor. She is a Norwegian research vessel, built in 2014 and currently leased by Ocean Infinity in Houston Texas. Seabed Constructor carries eight autonomous submarines called HUGINS, each six meters long. With these eight subs, the ship can manage 1,200 square kilometers a day--enough to have covered the original search area in just 100 days. The HUGINS can go as deep as 6,000 meters, reaching most of the sea floor comfortably. They will be launched by the stinger, which extends out over the ship's stern. Each HUGIN has a 300 kg battery pack, good for 60 hrs. Most of the searching will be done by sonars scanning the bed on either side of the craft. HUGINS's search pattern are set by people, but they will navigate with little reference to their mother ship. They are capable of picking their way without assistance over sheer underwater cliffs and mountains. Seabed Constructor is the most advanced civilian survey vessel on the planet. If it cannot find MH370, then it is likely that nothing will, and that the mystery of MH370 will remain unsolved.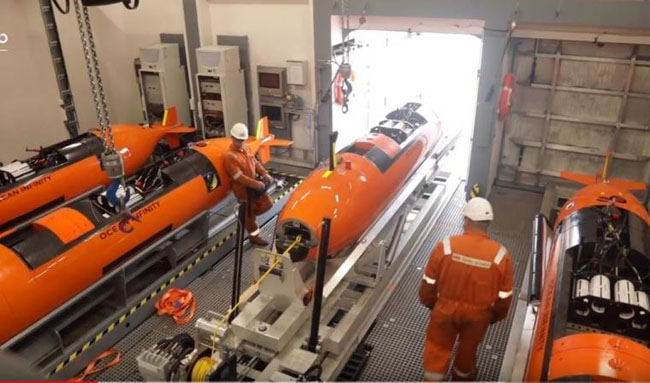 Dec. 2017: According to the Washing Post, Russian submarines have dramatically stepped up activity around undersea data cables in the North Atlantic. Britain's top military commander warned that Russia could imperil the cables that form the backbone of the modern global economy. The privately owned lines, laid along the some of the same corridors as the first transatlantic telegraph wire in 1858, carry nearly all of the communications on the Internet, facilitating trillions of dollars of daily trade. If severed, they could snarl the Web. If the cables were destroyed, ModelShipMaster's production would be cut dramatically and and we'd be forced to turn away/postpone many orders.
Oct. 2017: A letter like this helps relieve our hardship. Many of us spend 10 hrs/day with dust, paint, glue, sharp tools and sometimes we really feel broken.
"Sorry for the tardiness in letting you know she has arrived and is beyond gorgeous! My son's face was priceless and he actually thought I had somehow found another ship as he remembered how tragically damaged she was! He's happy that a case is being made since right away my granddaughter (9) wanted to touch it. He was telling his family stories of how he ran around on her as a kid and all the fantastic treats he used to get in the galley etc."

Sept., 2017: We enjoyed this annual Breitling air show very much. We wish had been able to join the many other boats from afar. So ironic for a company that produced many great models of famous vessels and doesn't afford a simple boat. A sad moment... For more information about this air show, please go here: www.hbairshow.com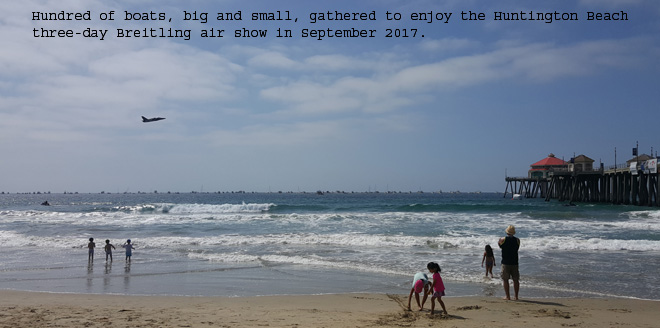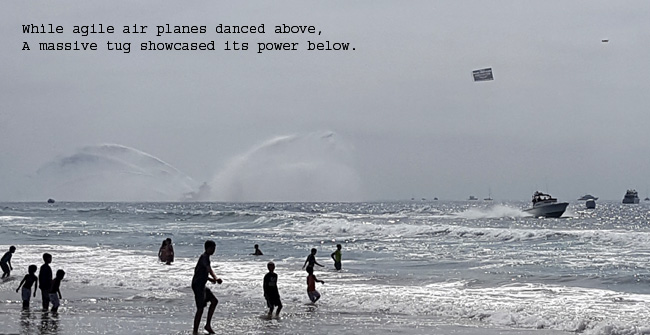 August, 2017: A Viking Wonder Woman. A new DNA test of a warrior buried in Sweden more than 1,000 years ago provide the first genetic evidence that some women held powerful positions in Viking culture. The 10th century grave site, which was uncovered in the 1880s, contained a sword, arrows, a battle knife, a spear, shields, and 2 horses. The 5'6'' Viking was also buried with a set of game pieces--an indication of the deceased's expertise in battle tactics. Previously archaeologists made the assumption that it was a male warrior. However, the new DNA test revealed that the Viking leader lacked a Y chromosome--confirming that "he" was actually a "she.
July, 2017: The first hydrogen ship around the world. A 100-foot-long catamaran that powers itself without any fuel has set off to begin a 6-year trip around the world. The vessel primarily utilizes sun or wind energy during the day. At night, it harnesses a reservoir of hydrogen that the boat itself produces through electrolysis of the salt water. The voyage will span 50 countries and 101 stopovers. Originally designed in 1983, the boat enjoyed a successful career in open-sea sailing races before skippers Frederic Dahirel and Victorien Erussard and a French research institute converted it into the Energy Observer project. We have good information about this catamaran to build a model for you. Please click on this link to commission it: Self-propelled catamaran model



June, 2017: Naval submarines surface safely and quickly through ice. They continue to rise until the ice cracks. That, though, is slow and can damage the boat. According to the Economist--a magazine, Russia has launched Arktika, the first of the three giant, new nuclear-powered icebreakers intended to help open Arctic shipping lanes. Russian scientists have found that bow wave from a submarine travelling close to the surface pushes the ice sheet upwards, making flexural gravity waves in it, which cause it to break up. They have proved that a submarine traveling 30 yards below the ice can break sheet nine feet thick. At 20 yards it could break ice six feet thick. And it can do it quickly, about 10 times faster than the America's Polar Star icebreaker! Building submarines to act as icebreakers would be a huge investment but Russia doesn't have a problem. It retire nuclear submarines much faster than America does.
May, 2017: According to Time magazine, pirate ship attacks in the waters off Somalia in April and May increased 60% over the period last year.
April 2017: Norway plans to beginning building the world's first ship tunnel in 2019 to help vessels avoid the stormy Stadhavet sea . The passage will be 1.65 mile long, 162' tall, and 118' wide.
Feb, 2017: No where else you can find dedicated American craftsmen like at Model Ship Master. If you are watching Elementary Season 5, pay attention to a beautiful unfinished model tall ship. In Feb. 2017, CBS contacted Model Ship Master for an unusual request: to supply CBS a tall ship that looked half completed, within 5 days. Acknowledging this prop was an important element in the movie set, our artisans worked hard and delivered the model in time, with the help of an overnight delivery service. You can count on Model Ship Master, any time, any where!

Feb, 2017: DEADLY TORPEDO DESIGN: When introduced 40 years ago, the Soviet Shkval torpedo was hailed as an aircraft-carrier killer because of its speed of more than 370kph was four times that of American. The principle that gave the speed is called Supercavitation. Bubbles of vapor form in water wherever there is low pressure, such as on the trailing edges of propeller blades. Shkval's designers amplified the phenomenon to make use of it. They gave their weapon a blunt nose fitted with a flat disc that creates a circular trailing edge as the torpedo moves forward. They also gave it a rocket motor to accelerate it to a speed fast enough for that edge to create a cavity consisting of a single, giant bubble which envelopes the entire torpedo except for the steering fins. The result is that most of the torpedo experiences no hydrodynamic drag. To take advantage of this it is propelled by a hydrojet—a motor fuelled by a magnesium that will burn in water.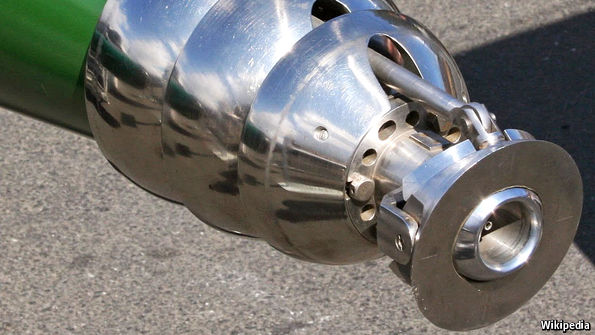 However, problems with its design meant Shkval turned out to be less threatening. Shkval's problems are threefold. First, it has a short range—around 15km compared with around 50km for America's. Second, the hydrojet is noisy, so opponents can hear the weapon coming. Third, it cannot track its target. Most torpedoes use sonar to home in on the ship they are intended to sink. Because Shkval travels inside a bubble, any sonar needs to be mounted on the cavitation disc, which is too small for the purpose. In addition, returning sonar pings would be drowned out by the hydrojet's noise. As a consequence, Shkval's only guidance is an autopilot which steers it towards the place where its target was located at the moment of launch, in the hope that the target has not moved.
These deficiencies have not stopped Western countries trying to build supercavitating torpedoes of their own. German's Diehl announced a program for such a weapon, Barracuda, in 2004. In 2006 General Dynamics started to look into the matter and eventually solved the sonar problem by mounting it on the torpedo's steering fins. In the end, however, these efforts ceased without clear reasons.
From Russia, in October 2016, plans emerged for a new supercavitating torpedo, Khishchnik ("Predator"). Few details have been released. Combining a General Dynamics-style sonar with a better motor could, however, result in a formidable weapon. With the right fuel (perhaps lithium, which packs more energy per kilogram than magnesium) a new torpedo could have ten times the range of Shkval. It would still be noisy, but, added to its speed, such a combination of range and tracking ability would make it hard to evade.
Jan, 2017: Japan's new destroyer is named Izumo (December 10). The original Izumo was an armored cruiser that served the Japanese navy's flagship in China in the 1930s and 1940s. She saw battle in both the 1932 and 1937 Sino-Japanese wars, shelling Chinese positions from the middle of the Huangpu river in Shanghai. She also sank the last British gunboat and captured the last American gunboat in Shanghai in 1941. By giving the name, and naming the entire class of ships the Izumo class, Japan is sending a clear message to China.
December, 2016: The traditional way of hunting submarine is with sonar. However, modern submarines are very quiet. Thanks to the Debye effect, it might be possible to hunt modern submarines now. Here's how it works: seawater is full of ions of sodium and chlorine which have different masses. Any nudge—such as a passing submarine—moves some ions farther than others. And these movement produces a magnetic field. A good Debye detector might be able to pick up a trail from several nautical miles and follow it to find the submarine.

November, 2016: We are in the golden age for mega yacht
This month, Lurssen launched 3 mega yachts: the 123-meter Project Jupiter, the 111-meter Project TIS and an unknown 130m+ superyacht. Lurssen also has the 75-meter Thor, 85-meter Sasha, 112-meter Palo Alto and 139-meter Redwood under construction. Dutch-based Oceanco have recently launched a new 88.5-meter superyacht and have completed a 106-meter sailing yacht which are now moored together at their Alblasserdam facility. The shipyard is also working on the 110-meter Project Jubilee, which is scheduled to become the largest yacht built in the Netherlands. Turquoise Yachts is also working on a megayacht of its own with a 77-meter as well as a 66-meter already in construction. Bilgin has just announced it had sold a second 80-meter superyacht to a repeat client, having had already sold their first 80-meter hull to a repeat client back in 2015. Turkey-based, Dunya Yachts are also building 100m Project Blade for the owner of Axioma. Feadship, has recently delivered Steve Wynn's 92-meter Aquarius, a year after delivering 101-meter Symphony to LVMH CEO, Bernard Arnault. Italy-based Benetti is also working on a new flagship with a 107-meter mega yacht currently under construction and scheduled for delivery in 2019.
October, 2016: Stand 10' above the water, the Glider Yachts SS18, which stands for Super Sport 18, is the ultimate in high speed, futuristic design and pure luxury. A proprietary Stability Control System tunes the yacht to the sea conditions, allowing it to "glide" over the waves at speeds of up to 56 knots (65 mph). The $1.3 million SS18 is made from lightweight aluminum and can accommodate up to eight passengers. Eight years were spent on the design and development on this 26 foot long yacht which is built by Burgess Marine.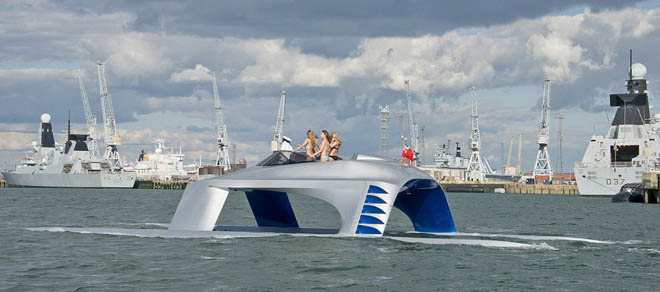 September, 2016: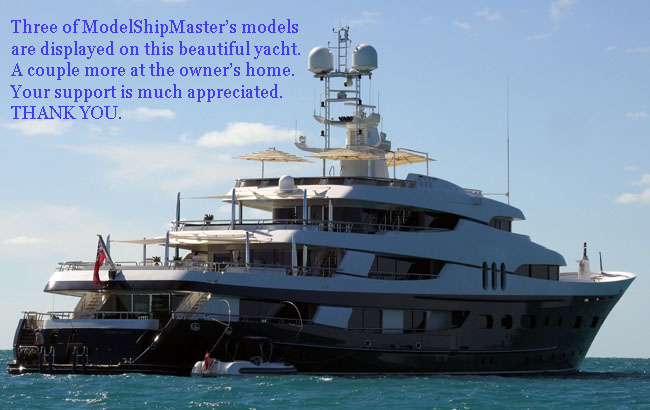 August, 2016: A 159-meter superyacht Fulk Al Salamah was delivered to the Omani Royal Family this month from Mariotti shipyard in Italy. The Fulk Al Salamah was built as a replacement for the 136-meter Al Salamah which had been put up for sale in 2012. She joined the 155-meter Al Said as part of the Omani fleet. We'd love to build a model of this beautiful yacht and looking forward to it. Please contact us at services@modelshipmaster.com
June, 2016: This summer, Boeing will sea test the ECHO VOYAGER submarine which is a monstrous 50-ton craft that can stay at sea for six months at at time without the need of refueling. The previous model--the ECHO RANGER--could do that for only three days. The ECHO VOYAGER can carry 20 tons of equipments and dive to 11,000 feet. While on the surface, it downloads route instruction from humans via satellite. It runs on batteries which are recharged by diesel engines every three days during a four to eight day resurfacing. The 1,000 gallon tank allows the robot to travel a total of 6,500 nautical miles, enough to circle Australia. A typical drone craft can only do 200 miles! The innovator is Lance Towers (age 52) who has 150 people working on the project since 2012.





June, 2016: We are sorry for the prolonged low stock on ocean liner models and cruise ship models due to continued high demand in our quality since 2014. Because of the current high number of custom-made models, once a model is sold out, it won't be back any time soon.
May: A Polish grandfather left New York on May 29 th on his third solo trans-Atlantic crossing in a kayak, aiming to arrive in Portugal in time to celebrate his 70th birthday in Portugal's capital in September 9th. The 3,700-mile (6,000-kilometer) journey will cross through storm zones in the frigid waters of the North Atlantic. He will be paddling the kayak "Olo" (designed partly by him and made by Arminski's shipyard) between eight and 12 hours each day!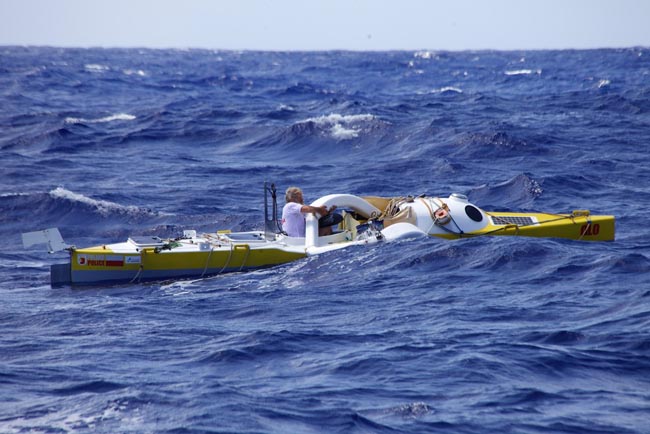 May: The Energy Technologies Institute, British public-private partnership that promotes low-carbon uses is gathering operating data on whether rotor sails are a worthwhile investment. Rotor sail is the Flettner rotor which when placed on a ship the giant rotating cylinders extract energy from the wind by the Magnus effect--a force that deflects the wind to one side, using the resulting forces to propel the ship forward in a similar way to a sail. But unlike conventional sails, the rotors can be operated by one person on their own. This technology is most suitable for ships that sail on trade routes where wind blows sideways across the vessel. Fletter rotor was invented by a German mathematics teacher and self-taught engineer in 1924 but proved to be rather a novel. However, with the arrival of lightweight composite materials that enable the rotors to spin at high speeds, together with advanced computer control, promises of a great return to sail. An average of 10% fuel saving might be achieved.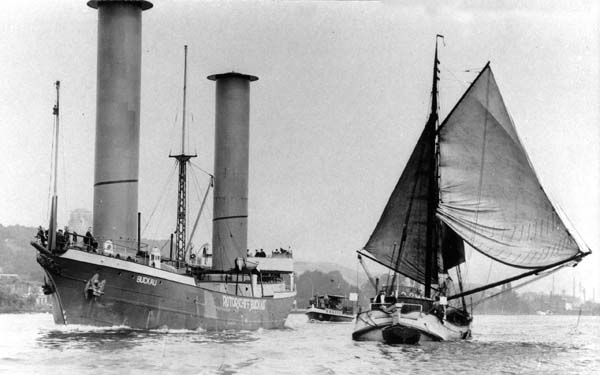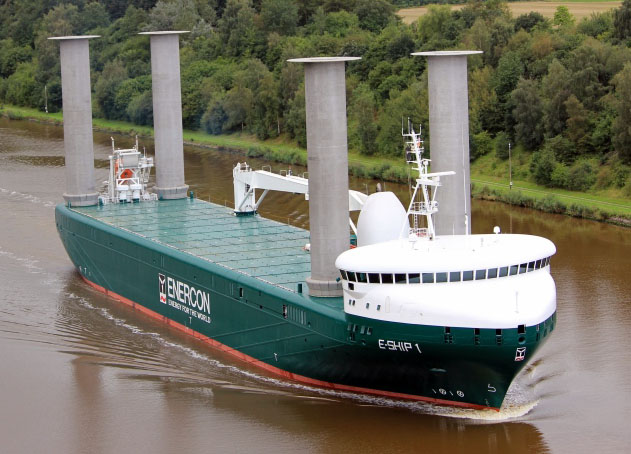 April: On Thursday April 7, a very special ship was christened. And the Pentagon was about to realize its dream of having a drone warship to hunt foreign stealth submarines. Known as the Antisubmarine warfare Continuous Trail Unmanned Vessel (ACTUV), the 132-foot long warship was conceived in 2010 by DARPA, the Pentagon's developmental wing responsible for testing emerging military technologies. It's designed to operate at sea for months at a time, travel thousands of miles. The ship boasts a virtual deck department to steer the ship and stand lookout — with virtual junior officers to stand officer of the deck to boot. The DARPA will test the drone ship in San Diego, California and plan to transfer it to the Navy in 2018. It's operating expense is extremely low--only $15,000 to $20,000 a day.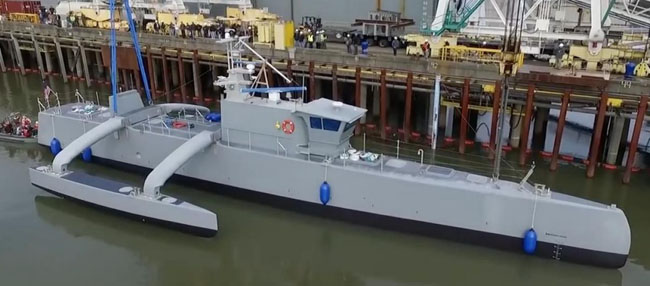 March: U.S. river tour companies are expanding. American Cruise Lines reduced prices on some of its Pacific Northwest itineraries to $1,975 per person for an eight-day sailing trip. This is a great deal compared to the average of $3,400. River cruising in the U.S. is significantly pricier than the average weeklong ocean cruise on the Royal Caribbean or the Carnival and more expensive than river cruises in Europe because of the Jones Act of 1920 which requires travel between U.S. ports to be conducted on U.S.-built ships owned by Americans, with American crews.
Feb, 2016: The Asia Vision tanker made history when it left Sabine Pass in Texas loaded with U.S.-produced LNG. The historic sailing represents the first cargo of liquefied U.S. shale gas, and the first U.S.-produced non-Alaskan LNG cargo to be sold for export since 1957. This vessel is beautiful and we've decided to add it to our construction record.
Feb, 2016: According to the Reuters, the Pentagon's next five-year budget proposal seeks over $13 billion for a new submarine class. The Navy's proposed fiscal 2017 budget will fund procurement of materials for the new submarines that take a long time to acquire, with funding for construction of the first full new submarine to follow in fiscal 2021. Over the next five years, the Navy would spend over $4 billion on research and development of the new submarines, plus over $9 billion in procurement funding.

Jan. 2016: Happy new year! Here's a photo we captured on January 1st, 2016 at the annual Rose Parade in Pasadena, Calif. (About 45 minute drive from us.)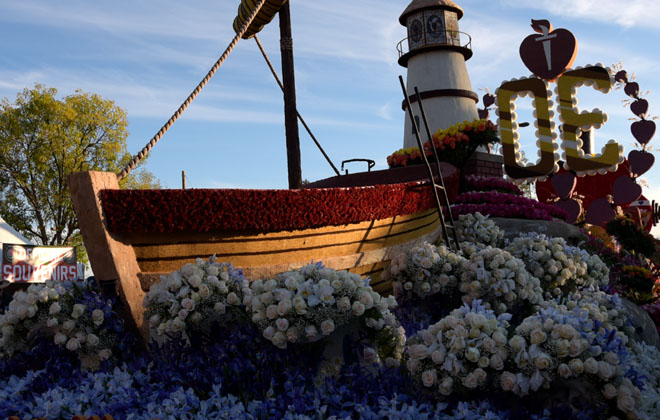 Dec. 2015: Our craftsmen celebrated the season with great joy. All of a dozen custom-made models (many were model yachts) were delivered well on time for the holiday gift purposes.

Nov. 27: A very special galleon was found only 16 miles off Cartagena coast in Columbia. The three-decked ship's cargo is estimated at more than $10 billion--one of the largest amounts of valuables ever to have been lost at sea. The ship name was San Josť . She was 150 feet long and armed with 64 guns. In 1708, while transporting gold, silver, gems collected in the South American colonies (much of the bullion came from mines in what is now Peru), she and the other treasure ships fought with a British squadron. The British Expedition attacked the San Josť at around 7 p.m.. After an hour and a half of fierce fighting and with only 60 meters between the two ships, the San Josť suddenly blew up. There were only 11 survivors out of the 600 crew and passengers on board. The wreck under 1,000ft of water falls within the UN's definition of an underwater cultural heritage site.

Nov. 2015: We have just received a contract to supply several models for NORWEGIAN CRUISE LINE and won't be able to start new cruise ships and ocean liners until April 2016. But don't wait until then to let us know of your interest, as new orders might keep coming. We only accept your commitment deposit when we are sure that your ship can be completed within 3 months or earlier. As usual, 99% of out-of-stock ship models are not built again until all commissioned model ships are completed. Since ordering an out-of-stock model will incur a 10% extra charge, get your ship now when it's still available.
We also have a heavy backlog in tall ship construction, with a dozen units for the Museum of Science and Industry in Chicago and Tall Ship Singapore. At this time we can't take any more tall ship commission orders until May, 2016.
This month we also inked a contract with the Italian yacht Benetti to build two models of their most prestigious yacht. Big thanks to our patrons for the recommendations.
Good news: One of our three shipping partners offers a pleasantly surprised discount from October until December 2nd, 2015 and we want to pass this saving to you. If you are in Belgium, France, Germany, Italy, Netherlands, Spain, Sweden, United Kingdom, the shipping cost is 30% off. For simplification, just go ahead pay the full shipping cost when ordering and we'll refund you the 30% discount within 24 hrs.
October 2015: China issued in May a military white paper that formalized the addition of what it called "open-seas protection." A strategy that put local seas control first, ending the primacy China gave to its land forces. Here's an excerpt: "The traditional mentality that land outweighs the sea must be abandoned, and great importance has to be attached to managing the seas and oceans and protecting maritime rights and interests. It is necessary for China to develop a modern maritime force structure commensurate with its national security." In response, some American strategists have called for an increase of the US fleet from 273 to 350 ships. The next decade will see a naval showdown between the US and China in the Pacific. All three most advanced US destroyers (Zumwalt class) have already stationed there.
DID YOU KNOW? After the decommission of the USS Simpson, the USS Constitution remains the only commissioned US Navy ship that sunk an enemy vessel.
Sept. 27: USS Simpson ended her service after 30 years, well beyond its designed military use of 20 to 25 years. In 1988, after a missed missile shot from the Iranian gunboat Joshan, the Simpson destroyed the Joshan with 4 missiles. It was the only ship-versus-ship missile duel in U.S. Navy history. "If you don't stop, I'm going to sink you," and the Iranian ship fired a Harpoon-- a deadly U.S.-made Harpoon missile which could travel at 600-plus mph with a 500-pound warhead and sink the Simpson easily...
Sept, 14: The Navy agreed to limits its use of sonar and other training that inadvertently harms whales, dolphins, and other mammals off Hawaii and California. The agreement includes limits or bans on explosives and mid-frequency sonar (which can disrupt feeding and communication of mammals, and can cause deafness) in some areas. An estimate of over 150 whales, dolphins, and mammals in these restricted areas have been killed in the past five years, and 2,000 in total. The total casualty estimate for the East Coast is 11,000. According to Matt Knight, a US Pacific Fleet spokesman, the Navy now "face the real possibility that the court could stop critically important training and testing."

July: Divers discovered the wreck of a Russian submarine that sank during WWI off the coast of Sweden. The sub collided with a Swedish ship in 1916 and sank with all 18 crew members.
July 17: Transpac is an biennial offshore sailing race from Point Fermin in Los Angeles to Diamond Head, just east of Honolulu. This 2225-mile race attracts some of the world's fastest sailing yachts and its most talented offshore racing sailors. Point Fermin is only 30 miles from ModelShipMaster. There's one more this Saturday at 1pm so if you are in Southern California, don't miss this exciting event.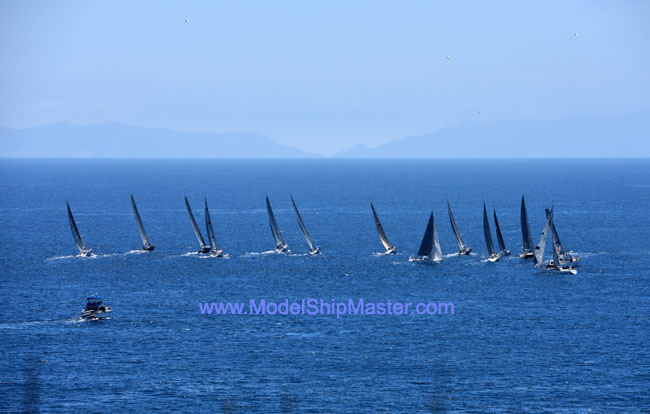 June, 2015: Uber has launched a permanent version of its UberBoat service in Istanbul that shuttles you between Asia and Europe in a speed boat. Each craft also carries up to 8 people. UberBOAT service has also been available in cities including, Boston, San Francisco and Sydney, Australia.
June, 2015: A new era of commercial shipping? From The Wall Street Journal:
"General Electric Co. on Tuesday outlined its plans for the ship-finance business, diversifying its $48 billion aircraft leasing unit to support sales to the oil and gas sector. GE launched a marine business in January, bundling its engines and services for the offshore energy industry, and plans to use its GE Capital Aviation Services, or Gecas, aircraft unit to finance vessels that have a high level of GE components..."
Did you know that the US Navy has developed a 5-foot, 100 lbs, robotic spy fish that looks and swims like a bluefin tuna? Researchers specifically chose the tuna fish for the project because the fish is one of the few aquatic animals that uses just half its body to propel itself forward. The drone could be fully operational as early as 2015.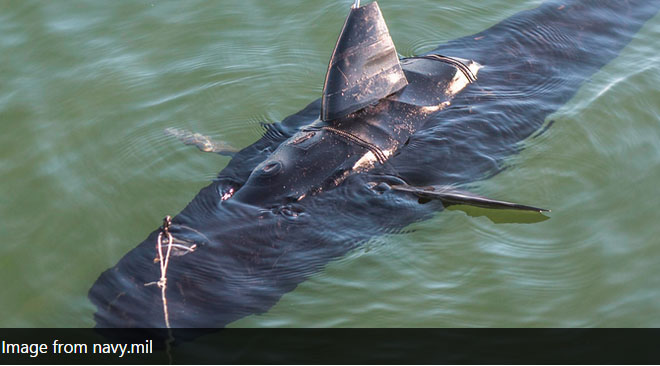 Apr. 2015: A replica of the warship that carried Marquis de Lafayette to help American colonists in their war of independence set sail for the United States on Saturday April 18th. It headed for Yorktown, Virginia, where Lafayette and his forces played a critical part in a decisive battle against the British. The frigate is due to arrive in Yorktown on June 5 for a two-month tour of key locations in the American Revolution. The construction of the new Hermione was started in 1997 and incurred a cost of $27m.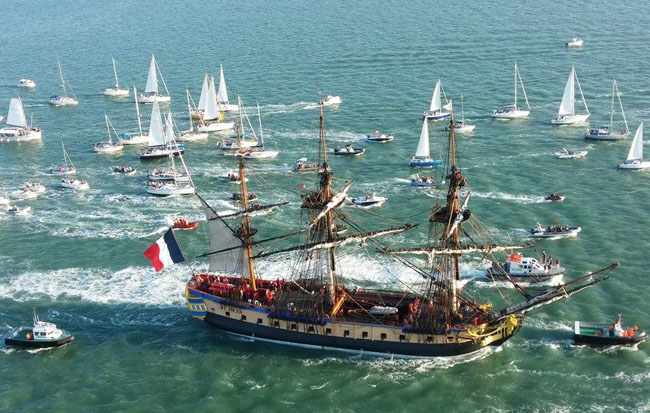 Two weeks after the trucker's strike was over (April 27-March 12), ships still were in a long queue waiting to enter the Los Angels port. Photo taken from Huntington Beach by ModelShipMaster.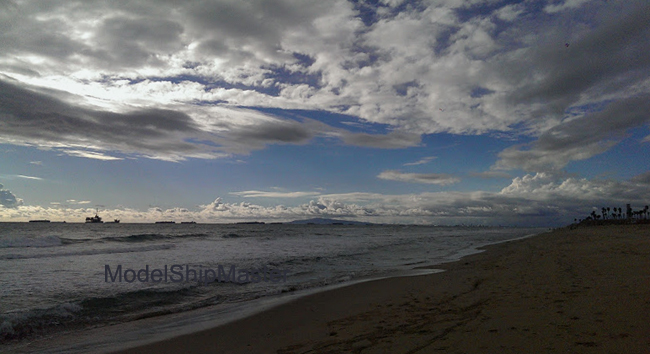 March 2015: The US Navy and Congress are poised to ramp up ship construction activity for at least several years. The defense budget for 2016 will include nearly $18 billion for a variety of new ships plus Marine helicopters. That is nearly $2 billion more of the current fiscal year.
Feb. 2015: Royal rendezvous: Queen Mary and Queen Elizabeth ocean liners met. More information is here.
Starting this month, divers have been working to bring up the 10-gun ironclad CSS Georgia from nearly 40 feet down in the Savannah River in Georgia. The job is expected completed in Oct. 2015 and cost about $15 million. Conservation of artifacts and parts of the CSS Georgia will span two years at Texas A&M University.
Dec. 2014: Great news for both consumers and businesses: Paypal will extend the claim window from 45 days to 180 days starting in January, 2015. Also: "PayPal Seller protection is available for eligible payments from buyers in any country..."
November 2014: Due to a surge in custom orders in the past several months, we temporarily cease to receive custom ship model orders, both RC and static, starting Dec 1st, 2014. Once current projects are about to clear, perhaps in March, 2014, our operation will be open to take custom orders again. This does not apply to commercial ship builders, ship designers, and the navy who have trade shows or ceremonies coming up, as we can work overtime for those important time-sensitive projects. All in-stock models once sold out won't be built again until the majority of custom orders are cleared.
October 2014: Foundation Louis Vuitton opened on October 27, 2014. The building was one of the greatest technological challenges of the 21st century. With twelve twisting glass sail-like panels stand up to high wind, the Foundation demonstrates esthetic audacity like that of a real sailing ship.
n