BISMARCK battleship model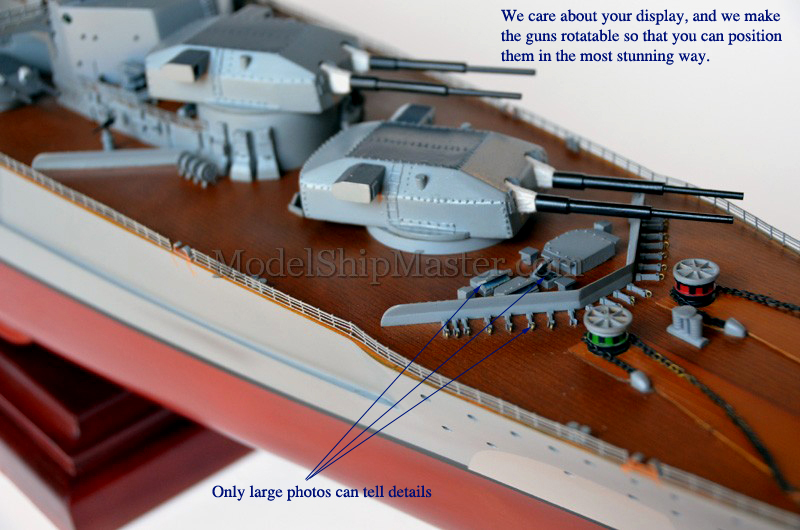 Clicking on thumbnails to enlarge photos:
In the very year since WWII began, two important warships were launched, neither of which was completely outfitted and ready for action until 1941. One, HMS Prince of Wales, represented the state of the art in British battleship design. The other, DKM Bismarck, became the most powerful warship afloat and represented Hitler's most potent threat to British merchant shipping in the Atlantic.
The year 1936 saw the laying of the keel of what was to be the most well-known naval vessel ever built. The mighty battleship Bismarck in many aspects the most important and definitely the most famous German ship of all time.
Battleship Bismarck was named after the first chancellor of the German Empire, Count Otto von Bismarck who was also known as the "Iron Chancellor." Born 1815 in Prussia, Count Bismarck ruled Germany for 30 years, longer than anyone else. He managed to unify the country while maintaining the peace in Europe for a generation.
After three years of construction, DKM Bismarck was launched in 1939. Her length of 792' and in particular her beam of 118' gave her a high degree of stability at sea with a superb capability to absorb damage.
Bismarck's hull was uniquely subdivided into 22 watertight compartments, 17 of which were within the citadel. This meant that 70% of the waterline was protected by heavy armor. More than 90% of her hull was electrically welded.
Bismarck could reach a top speed of 30.1 knots! With her two rudders, the extraordinarily heavy battleship could maneuver without tug assistance in narrow waters. She was comprised of 17 decks, carrying a crew of 2,065.
Less than a year after her official commissioning in August of 1940, Bismarck departed to participate in the battle of the Atlantic. On the 23rd of May, she disabled the HMS Norfolk.
The following day, Bismarck demonstrated its super power with her accurate main guns. In a mere eight minute time, she blew up the finest and biggest battlecruiser of Royal Navy, HMS Hood. The HMS Prince of Wales took four hits and retreated.
"Sink the Bismarck", roared Churchill. The day after, Bismarck was intercepted by a crushingly superior British Home Fleet force, including five battleships, nine cruisers and two aircraft carriers.
Yet even this concentration of naval force might was not able to sink her. After over 400 shells and 12 torpedoes had hit her and all her ammunition exhausted, the battered Bismarck was blown up and scuttled by her own crew and sank on May 27th, 1940, at 10:39 AM. All commanders died aboard. Only 115 sailors survived.

British Admiral John Tovey wrote in his memoirs, "The Bismarck had put up a most gallant fight against impossible odds worthy of the old days of the Imperial German Navy, and she went down with her colours flying."

This scratch-built, primarily wood Bismarck battleship model has the following qualities:

- Bulbous bow (very important). A ship with a wrong hull is like a barge with some name stickers on it.
- Tough appearance like a real battleship. The model stands grand and lively, not 'dead' like a plastic toy or boring simple decorative accessory. That art is considered by many more challenging than the task of constructing a warship itself. A classic left brain/right brain issue...
- As appeared in May 1941, during Operation Rheinübung. The black and white stripes on the hull were painted over and became very blurry. The Swastikas on deck were removed. In this outfit the Bismarck sank Hood and wounded Prince of Wales. If you want the Bimarck as appeared at launch, let us know. There's no extra charge.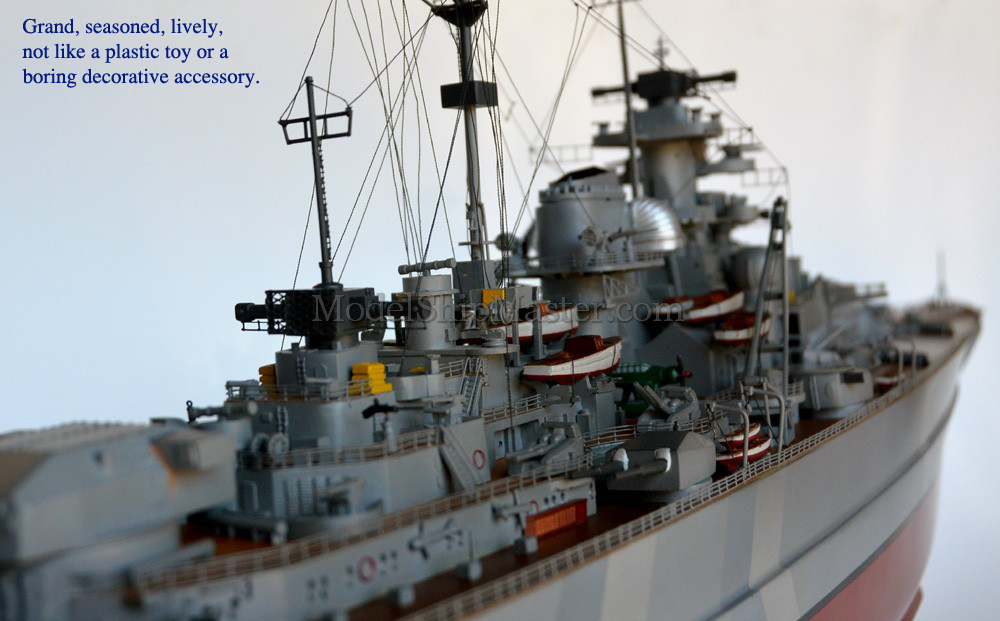 50" L x 10" T x 7" W, plank-on-frame, lighting system included: $6,700 Shipping and insurance in the USA included. Other countries $400 flat rate.
Show more of the most deadly naval gun in WW2: add one turret with interior feature such as gun mechanisms, ammunition shown in the picture below $500
28" long, solid hull $2,900. No lighting and no interior options for this small version. This small version will have over 90% the details of the larger version. It won't have the tiny details such as those on the mast post shown at the end of this page. Shipping and insurance in the USA included. Other countries $250 flat rate.
Models are built per commission only. We require only a small deposit (not full amount, not even half) to start the process. $900
The remaining balance won't be due until the model is completed, in several months. We'll email you with 24 hrs to confirm your order.
Any service era or vessel configuration - we can build a model of them all - Just let us know the name of the ship you want. If you have served on a ship and you are very particular about the details of your ship, we are interested in hearing more.
Add a museum-like touch to your model display. Keep fingers and dust away. Please visit our Display Case page for one that would sit beautifully in your room.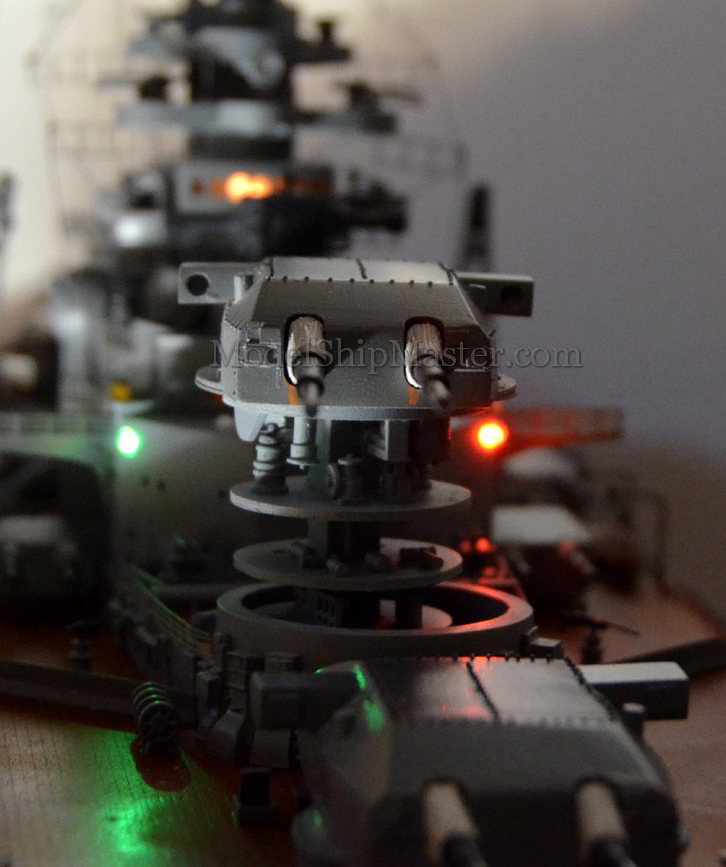 To have the guns of one turret moving horizontally & vertically, fire and sound like a real battleship gun (all components are inside the hull) $1,200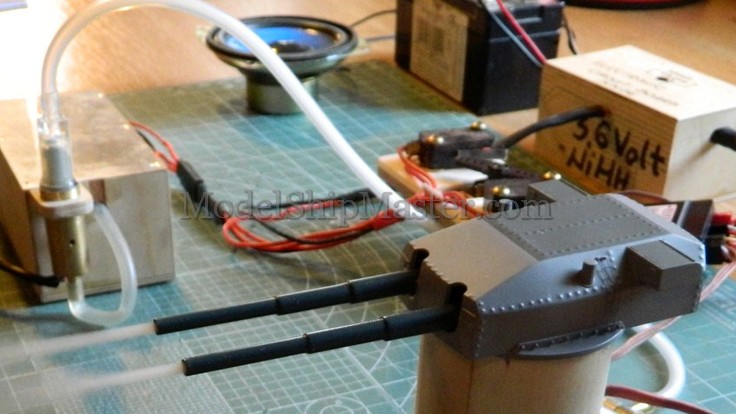 "I am a history teacher; I plan to display your ships in my classroom. I find visual learning to be a very important element of teaching. The Bismarck was an instant hit with my students, and has already generated several after class discussions about the history of the Second World War. The model is absolutely wonderful and grabs everyone's attention.

As a teacher I do not make much money; I have saved for years to buy these ships. Before I found your website I saw several other models of Bismarck. It is true, they are either no where near the quality of Model Ship Master's ships, or they are far more expensive, (I found a same size, same quality Bismarck being sold for $12,500!) At those prices I would have never been able to own a model so accurate or fine as yours.

I want to say a very special thanks for your company. Without MSM I could never afford such teaching tools; you guys really made it possible, thank you!

p.s. The Hood has been my favorite ship of all time since I was a child. It is an honor to get the first Hood of its class from you all.

Sincerely Dr. Alex"
"The Bismarck arrived and it is beautiful! Really nice work - as far as I have seen because I didn't want to completely unpack it. It is so perfectly and carefully packed so I will keep it like that for our upcoming move to Europe. Thank you again very much for your friendly help and perfect customer service! Best regards, Mathias"

Click on the following thumbnails to enjoy more beautiful photos: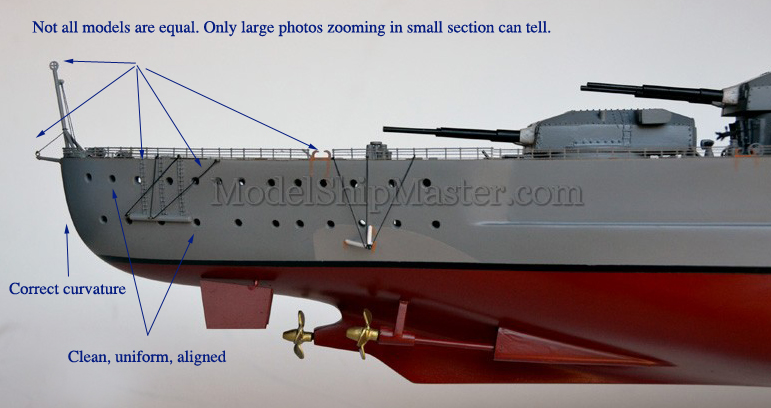 Learn more about the Bismarck here: https://en.wikipedia.org/wiki/German_battleship_Bismarck