256-bit encryption
$500,000 protection




CLERMONT
Robert Fulton's Steamship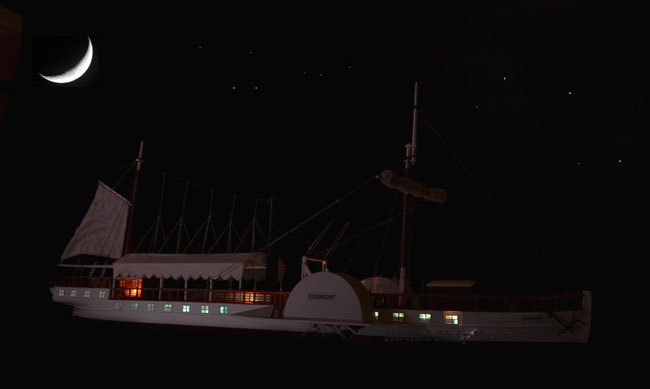 Painter, inventor and engineer, Robert Fulton was a man of many talents. He passionately believed that America's economic future rested on the transformation of its numerous waterways into navigable highways of commerce. Fulton achieved his place in history by producing the first commercially successful steamboat. Fulton's success raised the curtain for the commercial development of America's waterways, particularly the Ohio and the Mississippi.

In 1802 Fulton contracted with Robert Livingstone to build a steamboat that would ply the Hudson River. Livingstone held the rights for steamboat navigation on the waterway. By August 1807, Clinton's boat was ready for a trial run from New York City to Albany and back.
On the afternoon of Monday August 17, the vessel was moored on the East River off Greenwich Village. Aboard were Fulton, Livingston and numerous adventurous friends eager to make the historic voyage. The boat (called the Clermont by history although there is no evidence that Fulton used this name) was an odd looking craft 150 fifty feet long and 13 feet wide, drawing 2 feet of water. Amidships was her engine, a steam boiler that belched flame and smoke as it powered two paddle wheels placed on either side of the hull.
At one o'clock Fulton cast off and began his journey into history. Trouble reared its head almost immediately as the ship's engine stopped shortly after leaving the dock. Fulton soon fixed the problem and the voyage resumed. The boat headed up river at a speed of about 5 miles per hour. Twenty-four hours later the intrepid adventurers arrived at Robert Livingstone's manor house 110 miles up the Hudson. The journey ended the following day after an 8-hour voyage to Albany. The following day - Thursday August 20 - Fulton took on some passengers and began his return voyage, again stopping at Livingston's manor before continuing to New York City the next day.
This 30" long model of the Clermont riverboat features:
Scratch-built

Hollow hull (very important)

All parts are wooden or metal

Color and features are of the time the ship's public surprise appearance on June 26th, 1897.