256-bit encryption
$500,000 protection




ROBERT E. LEE
riverboat model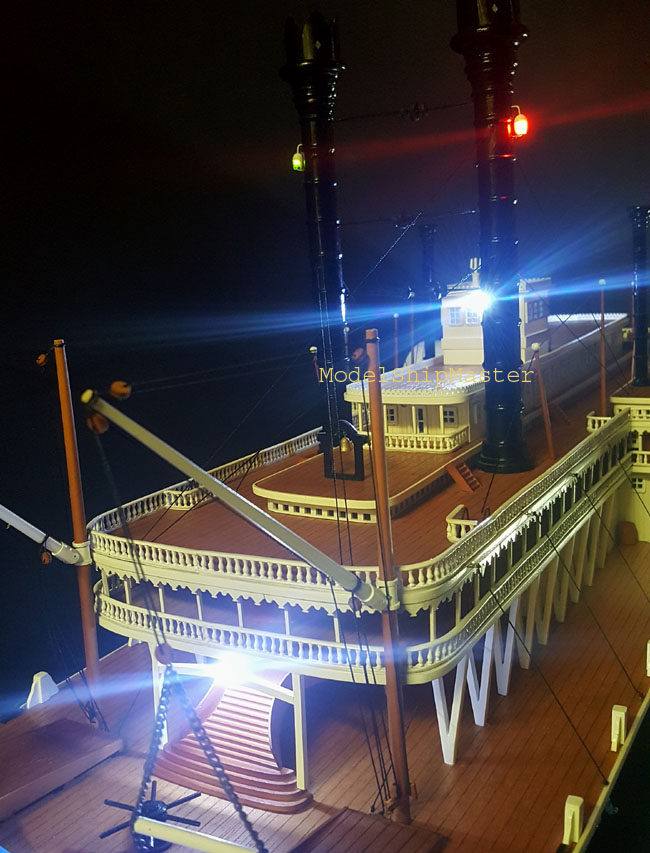 The steamboat Robert E. Lee was built soon after the end of the Civil War for the cotton trade between Vicksburg and New Orleans. She had a reputation as a fast, comfortable boat distinguished by "the rich deep tone of her bell, and the loud noise produced by the escapement of steam from her cylinders."

Robert E. Lee's greatest competition was the most celebrated steamer Natchez. Shortly after the latter broke a quarter-century-old record between New Orleans and St. Louis, the two vessels were prepared in New Orleans for a historic race on June 30, 1870. Natchez for St. Louis while Lee for Louisville.

Newspapers of the day reckoned that millions of dollars were wagered on the outcome of the race which attracted international attention. The Lee's three-day, 18-hour, and 14-minute victory was an upset for the favored title holder, the Natchez. Along the way Lee also broke records from New Orleans to Vicksburg, and to Cairo. The trophy awarded was a huge set of golden elk antlers, which are now on display at the Old Courthouse Museum in Vicksburg.

Lee ran until 1876, proving herself very profitable for her owner with over 5,000 bales of cotton on her regular runs from Vicksburg to New Orleans. After her dismantlement, her hull became a beautiful wharf boat in Memphis, Tennessee for many years later.




This Robert E. Lee riverboat model features:
- Superior hollow hull construction (very important), weighing less than 10 lbs (A solid hull of this model would be over 30 lbs which feels like a heavy toy rather than an art piece.)

- Hollow superstructure is comprised of many individual thin pieces of wood glued together, not several solid pieces of wood stacking on top one another

- Windows are cutouts (not black decals), thanks to the hollow structures

- >95% of parts are wood and metal

38"L x 11"W x 17" T $2,900
S&H is $90 sold out