USS LOS ANGELES CA-135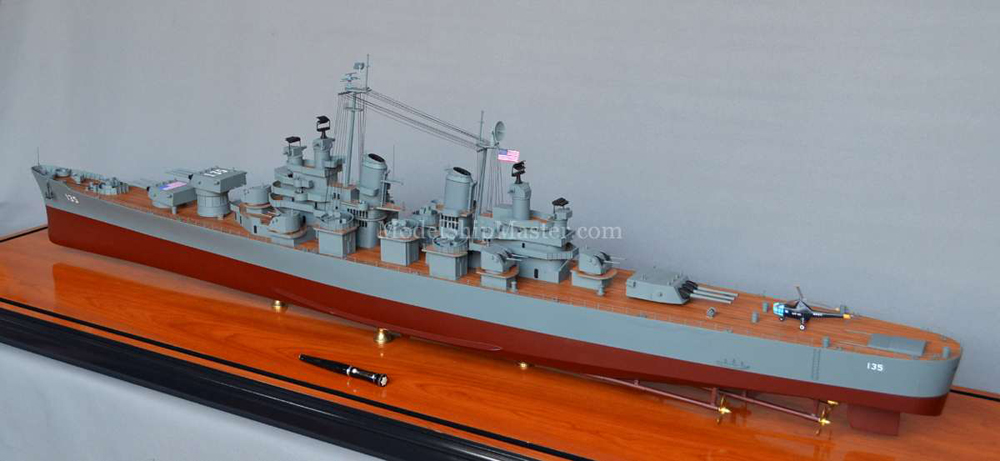 USS Los Angeles was a Baltimore-class heavy cruiser, laid down by the Philadelphia Navy Yard, Philadelphia, on 28 July 1943 and launched on 20 August 1944. She was sponsored by Mrs. Fletcher Bowron and commissioned on 22 July 1945.
1951–1953: USS Los Angeles was recommissioned on 27 January 1951, Capt. Robert N. McFarlane in command. She joined naval operations off the eastern coast of Korea on 31 May as flagship for Rear Admiral Arleigh A. Burke's CRUDIV 5. During the next six months she ranged the coastal waters of the Korean Peninsula from Hungnam in the east to Haeju in the west while her guns pounded enemy coastal positions. After returning to the United States on 17 December for overhaul and training, she made her second deployment to Korean waters on 9 October 1952 and participated on 11 October in a concentrated shelling of enemy bunkers and observation points at Koji-ni. During the next few months, she continued to provide off-shore gunfire support for American ground operations. While participating in the bombardment of Wonsan late in March and early in April 1953, she received minor damage from enemy shore batteries, but continued operations until sailing for the west coast in mid-April. She arrived at Long Beach on 15 May.

CA-135 was decommissioned at Long Beach on 15 November 1963 and entered the Pacific Reserve Fleet at San Diego. Stricken on 1 January 1974, and sold on 16 May 1975 to the National Steel Corporation for $1,864,380.21, and scrapped in San Pedro, California.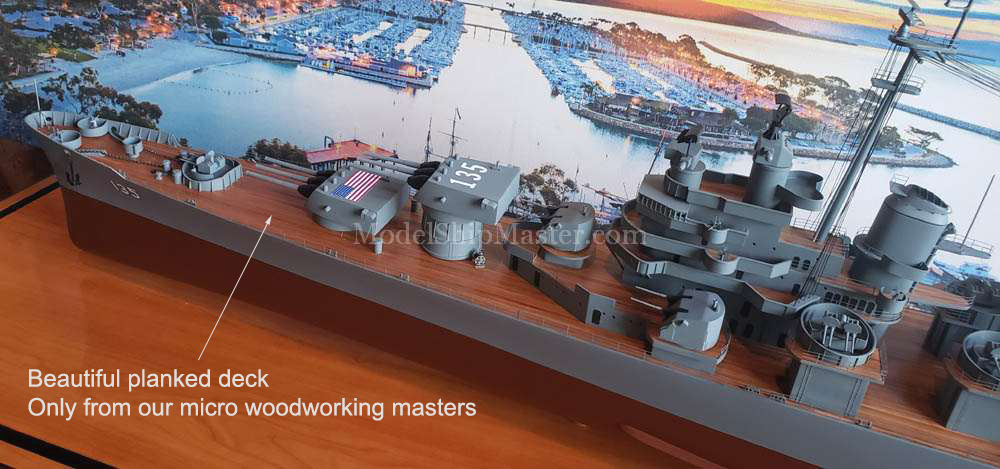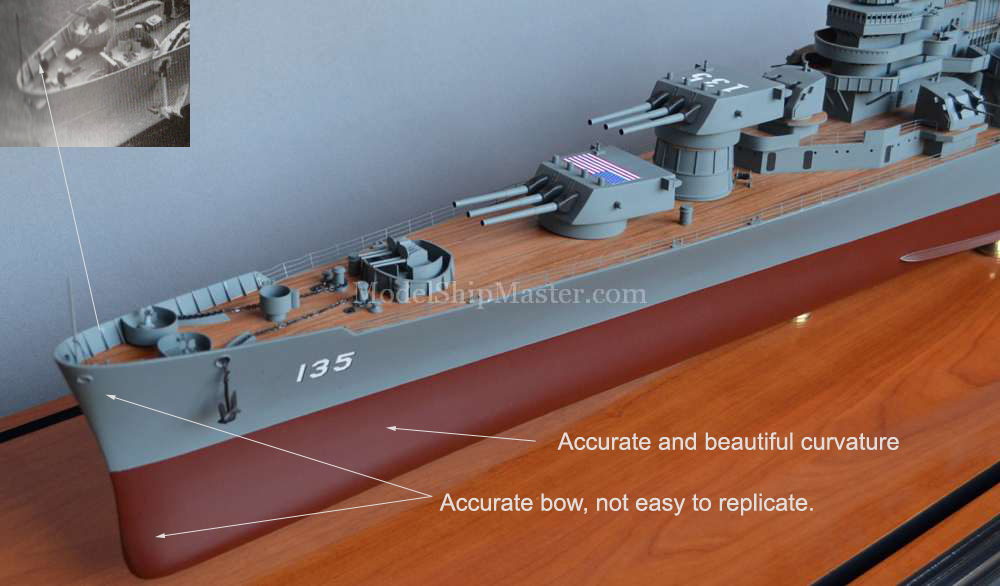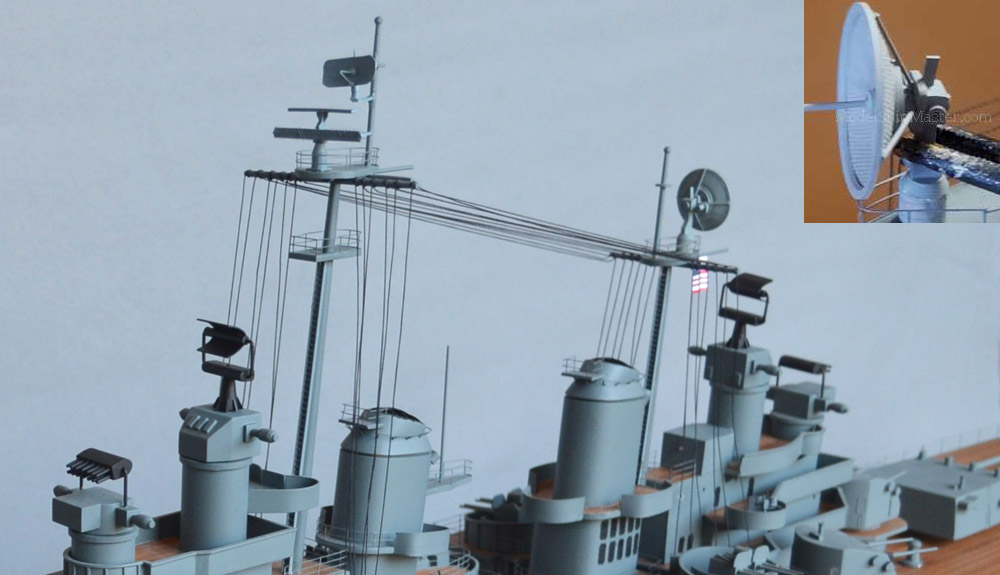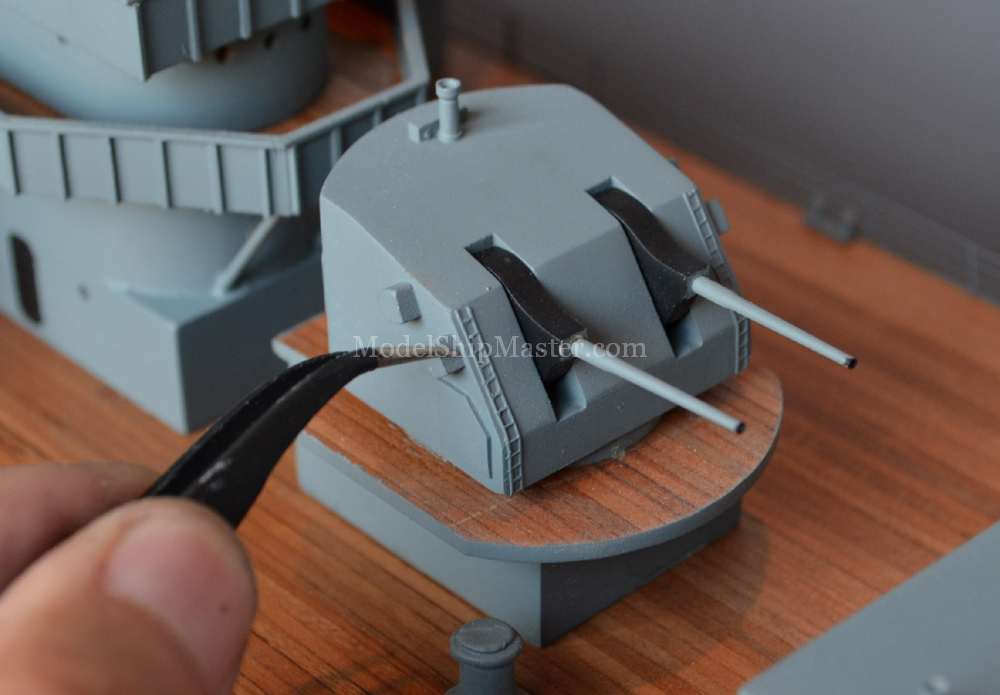 This primarily wood model was commissioned in 2019 by Mr. Sommerfield who served aboard the ship as Electronic Tech ET2 from 1951 to 1954. The model's configuration reflected that of 1951-1954 - Armament: 12", 5" and 3" only




(no 20mm or 40mm.) Radars Fire control for all batteries, SR3 air search, SG6  surface search

, 

SP fighter control. During the construction process, our staff in California communicated frequently with Mr. Sommerfield for constant advises and we learned a thing or two about US warships at the time of the Korea War.   
The model will be donated to the Los 
							Angels Maritime Museum later by its owner. The warship's flying bridge and a small portion of the bow are on permanent display at the museum.
If you'd like to commission any ships of the Baltimore-class heavy cruiser, let us build it for you. We have detailed plans of the class. We offer a 100% satisfaction guarantee on this model. If you can find a model of the same or very similar ship from another maker which you can prove to be equal or more accurate, and whose price is +- 30% of ours (i.e. a $4,000 model from us would be compared with other makers' models that are in the range of $2,800-$5,200), we will issue a full refund plus $200 transferable gift card that you can spend any time in our store. Just notify us of the issue within 10 days of the model's delivery.
23" long $2,200 Shipping and insurance in the USA included. Other countries $200 flat rate. This model is small and will be solid hull.
40.5" long $3,500 Shipping and insurance in the USA included. Other countries $300 flat rate. Plank-on-frame hull.
56" long $4,900 Shipping and insurance in the USA included. Other countries $500 flat rate. Plank-on-frame hull.
This model is built per commission only. Comes with a regular dark brown base which is about 2/3 the length of the model. We require only a small deposit to start the process. $500
The remaining balance won't be due until the model is completed, in 3-4 months. We'll email you with 24 hrs to confirm your order. We understanding that no model is perfect. Please let us know if there is anything that you'd like to change and we'll gladly do that. Since our models never have have structural errors like others', minor changes will be achieved in very little effort and at no cost to you.
Add a museum-like touch to your model display. Keep fingers and dust away. Please visit our Display Case page for one that would sit beautifully in your room.



Learn more about the USS Los Angeles here: https://en.wikipedia.org/wiki/USS_Los_Angeles_(CA-135)