ZUMWALT DESTROYER DDG-1000
USS Zumwalt (DDG-1000) is a guided missile destroyer of the United States Navy. She has stealth capabilities, having a radar cross-section similar to a fishing boat despite her large size. The Zumwalt class was designed with multimission capability. Unlike previous destroyer classes, designed primarily for deep-water combat, the Zumwalt class was primarily designed to support ground forces in land attacks, in addition to the usual destroyer missions of anti-air, anti-surface, and antisubmarine warfare.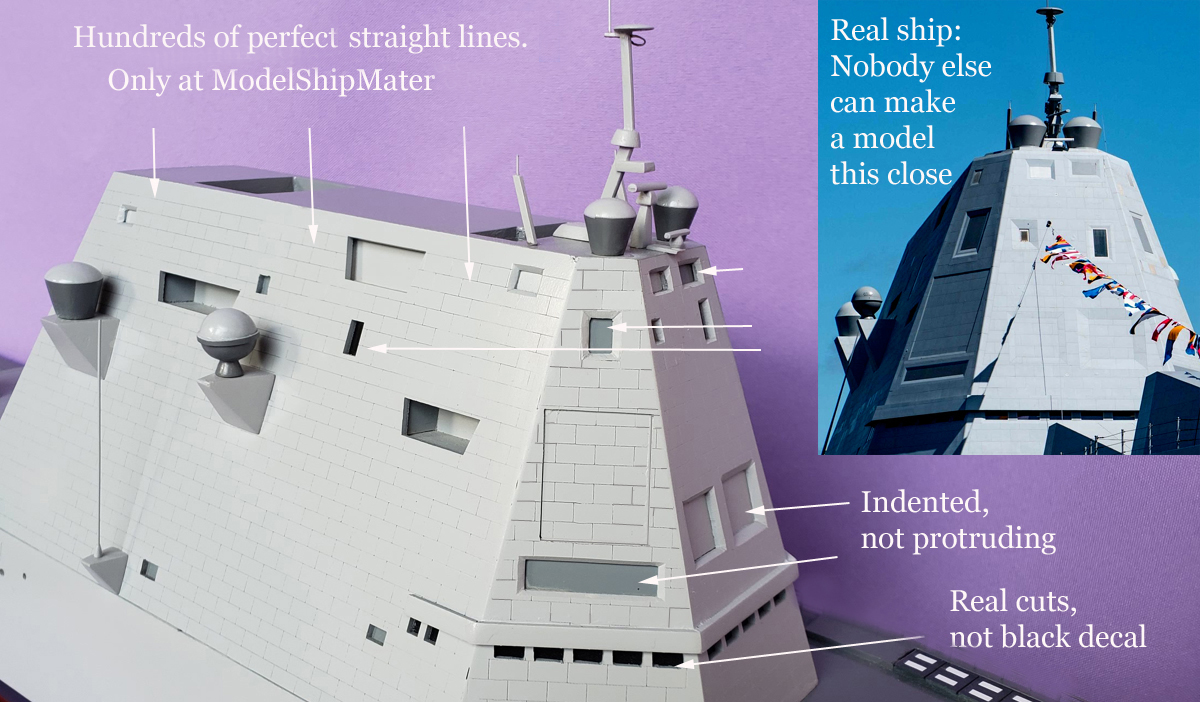 USS Zumwalt looked like a small fishing boat during radar testing. How possible is it to engineer a large destroyer that is significantly less visible to enemy radar? Taking a look at the external shape of the Zumwalt. First and foremost, when compared to other surface ships, its shape is entirely different. There are fewer edges, a conspicuous absence of protruding structures or varied contours and a flat side, seamlessly attached to the upper deck of the ship, on a straight, yet slightly angled flat linear surface. Instead of multiple sharp, intertwined steel panels and structures, supporting an outward-facing radar system, the Zumwalt's front exterior shows only a few rounded edges to achieve its requisite shape. Its much-discussed, wave-cutting Tumblehome hull is more narrowly built than existing destroyers, making it less detectable to enemy sonar.
Differently-shaped, external structures, with sharp angles, pointy edges and extending vertical designs naturally offer many more areas off which radar pings can bounce. Low observability, by extension, happens when radar has fewer return electromagnetic pings with which to create a rendering of the object. Since electromagnetic pings travel at the speed of light -- a known entity -- and time of travel can be determined, a computer algorithm can determine the shape, size and distance of an enemy object - if there are enough return signals. Acoustic pings operate within the same conceptual framework, simply using sound instead of electricity. Accordingly, Zumwalt engineers sought to build a ship able to elude radar and sonar detection.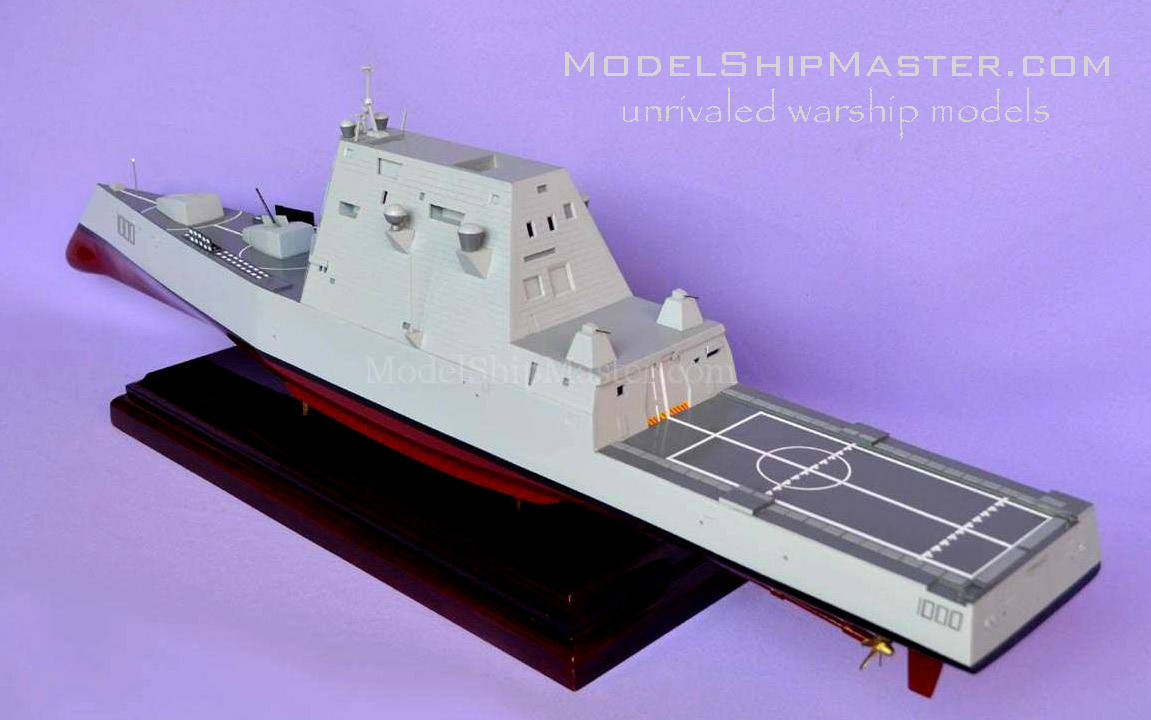 Most current destroyers, for example, have multiple deck-mounted sensors, weapons systems and angular staircases visibly positioned on the deck of the ship; none of this can be seen on the Zumwalt. Some of the Zumwalt's weapons, for instance, are housed in what appear to be rounded, cone-like structures. Simply put, the fewer edges or identifiable shapes you have, the lower the possibility that electromagnetic signals will effectively deliver an accurate picture of the object.
Another apparent technique is the use of antennas. A DDG 51, for example, has multiple antennas, sensors, masts and other narrow, vertical structures with definable contours. The Zumwalt does not. In addition, the Zumwalt's electric-drive propulsion system not only helps generate more onboard electrical power for weapons, but is also much quieter -- giving the ship a smaller signature for overhead enemy sensors and even submarines.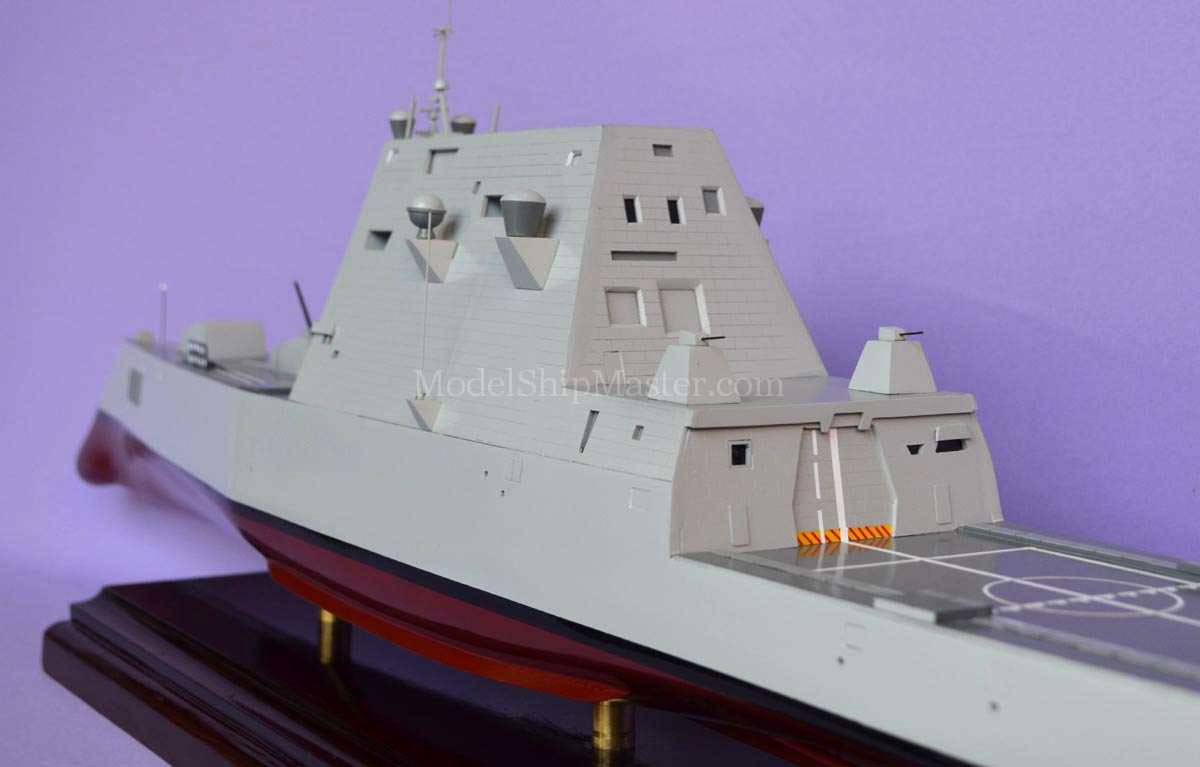 The ship's Integrated Power System, electric drive, computing system and 78 megawatt generator all create the conditions for rapid integration of laser weapons. This is quite significant for stealth designs because lasers not only bring a host of new combat attack advantages, but they are also entirely silent. They give off a much different and less detectable signature than missiles do.

This primarily wood 1/200 scale model is 37" long x 13" tall x 5" wide (7" with base) $2,700
shipping and insurance in the US included. Other countries: $300 flat rate. This model is in stock and can be shipped within 5 business days.
20.5" long (1/350 scale) $1,700 shipping and insurance in the US included. Other countries: $200 flat rate. By commissions only, We require only a small deposit (not full amount, not even half) to start the process. $500
The remaining balance won't be due until the model is completed, in several months.
Our USS Zumwalt model is by far the most accurate model of the USS Zumwalt. If you are in doubt, spend some time on the Internet to find out for yourself. Especially note the radars and the stern that has two different sides (if you are lucky enough to have a photo of the stern from the other sellers.)
We wanted to portray a dangerous stealth destroyer and did not include any helicopters outside. However, if you'd like to have them, please let us know.
Our model special feature: some missile doors are open: