256-bit encryption
$500,000 protection




CELESTYAL NEFELI
cruise ship model

This 15" (38cm) long CELESTYAL NEFELI model was scratch-built and has a superior hollow hull. The superstructure is also hollow, containing many pieces of thin wood cut and assembled, not a thick carved piece. To distinguish our models (especially very small one like this), you can look carefully at the windows. Are they real cuts or cheap decal? Now, are they straight and equal in size? Are there correct number of windows as of the real ships? Making hundreds of tiny windows, doors, portholes for small cruise ship models is not easy. Only master craftsmen with a pursuit for perfection, equipped with state-of-the-art tools can produce them. Many builders are reluctant to show large photos of their model cruise ships because of this!

If you'd like to have a similar ship model (different size is Okay), please click on this link and let us know: Commissioning a model ship. A fine ship model ship like this is $3,500 plus shipping and we need a commitment deposit of $350 to start the construction that lasts 3-4 months. Thank you.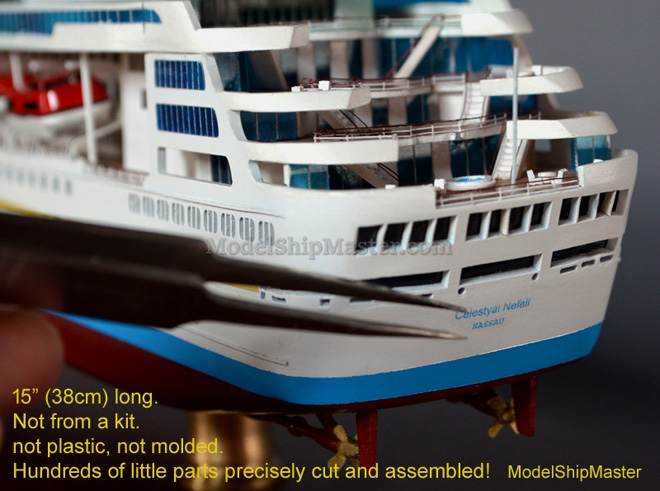 "First of all I want to say that it is an amazing model you made. You placed a bag with lifeboats in the box but I could not find the smallest one. Do you have a solution for this missing lifeboat. Thank you. I love the model completely...
You can build the Celestyal Crystal model. For this ship model as well my Celestyal Olympia model, I will send you pictures of how I want them to look like. Thank you once more for the amazing Nefeli model...
I had models from SD Modelmakers but the last model wasn't like they said. What was wrong with the last model I got from SD? The model was delivered 30 weeks later than planned so my grandfathers birthday was gone. Second, I knew a lot about cruise ships and the Splendor of the Seas model was not like the real one. The global lines in real life were different and the painting was different. Plus the details could be better, portholes are not aligned.

Ronny"