256-bit encryption
$500,000 protection



JAHRE VIKING (KNOCK NEVIS)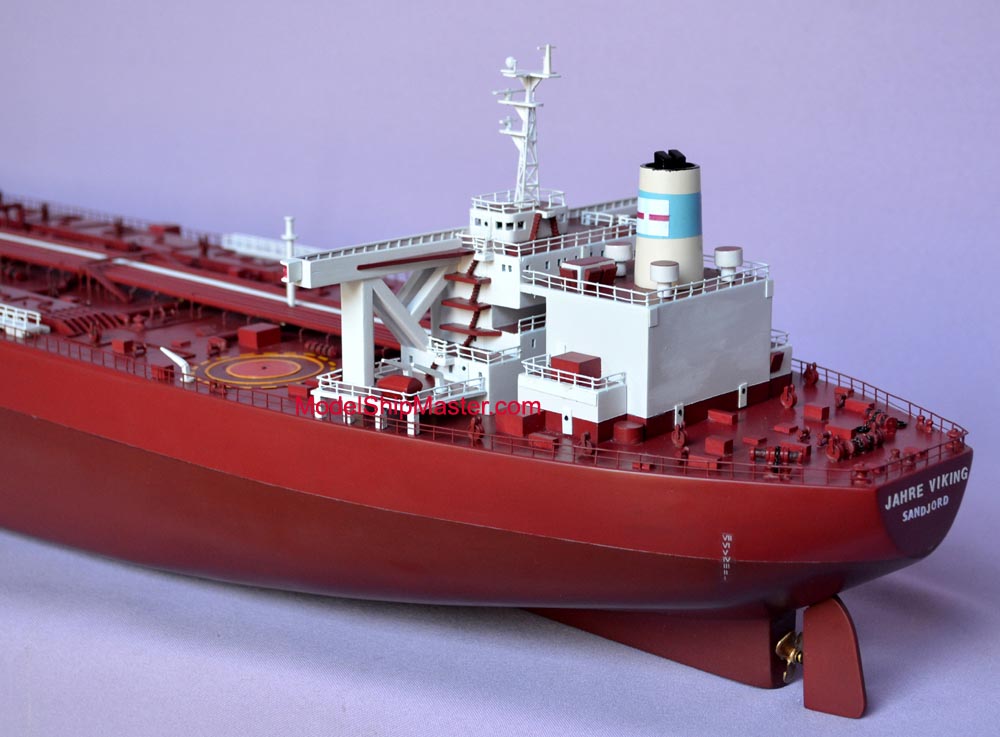 Even in an age of superlatives, the Jahre Viking continued as the ultimate superlative. Jahre Viking was so huge that she would comfortably swallow up India's 25,000-tonne aircraft carrier INS Vikrant in her holds. At 485.46 meters long, she dwarfed the 424-metre Petronas twin tower of Malaysia.

Built in 1979 for a Greek shipping magnate towards the end of the super tanker boom that followed the oil embargo of 1973, her original owner went bankrupt even before she put out to sea. Her builders, the Japanese conglomerate Sumitomo, then offered her to a Hong Kong owner Orient Overseas Container Line.
Before taking delivery, her new owner set an unusual condition. Already massive at 480,000 tones, he ordered that her length be increased several more meters to add another 87,000 tones to her load-carrying capacity to make her, at 564,763 tones, the largest ship to ever be built. After the refit, the ship had a length of 458.45 m (1,504.1 ft). She had 46 tanks, 31,541 square metres (339,500 sq ft) of deck space. She was now name Seawise Giant.
The Seawise Giant sat 24.6 meters in the water, a depth great enough to deny her entry to most of the world's major ports, including the Suez and Panama canals. She drew too much water to pass through the 32-mile-wide English Channel. The ship's rudder weighed 230 tons, and the propeller 50 tons!

Seawise Giant was damaged and sunk during the 1980–1988 Iran–Iraq War by an Iraqi Air Force attack while anchored on 14 May 1988 and carrying Iranian crude oil. The ship was struck by parachute bombs. Fires ignited aboard the ship and blazed out of control, and she sank in the shallow waters off the coast of Larak Island, Iran. She was declared a total loss and was laid up.
Shortly after the Iran-Iraq war ended, Norman International--a Norwegian company-- bought the wreckage of the ship, raised her and towed her to Singapore for repairs. She entered service in October 1991 as Happy Giant.

Shortly after the tanker attracted the attention of Jørgen Jahre who bought her in 1991 for $39 million and renamed her Jahre Viking.

In 2004, Jahre Viking was purchased by First Olsen Tankers Pte. Ltd., renamed Knock Nevis, and converted into a permanently moored storage tanker in the Qatar Al Shaheen oil field in the Persian Gulf.
Knock Nevis was renamed Mont, and reflagged to Sierra Leone by the new owner Amber Development Corporation, for her final voyage to India in January 2010 where she was scrapped.
To date, the Jahre Viking is still the longest ship ever constructed. She is also the largest by deadweight. Jahre Viking was featured on the BBC series Jeremy Clarkson's Extreme Machines. She could reach up to 16.5 knots (30.6 km/h). It took her 9 km (5 1⁄2 mi) to stop from that speed, and her turning circle was about 3 km (2 mi).

Jahre Viking's 36-tonne anchor is permanently exhibited at Hong Kong Maritime Museum.

This Jahre Viking/Knock Nevis model features:
- Plank-on-frame, hollow hull construction (very important), weighing less than 20 lbs (A solid hull of this model would be over 60 lbs which feels like a heavy toy rather than an art piece and need a fortified table to accomodate.)

- Hollow superstructure is comprised of many individual thin pieces of wood glued together, not several solid pieces of wood stacking on top one another

- Windows are cutouts (not black decals), thanks to the hollow structures

- >95% of parts are wood and metal
52" long x 10" tall x 8.5" wide $3,900
S & H is $150