256-bit encryption
$500,000 protection




Q-MAX LNG TANKER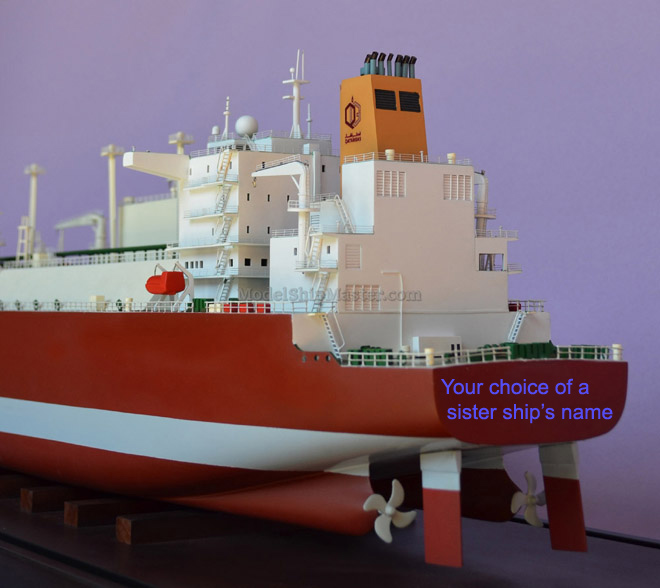 Q-Max are a new generation of LNG mega-ships. These are the largest LNG carriers in the world. "Q" stands for Qatar and "Max" for the maximum size of ship able to dock at the LNG terminals in Qatar. A typical giant tanker of this kind is 1,132 ft (345 m) long and 177 ft (53.8 m) wide, and 114 ft (34.7 m) in height.
Largest yet most efficient: The Q-Max consume 40% less energy due mainly to the efficiency of the engines. They are also equipped with an on-board re-liquefaction system to handle the boil-off gas, liquefy it and return the LNG to the cargo tanks, reducing LNG losses. In total, the Q-Max reduce shipping costs by 30%.
The first Q-Max carrier was the Mozah was delivered on September 29, 2008 by Samsung Heavy Industries. The massive ship carries 80% more gas than conventional LNG ships. And for just one shipment she could light up 70,000 U.S. homes for a whole year!

This Q-max LNG carrier model ship features:
- Scratch-built

- Superior hollow-hull construction (very important), weighing less than 10 lbs (A solid hull of this model would be over 40 lbs and feel like a toy rather than an art piece.)

- The hollow superstructure is comprised of hundred of individual thin pieces of wood glued together, not several solid pieces stacking on top one another.

- Windows are cutouts (not black decals), thanks to the hollow structures.

- >95% of parts are wooden and metal.
This 39" (100cm) long x 11" tall x 6" wide model of the Bu Samra was commissioned by National Grid/Grain LNG and not for sale. Bu Samra is the sixth of the 14 existing Q-Max tankers.
We are building two models. The other one is 90% completed and can be all done within 10 days after your order. We can give it any name that you like.