ARCTIC PRINCESS
LNG CARRIER
When completed, Arctic Princess was the largest LNG carrier ever built: 288 meters long with a breadth of 49 m and a capacity of 147,000 cubic meters of LNG. She is also the first LNG carrier that will be employed for carrying liquefied natural gas (LNG) from the world's northernmost LNG development--Snohvit.

The LNG is carried at a temperature of minus 163 degrees centigrade in four Moss containment system spherical tanks, each with a diameter of 42 meters. A full cargo load of LNG is sufficient to cover the yearly energy consumption of all households in a city with a population of 45,000 people.
The building contract for Arctic Princess was entered into with Mitsubishi Heavy Industries Ltd (MHI) in Japan in December 2001 and the vessel was delivered on schedule in 2006. Arctic Princess is chartered to the Snohvit Sellers for a period of 20 years.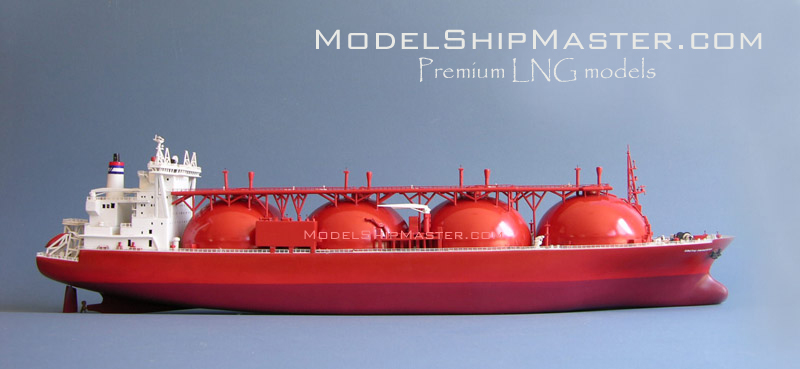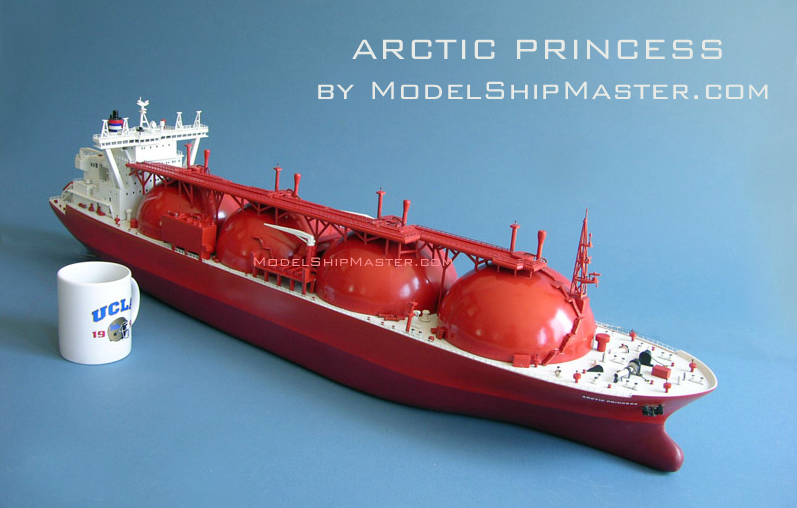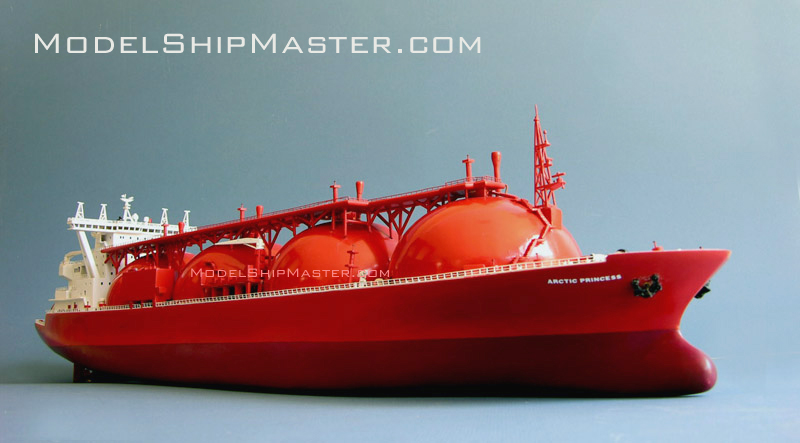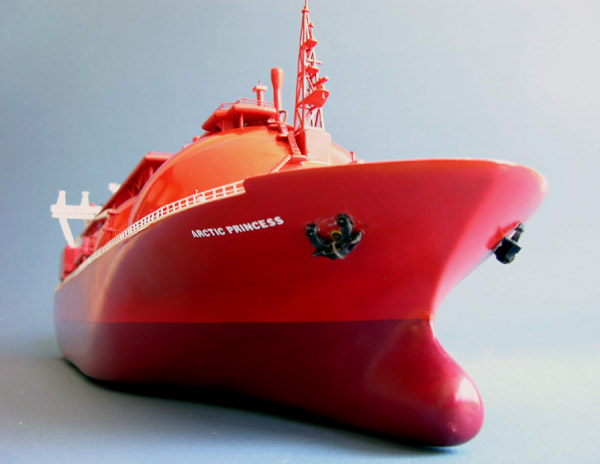 This primarily wood Arctic Princess LNG ship model has the following qualities:
Plank-on-frame hull. This construction method gives accurate hulls, as artisans create the frame of the hull exactly like in drawings. The solid hull method, on the other hand, employs most guesswork on the degree of curvature.
- Windows and portholes are cutouts (not black decals or indentation) which are clean, uniform, and aligned. We are not shy to show the model in large photos. Nothing to hide!
39" long x 11" tall x 7.5" wide. A wooden base is included $2,300
S & H is $90
We offer a 100% satisfaction guarantee on this model. If you can find a model of the same ship from another maker which you can prove to be equal or more accurate, and whose price is +- 30% of ours (i.e. a $4,000 model from us would be compared with other makers' models that are in the range of $2,800-$5,200), we will issue a full refund plus $200 transferable gift card that you can spend any time in our store. Just notify us of the issue within 10 days of the model's delivery.

Add a museum-like touch to your model display. Keep fingers and dust away. Please visit our Display Case page for one that would sit beautifully in your room.