ISLAND QUEEN
A famous side wheeler steamboat in Cincinnati, Ohio

The Island Queen measured 285-feet long, 45 feet six inches wide. The two side wheels were 30 feet in diameter. She could carry 4,000 people. The 1000-ton sidewheeler was powered by oil-burning steam engines with six boilers supplied by the Charles Barnes Machinery Company, located in Cincinnati.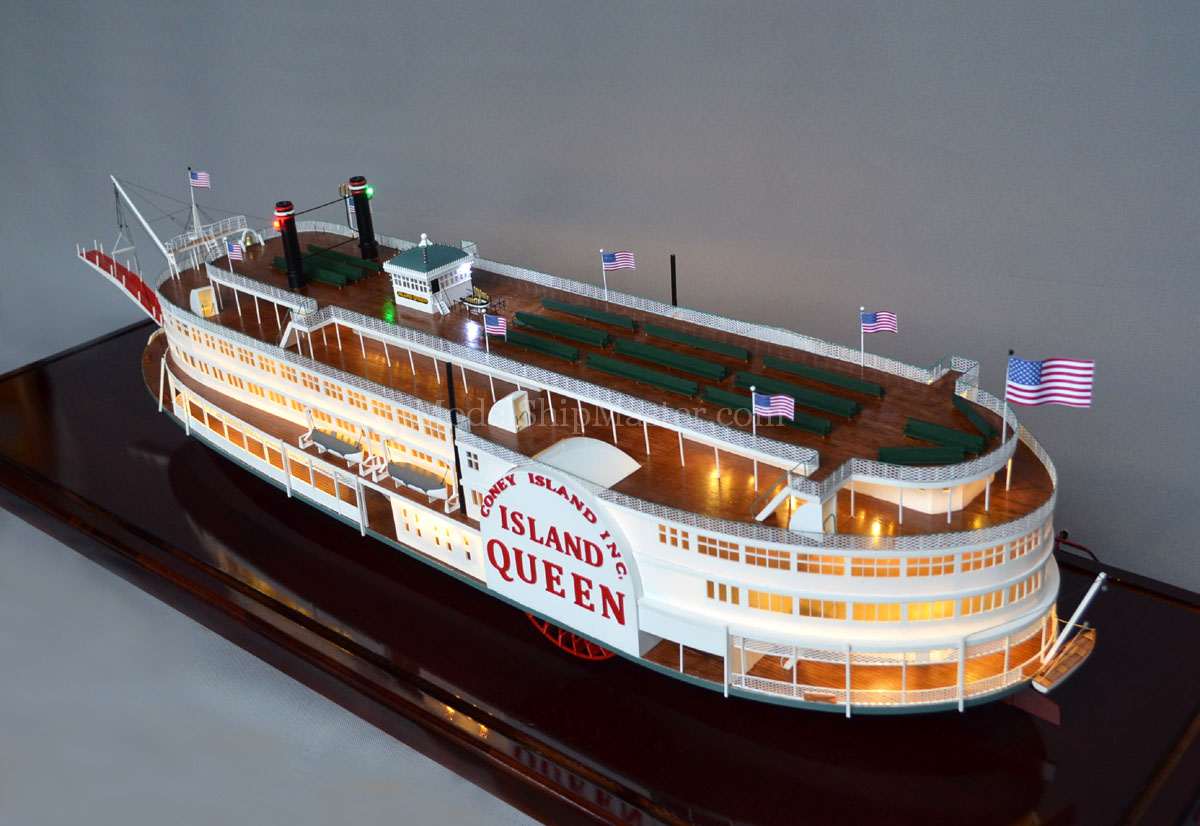 The side wheeler Island Queen was officially christened on April 19th, 1925 at Cincinnati's Public Landing. Captain Ben Pattison was her first captain. A couple months later, a new river gate and light house debuted at Coney to greet visitors from the boats.

Coney Island Company hired musicians to entertain the passengers. Sidney Desvigne, a cornet player from New Orleans, recruited musicians from his hometown to perform on excursions for the Cincinnati market.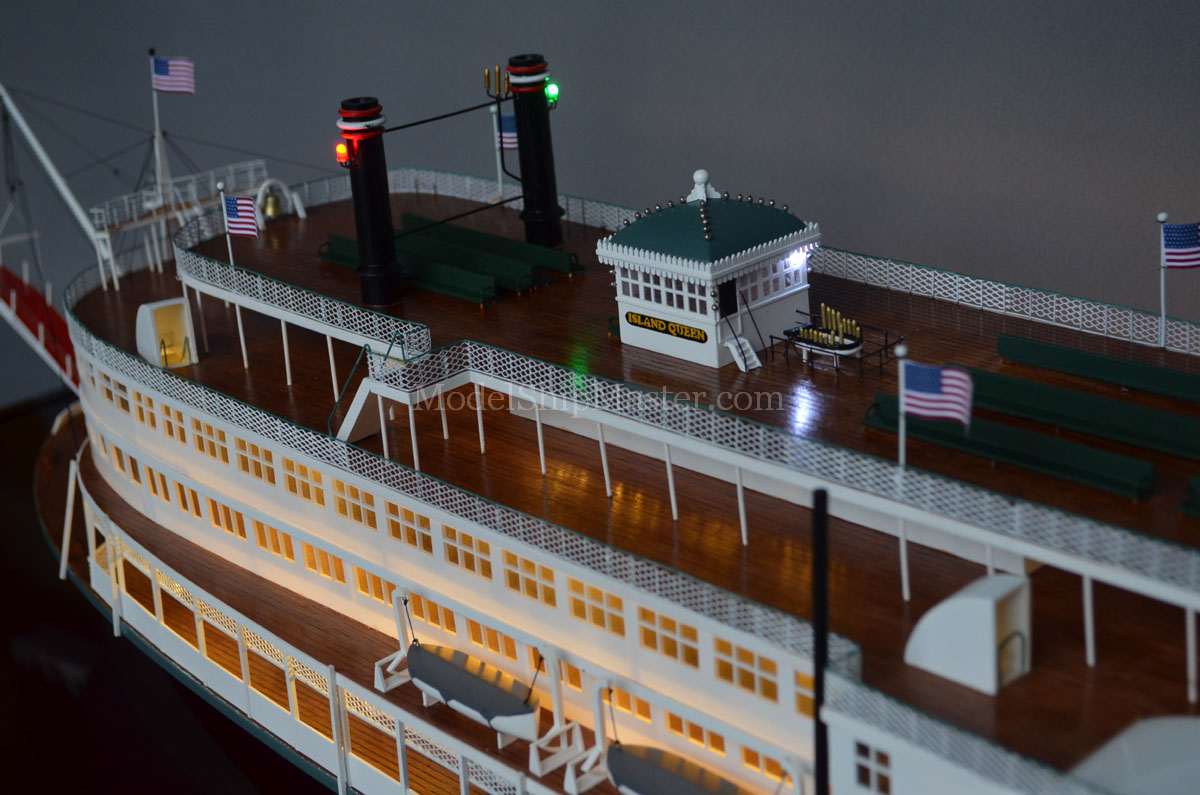 While in Pittsburgh, on September 9, 1947, her chief engineer accidently struck the boat's fuel tank with a welding torch, causing a fire and a series of explosions that eventually reduced Island Queen to her steel structure, and killed 19 crew. No passengers were aboard at the time of the fire. Force from the explosions could be felt throughout downtown Pittsburgh, shattering windows in nearby buildings. There were even reports of people being knocked down on streets close to the dock.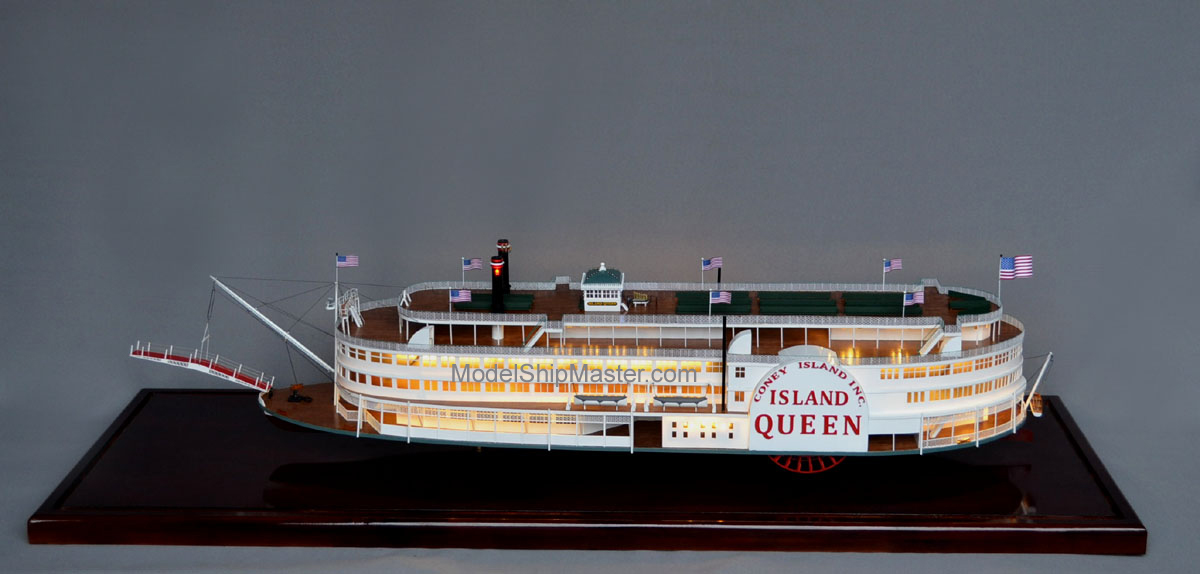 This 44" long primarily wooden model depicts the second Island Queen whose construction started in 1923. It is built from official plans and expert information discovered by ModelShipMaster's research team.
$3,900
Shipping and insurance in the USA included. Other countries: $400 flat rate. Model will come with a regular base which is about 24" long. The large base shown above is 50" long and is $300 extra. This model is in stock and can be shipped within five business days.
24" long (1/144 scale) $2,500. Shipping and insurance in the USA included. Other countries $300 flat rate. Built per commission only. We require only a small deposit (not full amount, not even half) to start the process. $500
The remaining balance won't be due until the boat is completed, in several months.
Lighting feature is included. A boat is not a riverboat without beautiful lighting. LED light powered by standard 9v battery for your convenience. Our model has realistic and beautiful lighting, including navigation light. Many have tried but failed. A cheap model can never keep up our with genuine artistic design and engineering ability.
For other sizes, please send us an email for a quote. We have built several eight-foot long models.