256-bit encryption
$500,000 protection




SS NORMANDIE model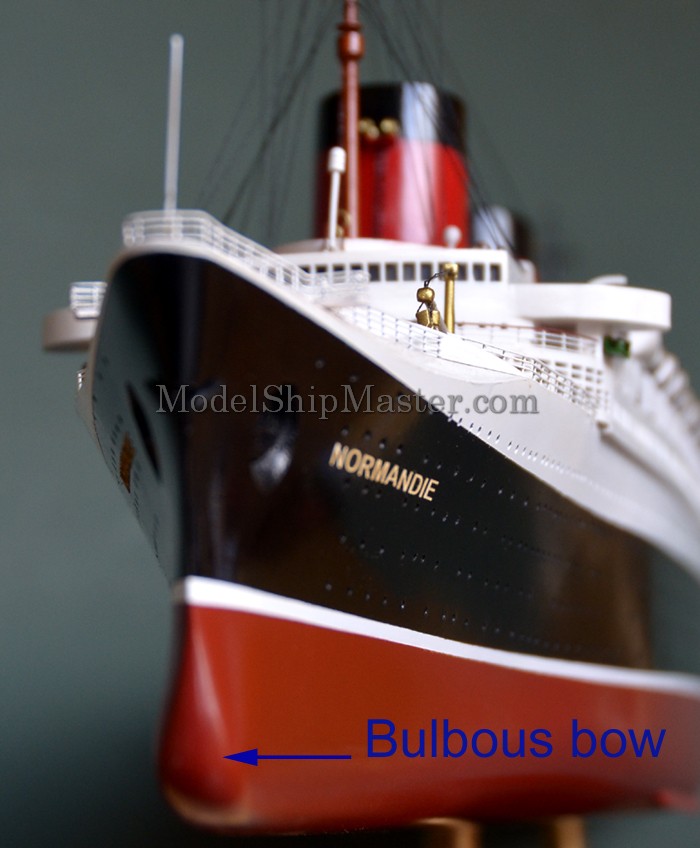 The arrival in New York Harbor of the gigantic ocean liner SS Normandie in 1935 inaugurated a new era in transatlantic travel. The ocean liner SS Normandie was the first large ship to be built according to the 1929 Convention for Safety of Life at Sea. She was designed so the forward end of the promenade deck served as a breakwater, permitting her to maintain a high speed even in rough weather.

The SS Normandie would eventually break new ground on many levels, she was to be the fastest, the sleekest, and the most artfully decorated. But her first distinction would be as the premier ship to exceed 1,000 feet in length.
When construction was completed, SS Normandie was the longest and largest ship afloat—measuring 1,028 feet in length with an initial tonnage of 79,280.
When the ship was launched on October 29, 1932, all of France, and indeed the world, was following the event. The largest object ever set in motion by man at the time, SS Normandie was the center of attention. The world's largest bottle of Champainge was used to christen the ship. With dignitaries and VIPs in attendance including Albert Lebrun, President of France.

Her designer Vladimir Yourkevitch had approached the Cunard Line Limited with proposed designs for their hull number 534, soon to be the renowned 'Queen Mary', but was rejected as the plans represented too radical a break from tradition for the British shipping company.

The French Line adopted Yourkevitch's designs and commissioned the new hull, designated "T6", to be built at France's premier shipyard, the Penhoët shipbuilders at St. Nazair. The new ship would draw talent from the finest designers, architects, and artisans of France. Yourkevitch's designs would allow the ship to match the great speed of Britain's 'Queen Mary' with one-fifth less horsepower and substantial fuel savings, and allow the SS Normandie to be the first French Liner ever to be in competition for the cherished 'Blue Ribbon'.

The ocean liner SS Normandie claimed the Blue Ribband from the Italian Liner Rex on her maiden crossing in May 1935. Keen on keeping the title "longest, largest, and fastest" ship in the world, it did not escape her owner's attention that the British had announced the tonnage of their new super-liner Queen Mary that was nearing completion at 81,235. So during the winter refit in 1935, a deckhouse was added to her aft deck increasing her final tonnage to 83,423, allowing her to maintain title the world's largest ship.

SS Normandie is a floating monument of Art Deco. She also boasted a large movie theater, a huge open dining hall, and a free and open deck space not cluttered with ventilation ducts. She was famous for her food as well. With flair his staff of waiters and chefs made dining aboard him a once in a lifetime experience. Meals were served around the clock. The ship was a floating temple of cafe society.

SS Normandie's life turned for the worse at the outbreak of World War II. She was in mid-ocean when her captain received words that the German liner Bremen was following behind. It was feared that the Bremen was armed and would open fire on the Normandie, or she was guiding U-Boats. SS Normandie's captain ordered her windows blacked out and she continued to New York in the zig-zag pattern to evade U-Boats. That was her last voyage.

The U.S. Navy seized the ocean liner SS Normandie on December 7, 1941. Stripped of her luxurious trappings and plush furnishings which had once been the sea-going refuge for the great and near-great, Normandie was renamed U.S.S. Lafayette. In the following two months, nearly all of SS Normandie's great artwork was removed and placed into storage.

On February 9, 1942, during the continuing conversion work, a fire broke out aboard the ship and the future of the magnificent SS Normandie would be smothered in suffocating cloud of smoke.

Charles T. Collins, an 18 year old USN ironworker gave an account of the incident: "I was working on a chain gang. We had chains around some pillars and eased them down when they were cut through. Two men were operating an acetylene torch. About 30 or 40 men were working in the room, and there were bales and bales of mattresses. A spark hit one of the bales, and the fire began..."




Like all of our ocean liner models, this SS Normandie model ocean liner features:
- Superior hollow hull (very important), weighing less than 10 lbs (A solid hull of this model would be over 30 lbs which feels like a heavy toy rather than an art piece.)

- Hollow superstructure is comprised of many individual thin pieces of wood glued together, not several solid pieces of wood stacking on top one another

- Windows are cutouts (not black decals), thanks to the hollow structures
- No computer-printed paper deck

- >95% of parts are wood and metal
39" long x 12" tall x 7.5" wide (including base) $2,300
Shipping and handling cost: for shipment in the USA: $90, Canada and Hawaii $180, Europe, Middle East and Africa $240, Australia and East Asia $310. It will be added automatically during the checkout process. Model will arrive in about seven days. Express 2-day service in the USA is also available during the checkout process.
48" long x 15" tall x 8" wide $3,900
SOLD OUT

Shipping and handling cost: for shipment in the USA: $150, Canada and Hawaii $390, Europe, Middle East and Africa $450, Australia and East Asia $590. Will be added automatically during the checkout process. Model will arrive in about seven days. Express 2-day service in the USA is also available during the checkout process.
Add light feature to one of the above models: $200

For a massive model, please click here: Large SS Normandie model
For display case, please click here: Model Ship Display Case
And click the blue wordings for our beautiful SS Andrea Doria model, SS France model, and SS Liberte model

We now accept commission to build a partial cutaway model of the SS Normandie at 1/100 scale (9 feet long.) The model will take about 12 months and cost $24,000. If you are interested, please email us for some sample photos.
"Just wanted to thank you and your team for doing such an outstanding job on the Normandie build! The details are phenomenal it is truly a work of art. As a collector of Normandie artifacts I have wanted a fine model, of the ship, to complement my collection for many years. I looked high and low for someone to fulfill my desire and after comparing price and quality chose Model Ship Master. I am so glad I did as the model is everything that I wanted. Precise hull form and funnels to the real wood deck as well as portholes and all the deck house structures the ship is a true example of the model makers art. The lighting is also a cut above featuring the correct port and starboard running lights and even a light on the stern flagpole mast. After traveling over 3000 miles the model arrived in a protective wood crate in absolutely perfect condition. It is now the centerpiece of my collection and the star attraction of my recreation room. Again I can't thank you guys enough for all your hard work."
"Hello,
My SS Normandie model arrived today [6/23/2014] and it is stunning! Exquisite detail. Truly beautiful.

The shipping channels to and from New York begin about 50 miles offshore and to the south of where our house stands here on Nantucket Island. The old Lightship Nantucket was once stationed there to mark the point (an automatic beacon now performs that task ). So this great ship passed near here dozens of times before World War II brought her career to an end. It is wonderful to have this beautiful model in our home to celebrate that history.
Thank you for your excellent work, and as I previously indicated, we will be back to you in the future as we continue to decorate our home.
Bill K."