256-bit encryption
$500,000 protection




TS MICHELANGELO ocean liner model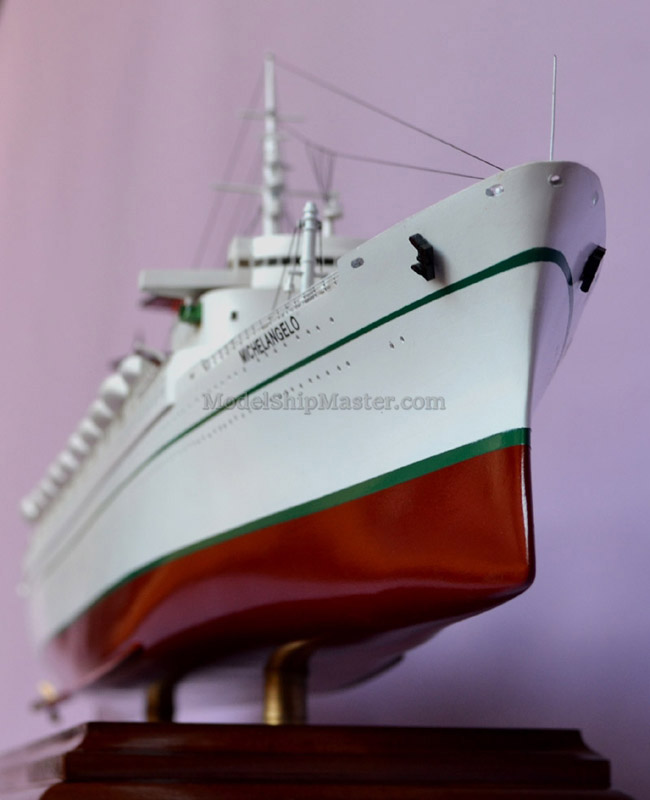 After many years of looking enviously on other nations, Italy could finally boast their new champion. On 21 April 1965, after five years of construction, a ship that was over 45,000 gross tons and over 900 feet long, with a service speed of 27 knots was delivered. It was the SS Michelangelo, the ship that represented a synthesis of Italian industry and artistry.

The SS Michelangelo had a very distinctive profile: Sleek and sharp. The most striking feature in the ships were their Turin polytechnic-designed funnels, which consisted of an intricate trellis-like pipework (instead of the traditional even surface) to allow wind to pass through the funnel, and a large smoke deflector fin on the top. The funnel design proved to be highly effective in keeping smoke off the rear decks. The smoke deflectors became popular in ship design during the 1970s and 1980s, whereas the idea of allowing wind to pass though the funnel was picked up again in the late 1980s and is almost the norm in modern shipbuilding.


Like all of our ocean liner models, this SS Michelangelo classic ocean liner ship model features:
- Superior hollow hull construction (very important), weighing less than 10 lbs (A solid hull of this model would be over 30 lbs which feels like a heavy toy rather than an art piece.)

- Hollow superstructure is comprised of many individual thin pieces of wood glued together, not several solid pieces of wood stacking on top one another.

- Windows are cutouts (not black decals), thanks to the hollow structures.

- >95% of parts are wood and metal

63" L x 20" T x 9" W $6,500
S & H is $220
35" L x 12" T x 5" W (7" wide with base) $2,700
S & H is $90 SOLD OUT
Add light feature to one of the above models: $200

(Cord can be unplugged from base)
For display case, please click here: Model Ship Display Case
And be sure to check out our beautiful, authentic SS Rex model and SS Andrea Doria model

"Hello Frank, yes it's a beautiful model, my compliments; just one remark, I would have liked seeing the Italian merchant marine flag flying instead of a naked mast… George [August, 2016]"